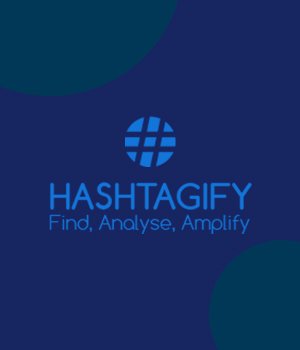 Hashtagify: Analyze Hashtags on Social Media and Grow Your Business Using Hashtag Marketing
Hashtagify can help you find, analyze, and optimize hashtags for your social media posts. You can use Hashtagify to boost your brand awareness and reach new audiences. They offer many features, such as hashtag search, suggestions, tracking, comparison, reports, planning, and alerts.
Hashtagify is a web-based hashtag finder, analyzer, and optimizer tool to help you make must out of your social media marketing. Using the power of social media marketing and hashtag, you can grow your business online faster. It doesn't matter whether you want to boost your brand awareness or reach new audiences. Hashtag can help your social media post get discovered by a new audience. Hashtagify can help you find better hashtags and analyze hashtags to understand your audience interest and hashtag popularity.
Hashtagify Features
Generate Hashtag: You can search for any hashtag on Twitter or Instagram and get real-time data and insights, such as popularity, trends, related hashtags, top influencers, and more.
Find New Hashtag Suggestions: You can get custom suggestions for the best hashtags to use for your posts, based on your keywords, niche, and audience.
Hashtag Tracking: You can track any hashtag on Twitter or Instagram and get an in-depth analysis of its performance, such as reach, impressions, engagement, sentiment, and more.
Hashtag Comparison: You can compare up to four hashtags and see how they differ in terms of popularity, trends, related hashtags, and influencers.
Hashtag Reports: You can get all the data you need in easy-to-read dashboards and charts. You can also export and share your reports with your team or clients.
Social Media Posts Planner: You can create and schedule your posts with the best hashtags, using the integrated social media calendar and publishing tool.
Hashtag Alerts: You can set up alerts and get notified when a hashtag reaches a certain popularity, trend, or sentiment level.

Hashtagify Pricing
Hashtagify Personal plan costs $19 per month and is suitable for individuals and solopreneurs. There are other plans for mid to big size businesses.
All plans include unlimited hashtag searches, suggestions, and tracking, as well as analytics, reports, alerts, and integrations. The main differences between the plans are the number of hashtags, users, and social profiles you can track, as well as the level of customer support and customization you can get.
Since Twitter API pricing, Hashtagify is no longer accepting new customers and it's not functioning.
Hashtagify Alternatives
Neontools: A suite of online marketing tools that includes a hashtag generator and analyzer. It is free to use and has a simple and intuitive interface.
RiteTag: A browser extension that suggests hashtags for your posts based on real-time data. It also shows you the color-coded performance of each hashtag. It costs $49 per year and works with various social media platforms.
MetaHashtags: A Instagram hashtags generator and analytics tool to lets you search and filter hashtags by platform, language, and category. It also shows you the best times to post and the top posts for each hashtag.