There has been a gold rush in AI content writing and AI generative language tools. If you have been online since the start of year 2023, then you may have heard of ChatGPT and many other AI software that going to change the world, Is it? In this article, I will share with you my thought on AI and AI tools. I will be publishing more blog posts on the subject of AI for content writing, so stay tuned and subscribe to my newsletter. Just to remind you; a human wrote this article.
What is AI content Writing tools
There has auto-content generator tools online become this AI things. Before, content generator scrape the web for content and rewrote the content by changing a few words. Now this AI thing is different. It doesn't copy and rewrite content. Instead, content from the website is used to train the AI and then AI generates unique content on its own. The content generated from AI is not just unique, but it has learning ability, and you command the AI to replicate a writing style and voice. This makes generative AI amazing.
For now, there are only a few AI tools or software developed by big company and the rest of the AI tools are built moreover. ChatGPT is developed by OpenAI, which is one of the popular AI tools. Other AI software such as Watson by IBM, Bard by Google, Bing Chat by Microsoft and a few others.
How AI content writing software works
An AI tool such as ChatGPT is a powerful language model that's been trained on a vast amount of data. AI knows grammar, syntax, vocabulary, and has access to all the data on the internet. Not only that, AI also good at finding and filtering information that you need. This is going to change the way we search for information, so less Google searching now.
You can write content such as blog posts, email easily and simply by asking a a question and AI will answer your question directly. You can also control the AI content output by instructing AI. The AI instructing process is called "AI Prompt". Now, there is a new job industry that is called Prompter, oh no, it's called prompt engineering.
Generative AI also helps you with research, coding, music writing, graphics design and much more. This is where AI becomes scary as it can do anything that a human can do digitally but not like a human. ChatGPT is still in the development process and upcoming features are mind-blowing. As a blogger and freelancer, I might have to rethink my career.
What makes AI content writing tool "the best"
The tools that I am going to cover in this article focus on AI that helps people write content for business purposes. There are few reasons to choose an AI content writer over others. My favorite reasons are output of content, easy of use and integration with other applications. A great content output will help generate contents faster and save you time from editing the content. Even with great content output, I still recommend you to edit your AI generate content and make it more human-readable and engaging to read.
I like the chat feature in AI along with a built-in content editor. So, you can generate content, organize and edit without requiring external applications. Most AI software uses template features that make it possible for users to generate content based on objectives. That's great for new users. But for advance users, custom prompts make better content output.
In a way, AI content writer tools are productivity tools, integration with other applications makes it even better. Some AI content writers have features that will allow you to publish your content on social media and your blog. Also, there is a rise in online software companies integrating AI into their workflow to make their software more advanced. For example, Canva is using AI to allow users to create AI text content during a graphic design. They also have integrated Text to Image AI into their platform. Notion is one of other online software companies that have integrated AI into their platform. In a way, Notion is a multiple – purpose project management tool, AI integration has made the Notion platform even better. I think almost all SaaS (software as a service) companies can benefit from AI integration and in the future we can assume this trend will continue.
Below are Top 10 AI content writing tools
ChatGPT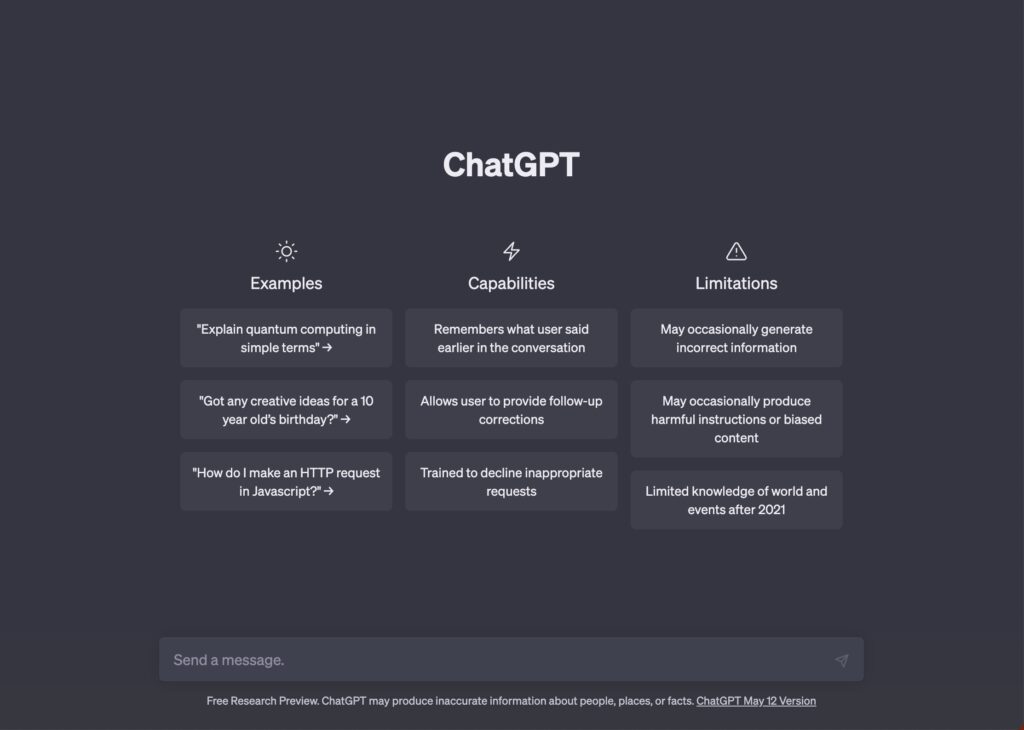 As per other online articles on AI content writer tools, no one is recommending ChatGPT. It is because ChatGPT doesn't have an Affiliate program. In my experience, ChatGPT is the best AI content writing tool available, and it's free for regular users. ChatGPT is continuing to improve and soon in the near future it will make other AI tools absolute. You should focus on getting used to ChatGPT for content writing and research.
Website: https://chat.openai.com/ Free for lifetime option available, paid plan starts at $20 per month
Bing Chat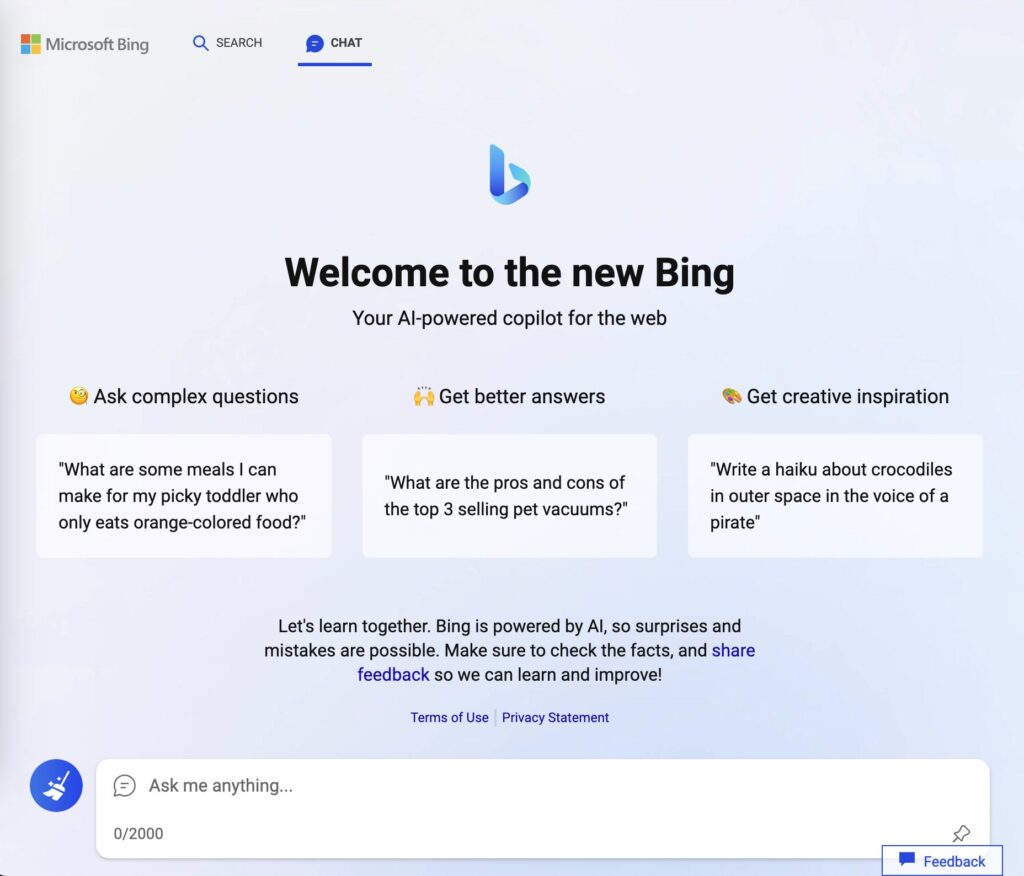 Microsoft, the creator of Bing AI Chat, is also invested in ChatGPT. Even though ChatGPT is the first AI content generative and more popular, some people are still choosing Bing Chat over ChatGPT. One feature that stands out on ChatGPT is the reference feature. You will know the website where Bing Chat finds information about to answer your question. You can use a reference link to research further, and I think it is the best feature. The reference link also helps website owners to get visitors to their website.
Website: https://www.bing.com/new Free forever, supported by ads
Bard by Google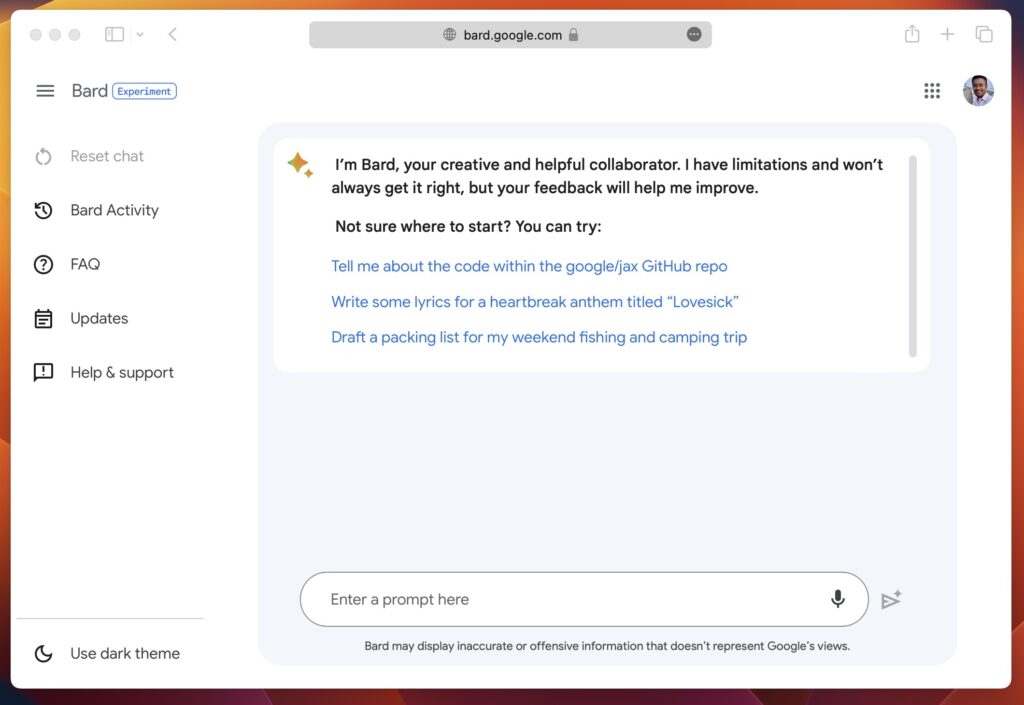 Bard AI is the new a new generative AI tool. It has some existing unique features that are not available on other AI tools. Such as access to the internet, access to one click Google Search and up-to-date information about the world. As Google is the must dominant search engine, and it has access to vast amounts of data, there is no doubt that Bard AI is or will be better than any AI. As of now, ChatGPT is still the front-runner. Let see how long that will be.
Website: https://bard.google.com/ Free forever, supported by ads
Writer.com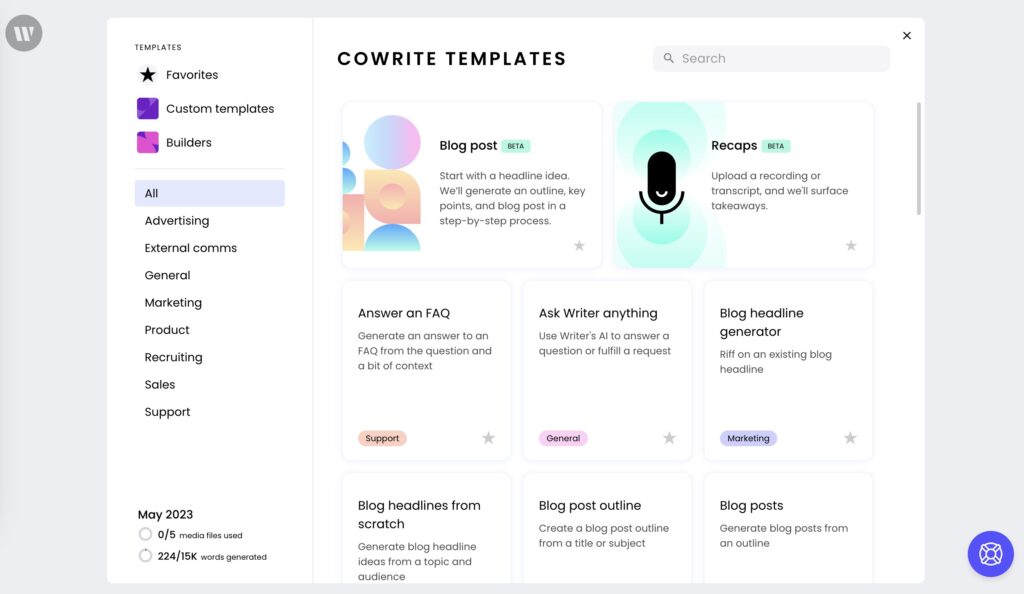 Writer.com is a more advance level AI content generator focusing on it enterprise business. Writing.com allows users to feed their data to their AI to create unique content faster. They support popular platform integration such Microsoft Words and Figma. Writer.com two unique features, CoWrite and Recap, that allow brands to generate more personalized and multipurpose content faster.
Website: https://writer.com/ 14 day free trial optional available, paid plan starts $18
Frase.io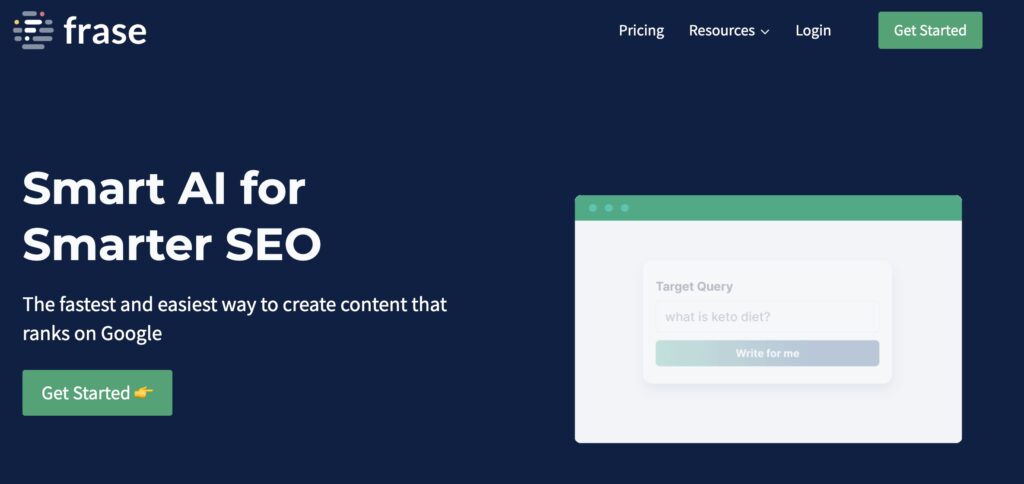 Frase is a well-known content writing tool helping small business owners generate content faster. They have an easy-to-use user interface, a wide range of templates and a content editor for use to generate and edit content all in the go.
Website: https://www.frase.io No free plan option available, paid plan starts $14.99
Shopia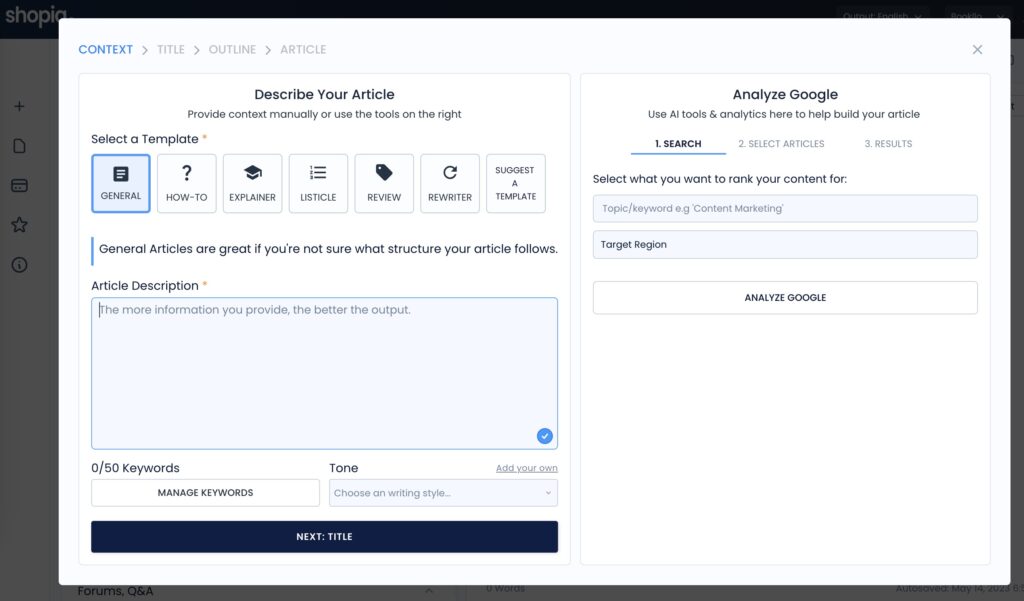 Shopia is not well known, but it has caught my eye with its amazing features. There are tons of content writing templates on Shopia just like any other tool, but there are few unique features that make Shopia better. Bulk content generation, Amazon Listing Content Generator and Step by Step article generator are my favorite. Using the step by step article generator feature, users can find better content outline based on competitors research. And, users can customize the outline to make it more unique and SEO friendly.
Website: https://shopia.ai/ 7 day free trial option available, paid plan starts at $6 per month
Rytr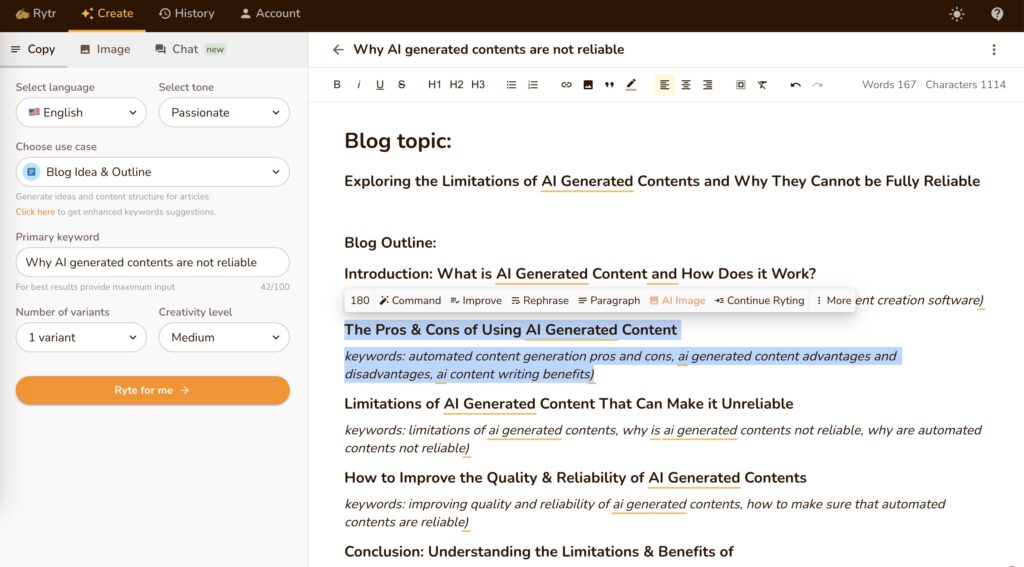 Once I discovered Rytr in 2021, I was existed about its future. I bought their lifetime AppSumo deal in 2021. I have been using the software to generate short form contents. Rytr is not good at generating long form content. Recently, they have added chat features like ChatGPT to their platform, but I am still using ChatGPT to write content even though I have paid lifetime subscriptions. I like Rytr's easy to user-friendly interface and live content editors.
Website: https://rytr.me/ free forever plan available, paid plan starts at $9 per month
WordAI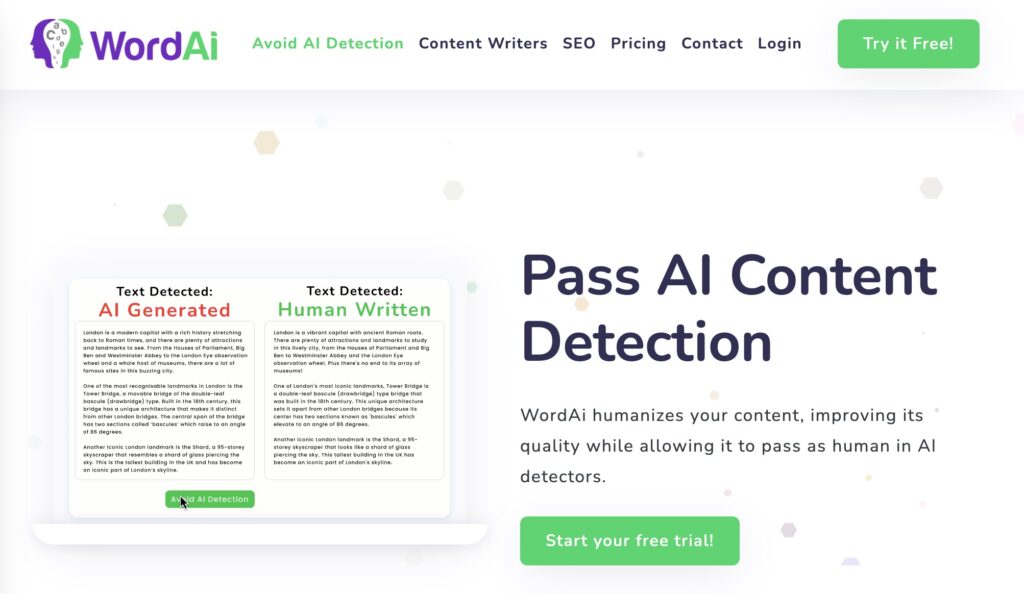 WordAI good alternative to Rytr. They focus on helping content writers generate long form content faster and avoid AI content detection. WordAI content out put is better as it rewrites AI-generated content to make it more human-readable. The downsides are they don't have features such as content editors, integration with other software, and customization option to create personalized content.
Website: https://wordai.com/ 3 day free trial option available, paid plan starts at $57 per month
Writesonic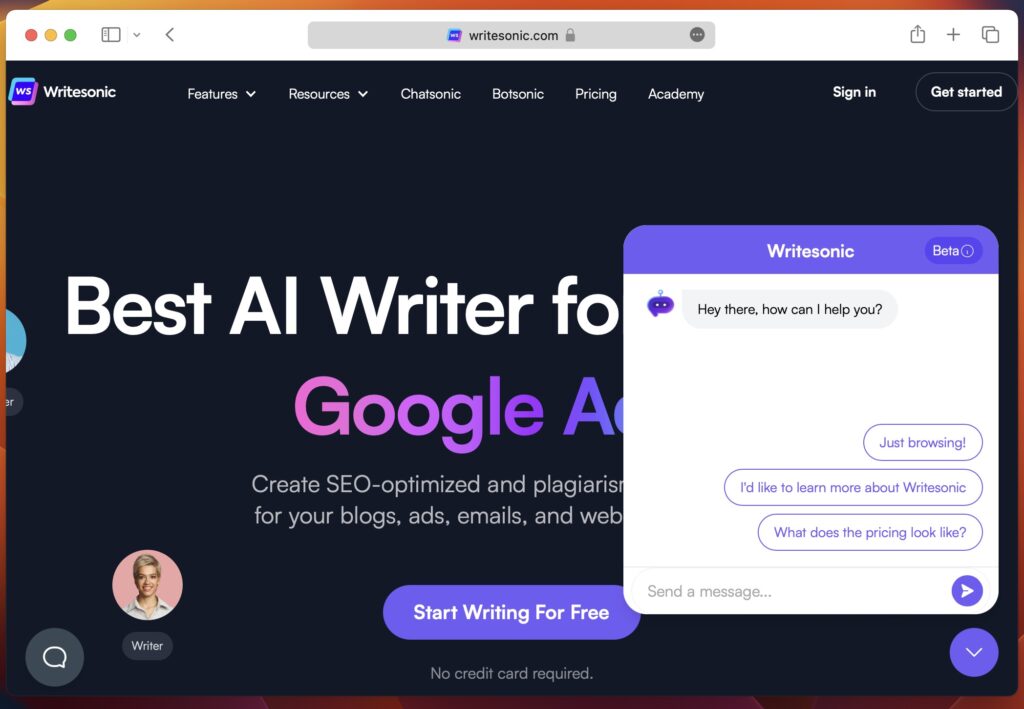 Writesonic is another generative AI tool with hundreds of content writing templates that focus on helping bloggers and small business owners increase their content output. One of their unique features is Botsonic, that allows users to build chatbot powered by AI (ChatGPT) with customization option and personalized content writing style. Now you can use Botsonic to create an AI chatbot for your brand and place the chatbot on your website. So, your website visitors can interact with your bot and find information about your offer and business.
Website: https://writesonic.com/ free trial with 10k words limit plan available, paid plan starts at $12.67 per month
Autoblogging.AI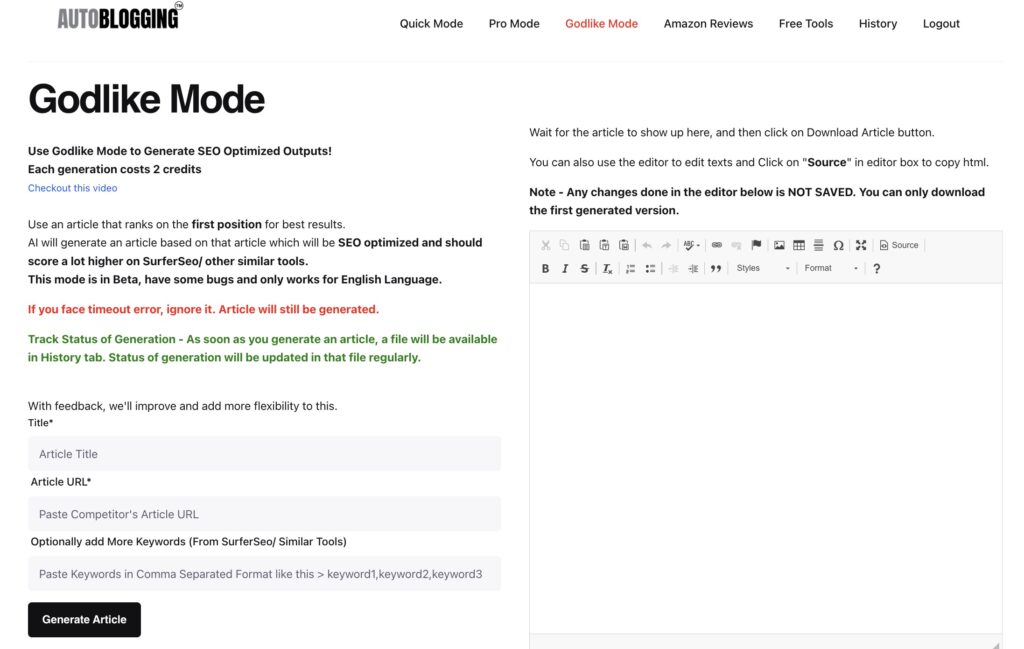 Autoblogging AI is another AI content generative tool that helps bloggers generate long – form content like blog post faster. They offer multiple content generative mode to produce better content output. A more advance content writing feature that they call Godlike mode produces long form content in bulk, with HTML formatting and AI-generated images. But that takes longer to produce content. No content editor and a simple, stupid interface. Furthermore, they offer an additional service to publish AI-generated content on WordPress site as it names say Autoblogging.
Website: https://autoblogging.ai/ No free trial, no monthly plan, generate complete blog posts for $1 each
Jasper AI

If you do Google on "AI content writing tools" then Jasper AI will come as the number one tool. It is because Jasper AI charges a high amount for their service and its affiliates love big commission. I hope you got the point. The only reason I am mentioning it here because of Jasper AI popularity. There is no reason to pay $$$ for an AI tool. ChatGPT costs $20 per month, there is no reason to pay any AI tool more than $20. All must all AI tools are built on ChatGPT API and content out put is same on all platforms except Bing and Bard AI.
Website: https://www.jasper.ai/ 7 day free trial option available (credit card required), paid plan starts at $49 per month
If you want to get must out of an AI content writing tool, then master the ChatGPT prompt instead to jump through the loop of AI tool. I hope you search ends here.