Sale!
RescueTime – Time Tracking and Management Software
$9.00
Best Productivity software to keep track of your online activity and be organized
Description
RescueTime tracks everything you do with your devices (desktop and mobile phone). RescueTime helps you Track your online activities and offline computer uses. It is the best time Management software to keep track of your daily life on any device you use. I am using RescueTime for a long time and it helped me a lot on being productive as Internet marketer and blogger.
I lose my focus very quickly on the Internet, jumping from one article to another one. It is very important to be focused especially for a producer (those who produce content) to achieve your goal.
If you are like me then keeping track of your online activities will help you to understand where you spend most of your time. So you can manage time and increase productivity easily.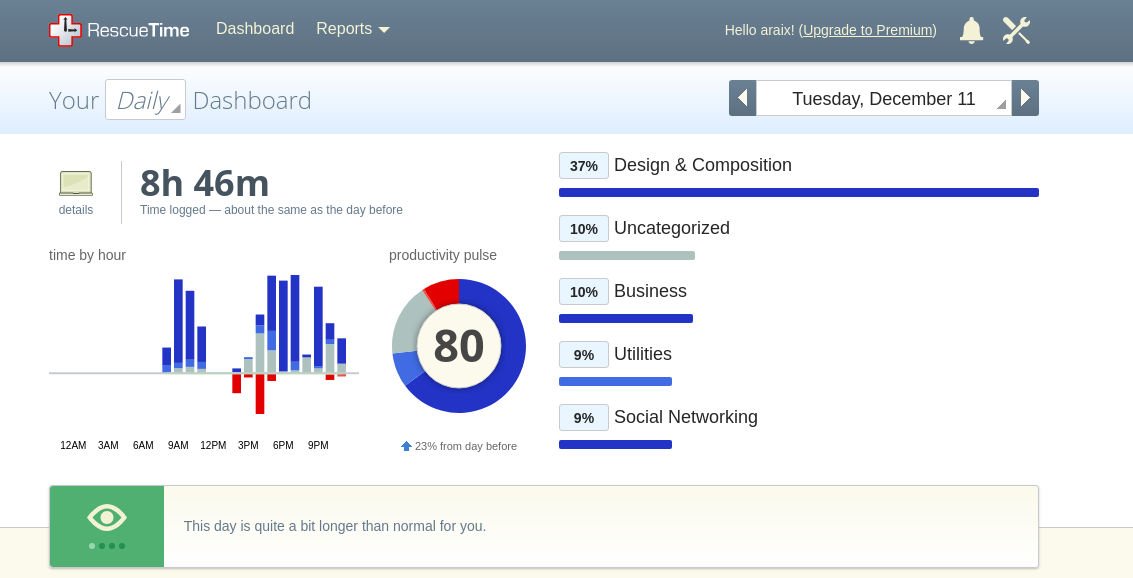 RescueTime Features:
Productivity Score: Get a productivity score based on daily and weekly activity from 1 to 100
Set Goals for the Day
Weekly Email Summary
Detailed Reports
Block Distracting Sites (Premium)
Track Offline Activity
Notifications on your productive goal (Premium)
Daily Highlights
RescueTime Pricing:
Free for Lifetime
Upgrade to premium: 54$ Per Year (6.75$ Per Month)
The Best Time Management Software Alternative:
Timecamp (Freemium) is the best alternative and it is mostly used for time tracking on a project by the business owner to track their employee's internet activity.
[cs_gb id=28886]