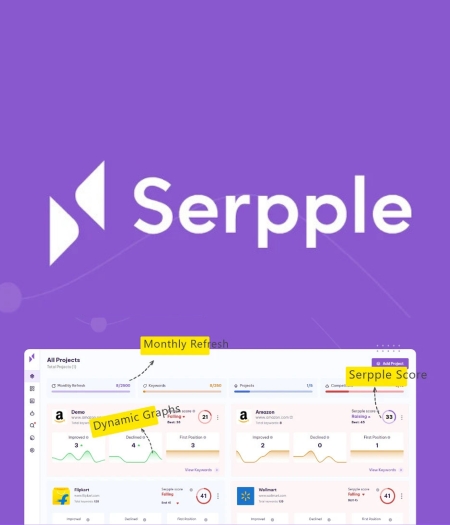 Serpple – The Ultimate SEO Tool for Accurate Monitoring and Growth
Gain comprehensive insights into your SEO rankings with a single dashboard, providing you with a holistic view of your website's performance. Dive deep into detailed metrics for your target keywords, empowering you to make data-driven decisions and optimize your SEO strategy for maximum impact.
Serpple, the highly accurate SEO tool, is a game-changer for SEO professionals at any stage of their journey. With its comprehensive features, it caters to the diverse needs of SEO experts, product managers, and even serial entrepreneurs managing multiple projects.
For SEO professionals who meticulously track rankings and even the slightest SERP changes, Serpple's Keywords overview page provides all the essential information in one glance. Product managers can rely on the interactive dashboard to have a bird's-eye view of SEO impacts and team progress. And for entrepreneurs with various ventures, the tool's all projects page allows effortless monitoring of project ranking data with remarkable accuracy.
One of Serpple's standout capabilities is its ability to continuously monitor competitors, providing round-the-clock insights. Additionally, the highly requested Keyword Explorer feature offers precise information about keywords with an impressive 99% accuracy rate.
Serpple Features
Rank Tracker: You can import a list of keywords that you want your website to rank for then track your performance other times. You can also compare your keywords with your competitors to get a better understanding of who is winning.
Competitor Tracker: You can analyze your competitor's ranking metrics and compare with your website ranking metrics.
Keywords research Tool: Get Google search insight into any keywords or domain name. You also see search trends, SERP data, paid ads data and much more.
Upcoming feature: As per their website, Backlink analytics and tracker along with website audit features are in development.
As a content marketer, I have found immense value in using Serpple across all my businesses websites. This firsthand experience has enabled me to understand the needs of business owners and SEO professionals alike. However, Serpple's journey doesn't stop here. Being a digital marketer, I have relied on SEMrush for my website's SEO needs. Undoubtedly, SEMrush is a robust tool, but its high subscription cost has become a hurdle for me.
That's when I discovered Serpple, an alternative that not only offers affordability but also harnesses the power of AI to provide precise and actionable insights for optimizing my website. What sets Serpple apart is its cost-effectiveness, making it an ideal choice for marketers like me who are conscious of their budget. Despite its affordability, Serpple doesn't compromise on quality or functionality. The AI technology integrated into the tool offers a step-by-step approach, guiding me through the optimization process and providing a narrowed view of what needs to be done to improve my website's performance. With Serpple, I no longer feel restricted by the high subscription costs of other SEO tools. It empowers me to optimize my website efficiently while staying within my budget. The AI-driven insights ensure that I make informed decisions and take strategic actions to enhance my website's visibility and drive organic growth.
In conclusion, Serpple is the ultimate SEO tool that delivers unparalleled accuracy, comprehensive monitoring, and consistent growth. It is the complete package for any SEO professional or business owner looking to stay ahead in the ever-evolving digital landscape.