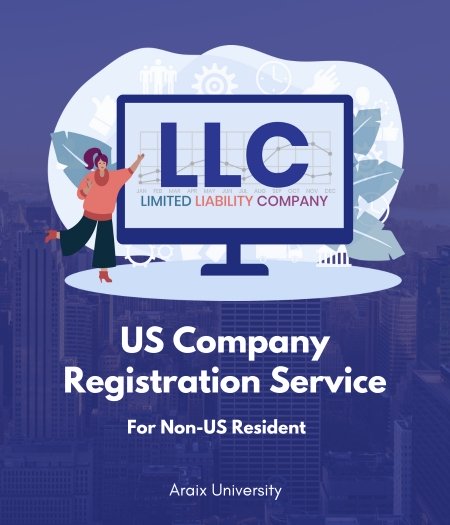 US Company Registration Service – LLC for Non-US Resident, Just $299
Experience a hassle-free and entirely remote process to establish your US Company, secure Bank Accounts, Debit Cards, and set up Stripe and Paypal, all from the comfort of your location anywhere in the world. We offer a comprehensive business solution tailored for the solo entrepreneur, ready to launch in no time.
Introducing our US Company Registration Service, specifically tailored for non-US residents. For just $299, we offer a comprehensive Limited Liability Company (LLC) formation package that simplifies the process of establishing your business presence in the United States. Our service is designed to provide you with a hassle-free experience, eliminating the complexities and potential pitfalls of navigating the US business landscape from abroad. We handle all the necessary paperwork, ensuring your company is registered correctly and efficiently.
Fully Digital Experience: Experience the convenience of our entirely online process for company formation and bank account opening. Say goodbye to physical paperwork, slow mail, and outdated fax methods!
Operate Like a Local: As a non-US founder or entrepreneur, we equip you with all the necessary tools to run your US-based company seamlessly, just like a local business.
Hassle-Free Compliance: Leave your annual compliance worries to us. We'll assist you in filing the required forms with the State Government and Tax Department.

Email: info#at#araixuniversity.com
Our Process
Company Name Verification
We'll conduct a thorough search of your proposed company name in the US state database, ensuring it complies with all legal requirements, including trademark protection, DBA, and more.
Securing a Local Business Address
We'll register a local business address under your company name, a crucial step in establishing a US company. This address also includes mail forwarding services.
Registered Agents
We've partnered with registered agents in various US states, including Wyoming. Our registered agents will ensure your company adheres to local state laws.
U.S. Company Application Filing
Our team of professionals will file the application and register your company in the state of your choice, ensuring a swift and efficient process.
Employer Identification Number Application
The EIN is a tax ID assigned by the IRS to your company. This number is essential for virtually all operations, including bank applications. We'll assist you in obtaining it, with you as the Responsible Party.
Bank Accounts & Payment Processing Setup
Once your company is formed, we'll guide you through the process of applying for bank accounts with our partner banks. Additionally, we'll assist you in setting up your Stripe and Paypal accounts to start accepting payments.

For a one-time fee of $299, here's what you get:
LLC Formation: We'll handle the entire process of setting up your LLC in the US, ensuring all legal requirements are met.
Registered Agent Service: Every LLC in the US requires a Registered Agent. We provide this service, accepting all legal and official documents on your behalf.
EIN Procurement: We'll assist in obtaining your Employer Identification Number (EIN) from the IRS, a necessary step for tax purposes.
US Mailing Address: We provide a US mailing address, essential for receiving official correspondence.
Compliance Assistance: We'll guide you through the ongoing compliance requirements to keep your LLC in good standing.
Customer Support: Our team of experts is available to answer any questions and provide guidance throughout the process.
Our US Company Registration Service is not just about forming your LLC; it's about giving you the peace of mind that your business is set up correctly, leaving you free to focus on what you do best – growing your business.
Experience the ease of LLC formation with our US Company Registration Service today. For just $299, we'll help you establish a strong business foundation in the US market.
FAQ
Why should I establish an LLC?
While forming an LLC is optional, it offers valuable protection for your personal assets. It enables you to set up a business bank account and may provide tax advantages. Plus, an LLC can enhance your credibility with customers, partners, and potential investors.
Do you provide C corp (corporation or Inc) registration?
No, we specialize in LLC registration, catering primarily to digital entrepreneurs, small business owners, and individuals.
What is a registered agent?
A registered agent is a third-party, either an individual or a business entity, authorized to receive official documents for your business. Their primary role is to accept tax forms, legal documents, government correspondences, and lawsuit notices.
Is a registered agent necessary for all LLCs?
Most states mandate appointing a registered agent when establishing an LLC. This agent could be a trusted friend, a service like Tailor Brands, or even yourself, provided the individual is over 18 and possesses a physical address in the business's state.
How long is the LLC formation process?
The duration varies by state, but forming an LLC typically takes 7 to 10 days. Acquiring an EIN confirmation letter might take up to 30 days, while bank account setup may need a few additional days. We strive to expedite your business setup so you're operational within 30 days.
Is a Passport and Visa necessary to open a US bank account?
Only a Passport is needed to remotely open a US bank account under your business name. No visa or US visit is required.
Do I need to pay taxes in my home country?
While a foreign-owned LLC in the USA doesn't incur US taxes, annual tax filings are mandatory. However, you must pay personal tax in your home country on any personal income, such as a salary drawn from your LLC.
How do I manage business compliance in the USA?
Your registered agent will keep you informed about business compliance. You should hire a CA annually for your business tax filings. When collaborating with us, we handle your annual tax filings.
What's the significance of a US business address, and is it mandatory?
A US business address is essential for company registration. Mail forwarding services offer business addresses on a subscription basis. Any mail received at your business address will be scanned and emailed to you. This address can also facilitate bank account setups and other business operations, though it's restricted to mail.
In which US states do you register LLCs?
We can facilitate LLC registration across all US states. We often recommend Wyoming and New Mexico. For tech startups, New York or Delaware are our top choices.