With the rise of social media platforms like Facebook, Twitter, Instagram, and now Snapchat, establishing a distinct visual identity has become crucial for brands. Each passing moment witnesses a staggering influx of tweets, Instagram posts, and Snapchats, making it imperative for your brand to stand out amidst this constant stream of content and leave a lasting impression on your followers.
Seems like an insurmountable challenge, doesn't it? Well, it's not.
The key lies in crafting a visual identity for your brand that is so unmistakable that your followers won't even need to check the handle to know it's your content. They should immediately recognize it as yours.
While some brands have successfully achieved this feat, many others still find themselves grappling with it. If you find yourself in the latter category, then this post is tailor-made for you.
Now, let's delve into five brands that have effectively cultivated an impressive visual identity and uncover the valuable lessons you can glean from their success:
1. Dropbox
Visual assets such as photos, videos, illustrations, and infographics play a pivotal role in conveying your brand's narrative to your audience. An excellent illustration of this is Dropbox, a cloud-based file sharing platform. Dropbox employs a consistent hand-drawn style in their communication channels, including email marketing and their Instagram account.
While the illustrations themselves are uncomplicated, it's the unwavering application of this hand-drawn aesthetic that elevates Dropbox's visual branding to brilliance. By adopting a playful and vibrant approach, Dropbox adds a human element to its otherwise impersonal software. This strategy fosters a sense of personalization, user-friendliness, and approachability that sets Dropbox apart from its competitors.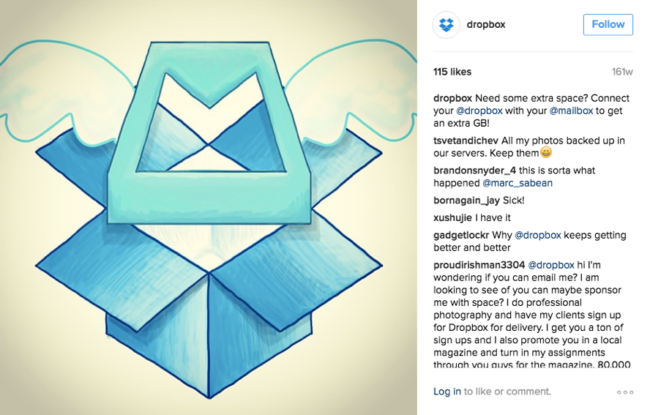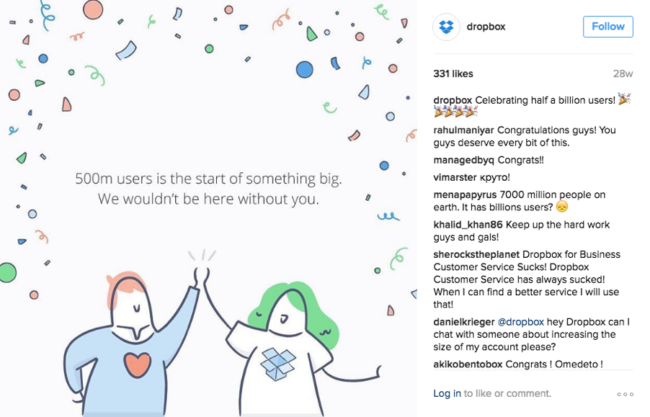 Key Lessons from Dropbox: When it comes to visual content, regardless of whether you utilize photos or illustrations, it's crucial to establish a distinctive style and maintain consistency. By consistently adhering to a specific style in your posts, you enhance the recognizability of your content, ultimately setting yourself apart from competitors in the process.
2. Chobani
Within a mere 8-year timeframe, Chobani has transformed into a multi-billion dollar enterprise, with its social media strategy playing a significant role in this remarkable success.
Initially, the company prioritized personalized engagement with their followers, along with influencer outreach, to amplify their social media presence. Subsequently, Chobani leveraged captivating visual content to sustain the interest of their audience.
Currently, Chobani's Facebook page boasts a staggering 1.3 million followers and garners an impressive engagement rate of 25K per post. Rather than merely inundating their audience with repetitive product images, Chobani placed a greater emphasis on showcasing their brand's core values: promoting a healthy lifestyle and wholesome food choices.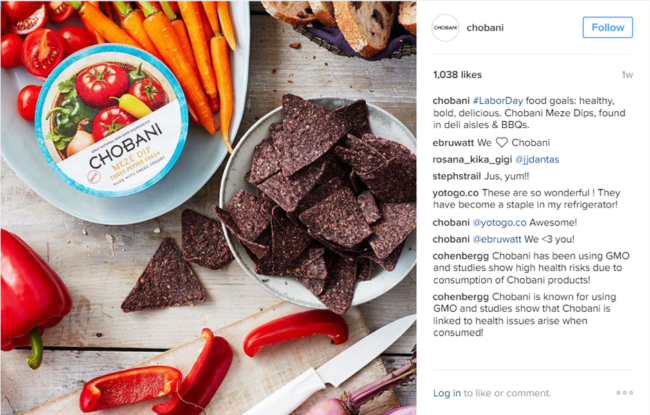 Since Chobani's customers use their yogurt in preparing food too, the company used Pinterest to post different recipes that can be made with their products. On the board 'Dishing with Chobani', the company posts visual recipes regularly and needless to say, they are all very well received.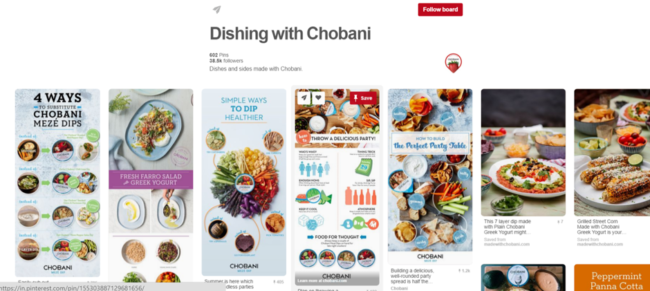 What you can learn from Chobani – Regardless of what you are posting about, it's important to keep the focus on your brand's main message.
3. Salesforce
Salesforce operates with a clear mission: to empower businesses and drive their success through their innovative platform. This dedication to assisting businesses is evident in their social media content, which comprises informative posts directly relevant to the services they provide.
Their posts often feature articles that offer valuable marketing and sales tips, along with showcasing emerging technologies. However, what truly distinguishes Salesforce is their use of captivating and distinct visuals, particularly illustrations, to complement these articles.
While some of their articles delve into intricate subject matter, Salesforce makes a deliberate effort to enhance engagement and simplify comprehension through their visually appealing illustrations. These vibrant and attention-grabbing visuals serve as a pivotal factor in determining whether an article is swiftly scrolled past or clicked on, read, and even shared.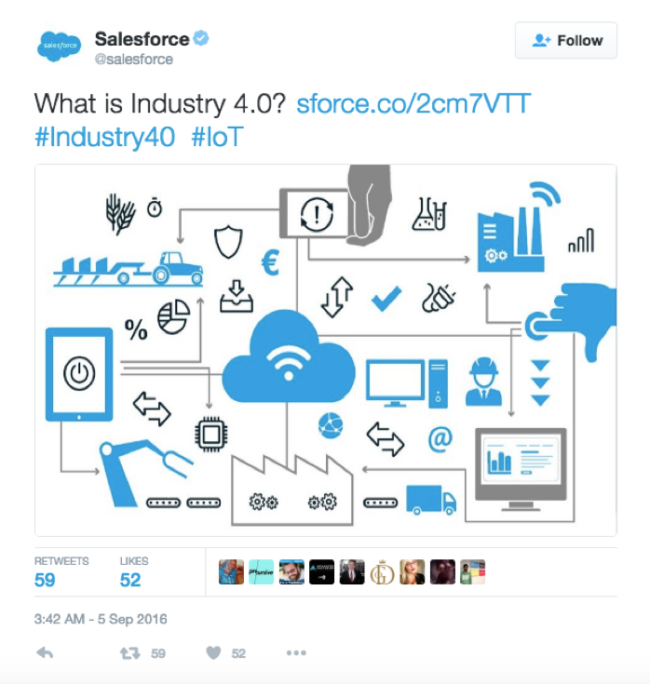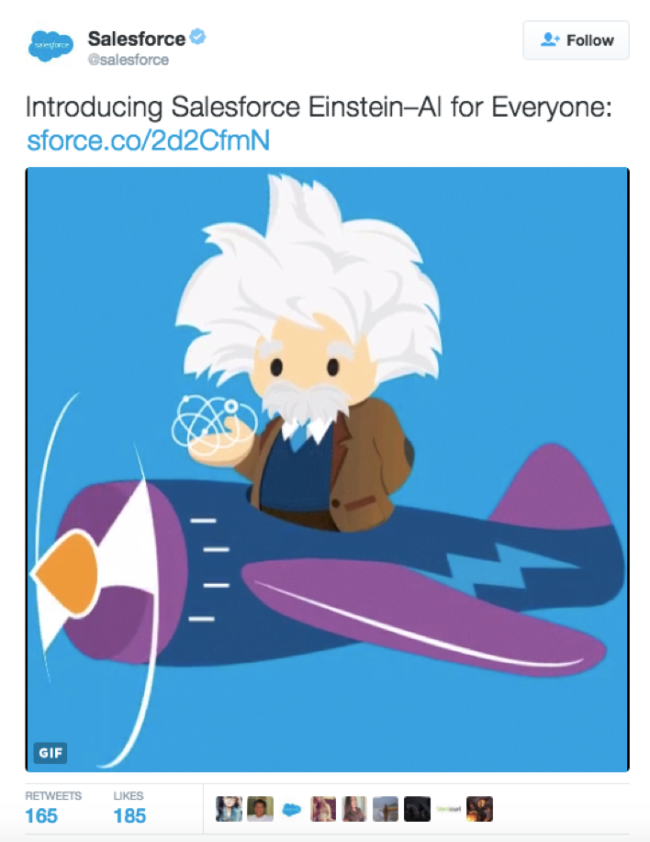 What you can learn from Salesforce: Pairing beautiful visuals and graphics with your articles will ensure that you have compelling, engaging and shareable content.
4. Sagmeister & Walsh
In the realm of renowned design companies, Sagmeister & Walsh exemplifies the significance of a strong visual branding strategy, and they undeniably excel in this aspect.
Utilizing social media as a platform, this design firm showcases their astonishing portfolio, serving as a source of inspiration for both aspiring graphic designers and individuals seeking creative ideas. Although Sagmeister & Walsh do not possess a dedicated Instagram page, the two partners, Stefan Sagmeister and Jessica Walsh, actively share their work on their individual Instagram accounts, ensuring a constant stream of captivating content that keeps their audience engaged and entertained.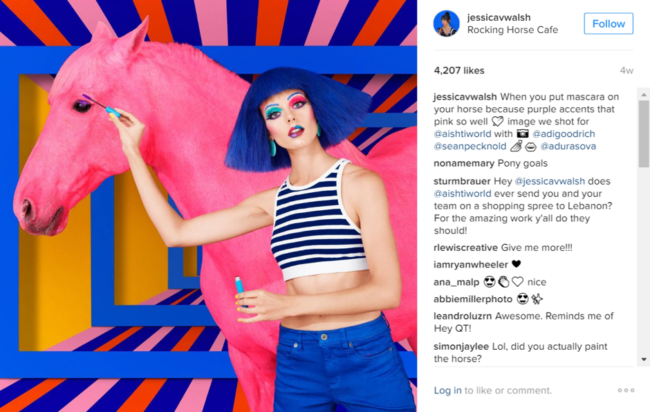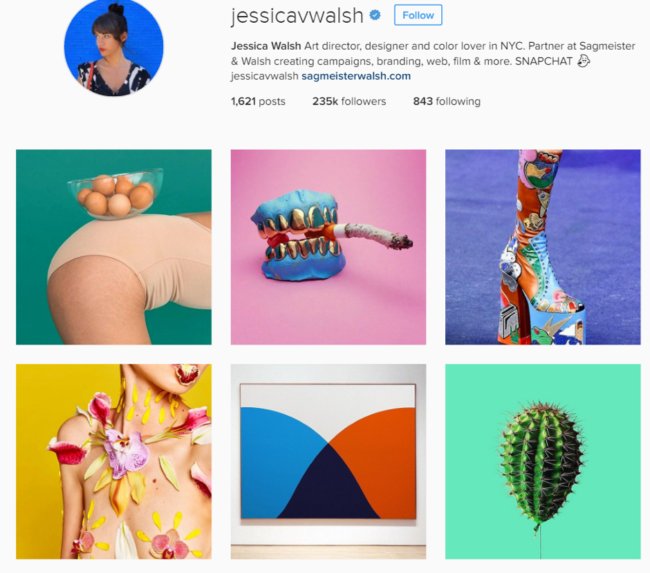 This aesthetic consistency also extends to their print marketing. Notice the bold yet simplistic style they adopt for their business cards – reiterating the importance of their identity on and offline.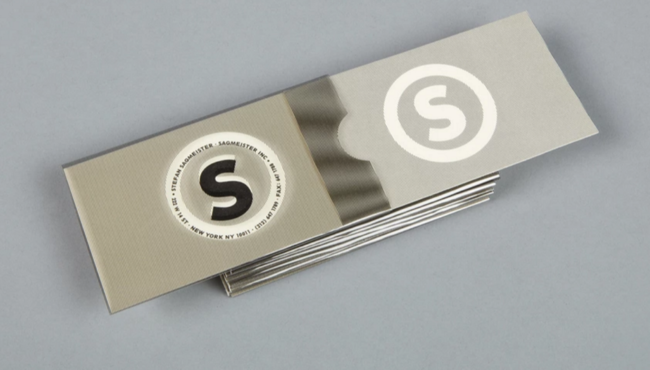 If you've dedicated significant time to shaping your online presence but neglected your traditional print marketing materials, it's worth considering giving them a makeover. The good news is that refreshing your materials doesn't have to break the bank. You can explore the option of designing your own business cards using one of Canva's customizable templates. With a vast array of styles available, you can easily adapt them to align with your unique brand identity.
Here's a valuable lesson to learn from Sagmeister & Walsh: Establish a consistent brand identity and maintain it across different platforms, be it social media or business cards.
5. Frooti
Frooti, the Indian mango drink, has been delighting consumers since its establishment in 1985. With its distinct orange-colored beverage, Frooti has consistently adopted a vibrant mango-yellow branding for its packaging.
When Frooti ventured into the realm of social media, it cleverly incorporated its signature color into its visual content, maintaining a cohesive and recognizable brand identity across platforms.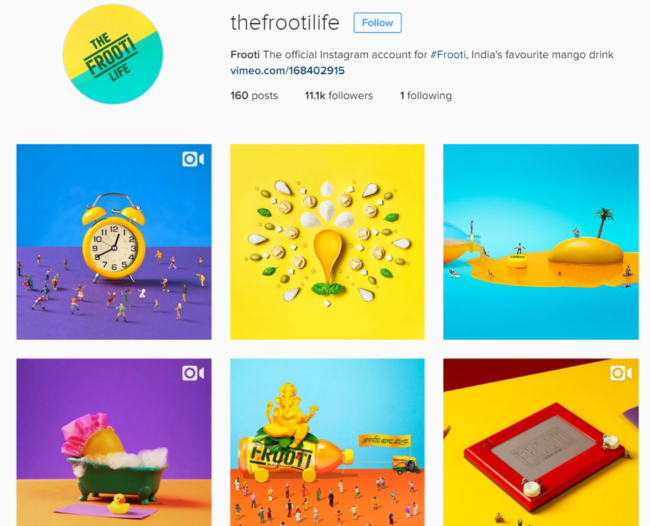 However, Frooti goes beyond a single color and has developed a dynamic color scheme consisting of yellow, green, and purple, which it prominently features in nearly all its visual content.
In a creative departure from directly showcasing Frooti bottles in their social media photos, the brand opts for the use of mango imagery. This clever strategy conveys the message that Frooti and mangos are synonymous, reinforcing the strong association between the brand and the fruit itself.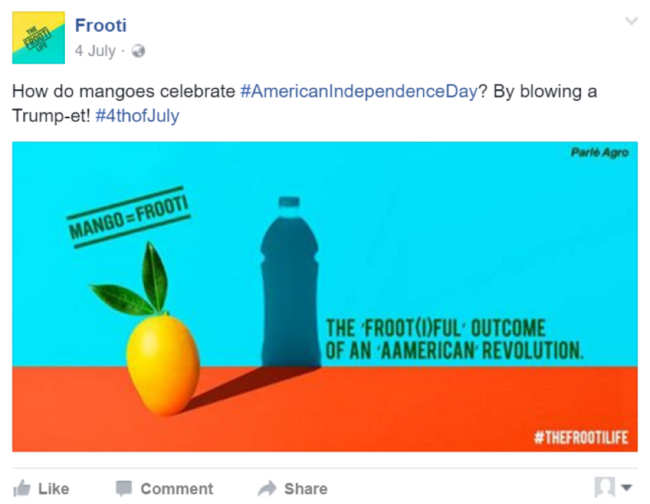 What you can learn from Frooti – While it's good to stick with a formula that has proven to be successful for decades, it's better to give a modern twist to it.
How can you create a visual identity for your brand
Now that you've seen how some of the world's most creative brands have developed a visual brand identity, it's time to take all their lessons together and create a visual identity for your own brand.
Here are a few tips to help you in the process:
Use customized filters
A crucial aspect of visual identity is ensuring that when customers come across a new image in their feed, they can instantly recognize it as belonging to your brand. One effective method to achieve this is by utilizing customized filters.
Given that many individuals may opt for popular Instagram filters like Clarendon or Lark, it becomes essential to make your photos stand out from the crowd.
This is where customized filters come into play. By creating your own unique filters, you can elevate your brand's visual presence and ensure that your photos possess a distinct and recognizable style that sets them apart.
Know your dimensions
Optimizing image dimensions for each social media platform is essential. Facebook's images should ideally be sized at 940px x 788px, Twitter images at 1024px x 512px, and Instagram images at 1080px x 1080px.
While it may be tempting to post a Facebook-optimized image on Twitter, it's important to consider that followers on that platform might not see the image as intended, potentially harming your brand's image.
Developing a definitive color palette, similar to Frooti's approach, can enhance the recognition of every social media image you post.
Remember to infuse fun into your brand's social media presence. Incorporate your brand into everyday scenarios and make it relatable for your followers through enjoyable visuals.
Are you prepared to elevate your brand to new heights by establishing a compelling visual brand identity?