With social media platforms like Facebook, Twitter, Instagram, and now Snapchat, creating a visual identity has become more important than ever for brands. Every second, tens of thousands of tweets, Instagram posts, and Snapchats are shared, and your brand is supposed to get ahead of all that traffic to make an impact on its followers.
Seems impossible? Not so much.
The idea is to create a visual identity for your brand which is so recognizable that your followers shouldn't even have to check the handle to see who it's posted by, they should automatically know it's you.
Many brands have been able to achieve a unique visual identity, while others are still struggling. If you fall into the latter category, then this post is just for you.
Here are 5 brands with an awesome visual identity and what you can learn from them:
1. Dropbox
Visual assets like your brand's photos, videos, illustrations, and infographics are a fundamental part of how your brand story is communicated to your audience. A great example of this is Dropbox, the cloud-based file sharing platform. Dropbox consistently uses hand-sketched style graphics across their communication platforms, from their email marketing and even on their Instagram account.
Although the illustrations are simple, it's the consistent use of this hand-drawn style that makes Dropbox's visual branding brilliant. Playful and bright, it lends a human touch to an otherwise cold software. It makes Dropbox seem more personal, user-friendly and approachable compared to competitors.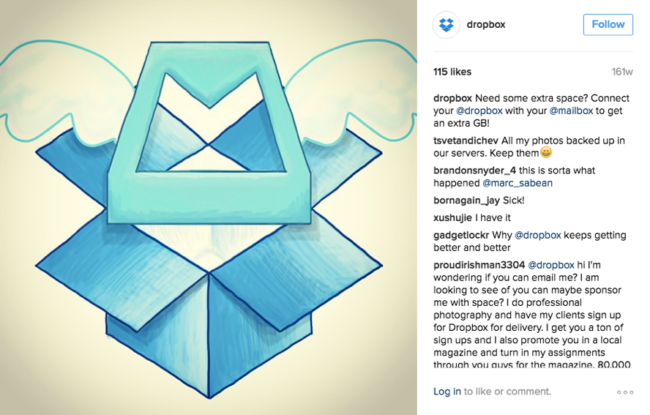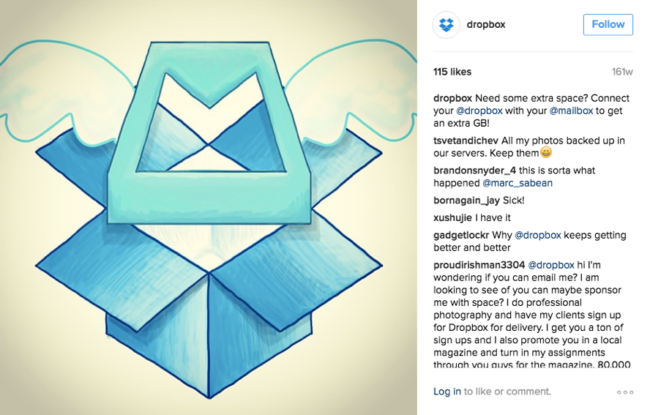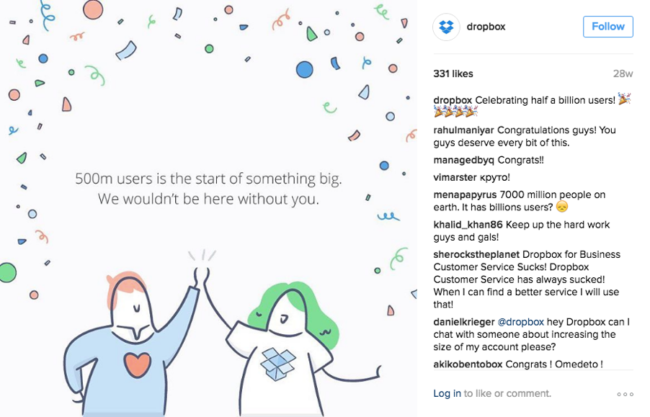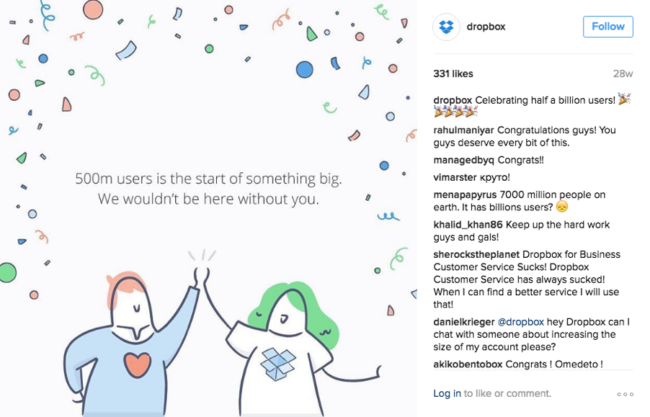 What you can learn from Dropbox — Whether you're using photos or illustrations, find a style and be consistent with it. The more consistently you post in a particular style, the more recognizable your content will be, helping to set you apart from the competition.
2. Chobani
In a short span of 8 years, Chobani has become a multi-billion dollar company, and the Greek yogurt brand gives a big credit for that to its social media strategy.
First, the company focused on 1:1 engagement with their followers and influencer outreach to get more traction to their social media pages; and then used great visual content to keep the followers engaged.
Right now, Chobani's Facebook page has over 1.3 million followers and an engagement of 25K per post. Instead of just posting product images over and over again, Chobani focused more on what the brand is all about – healthy lifestyle and food.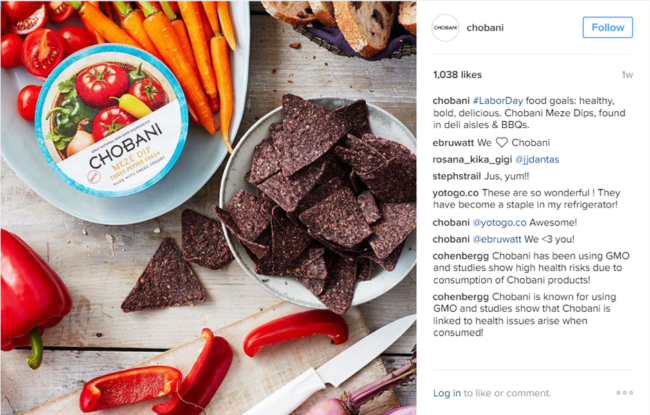 Since Chobani's customers use their yogurt in preparing food too, the company used Pinterest to post different recipes that can be made with their products. On the board 'Dishing with Chobani', the company posts visual recipes on a regular basis and needless to say, they are all very well received.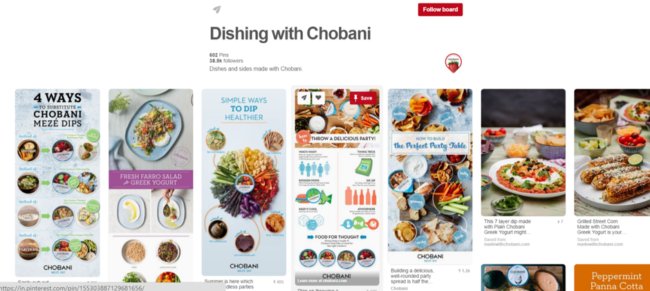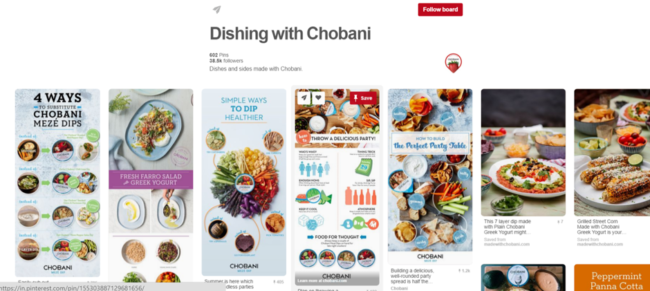 What you can learn from Chobani – No matter what you are posting about, it's important to keep the focus on your brand's main message.
3. Salesforce
Salesforce has a clear mission — help businesses achieve success through their platform and constant innovation. This commitment to aid businesses translates to their social media content via posts that are informative and relate to the service they offer.
They often post articles that feature tips on marketing or sales as well as showcase new technologies. What sets them apart though, is their use of captivating and unique visuals, usually illustrations to accompany these articles.
Some of their articles and subject matter can get pretty complicated but Salesforce endeavors to make it more engaging, if not simpler, through their illustrative style of visuals. These bright, eye-catching illustrations can spell the difference between your article getting scrolled past or getting clicked on, read or even shared.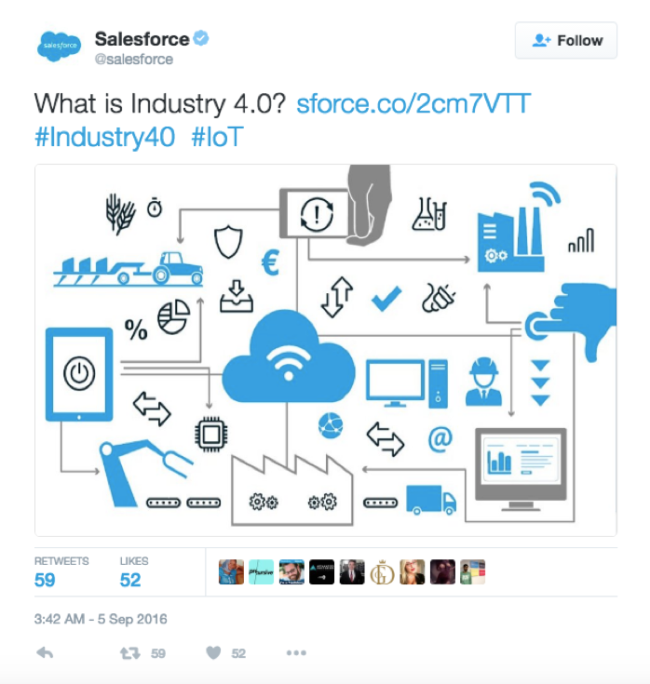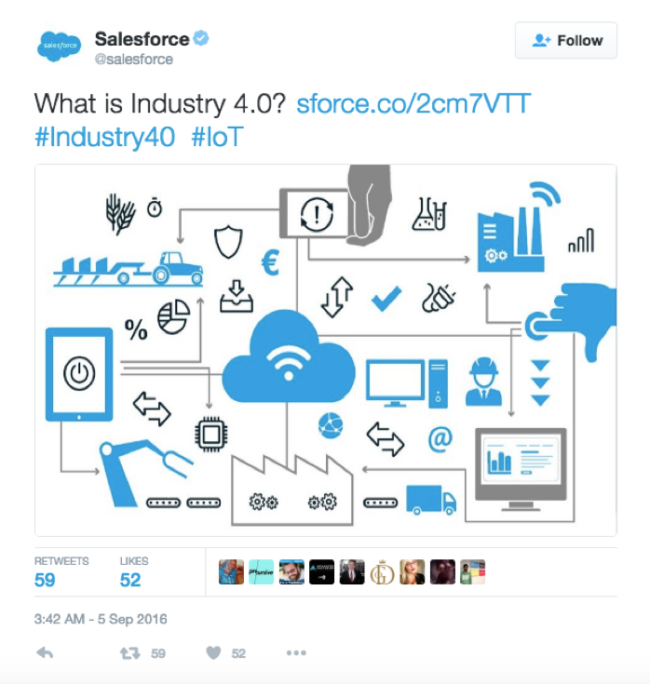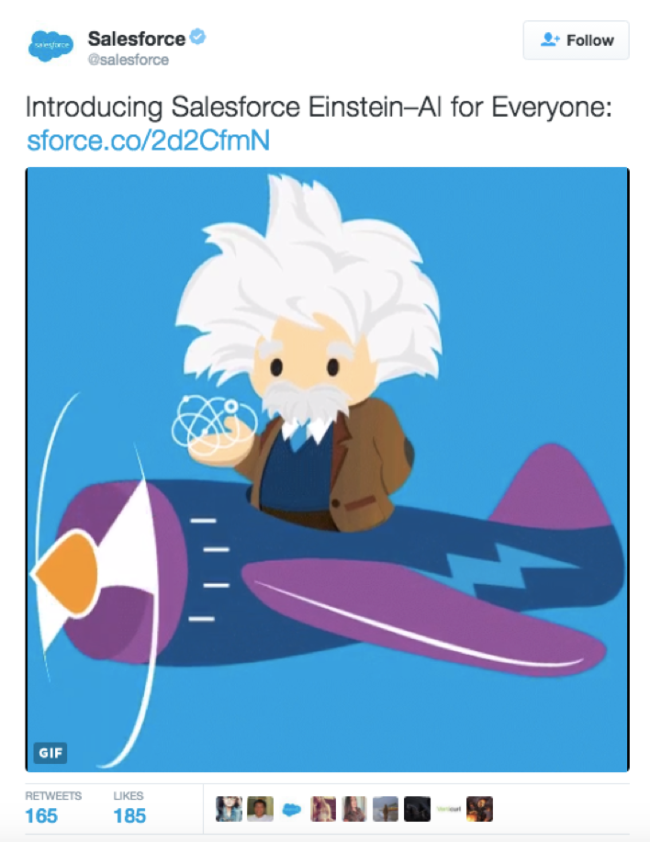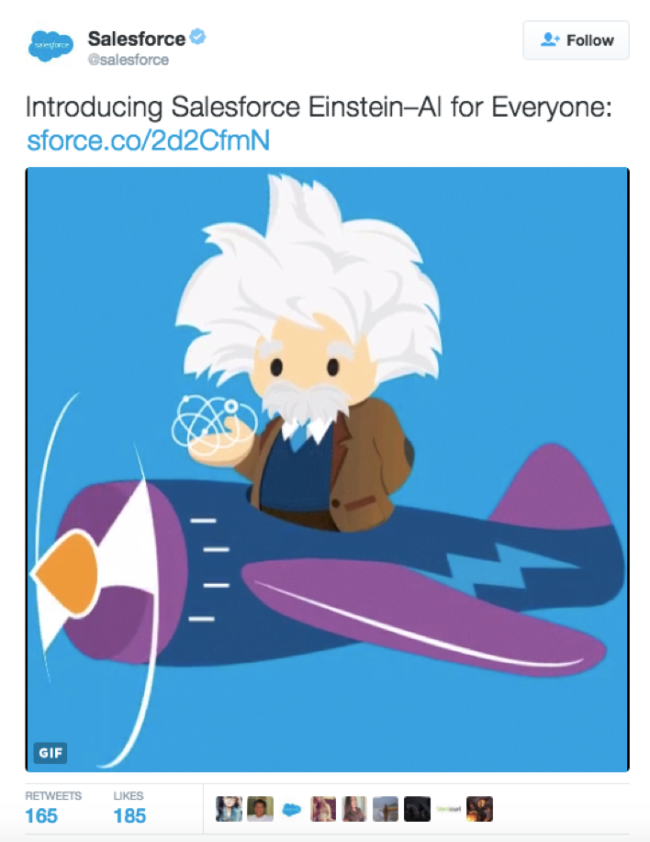 What you can learn from Salesforce: Pairing beautiful visuals and graphics with your articles will ensure that you have compelling, engaging and shareable content.
4. Sagmeister & Walsh
When you are a renowned design company like Sagmeister & Walsh, your visual branding becomes more important than ever, and this firm is definitely nailing it.
The design firm uses social media to share all its work, which is astonishing, not just for budding graphic designers but also for people looking for inspiration While the company does not have a dedicated Instagram page, the two partners Stefan Sagmeister and Jessica Walsh post enough on their Instagram accounts to keep everyone entertained.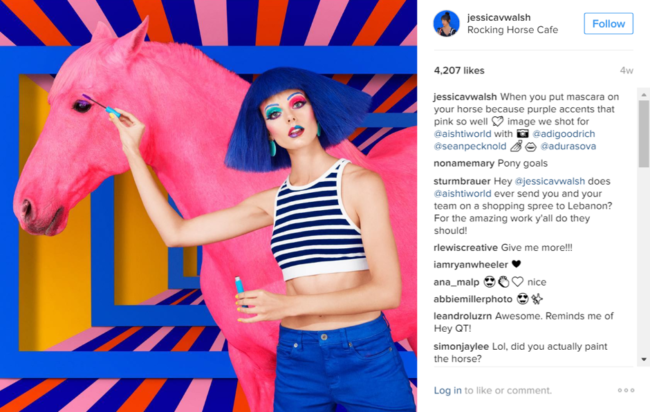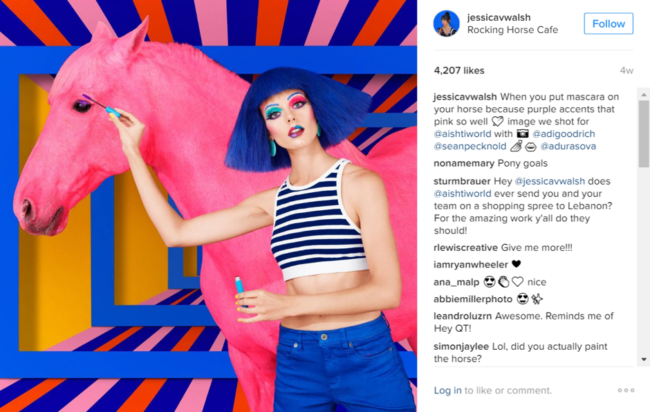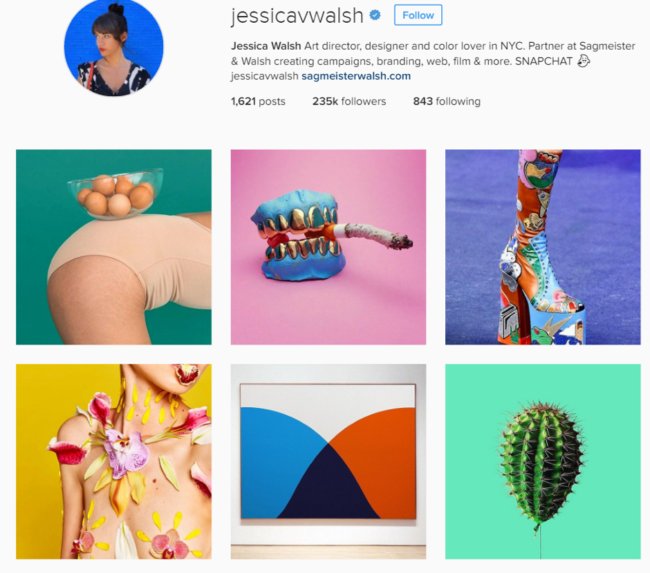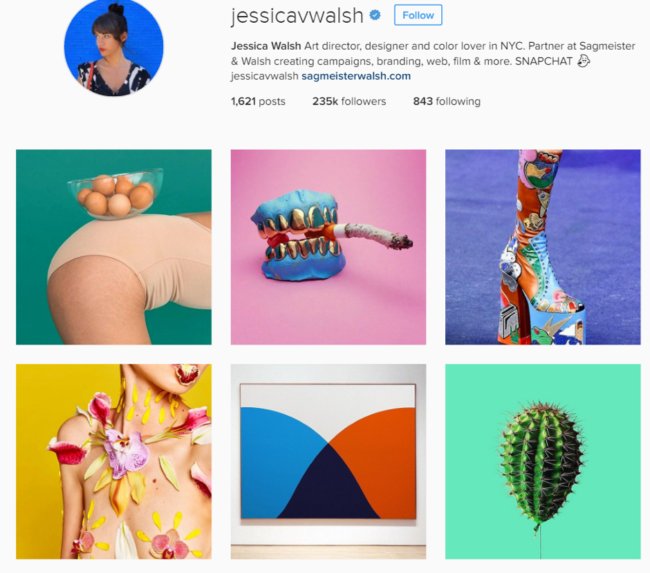 This aesthetic consistency also extends to their print marketing. Notice the bold yet simplistic style they adopt for their business cards – reiterating the importance of their identity on and offline.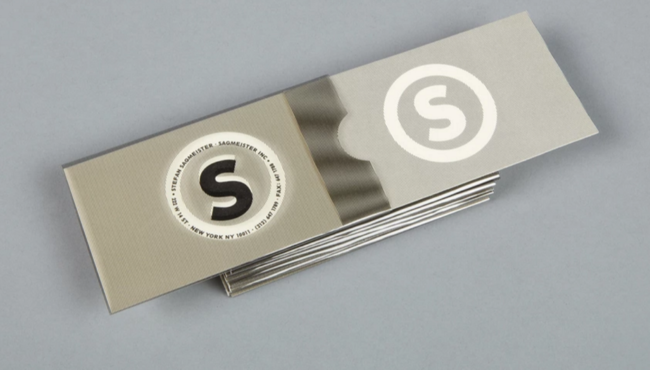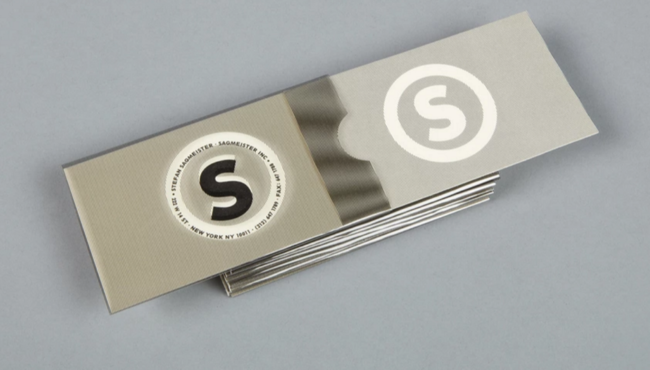 If you find you've spent a lot of time defining your efforts online and have neglected your older print marketing materials, consider giving them a refresh. You won't even need a budget – try designing your own from one of Canva's business card templates. With hundreds of styles to choose from, they're easily adaptable and allow you the luxury of tailoring your business card to your unique brand identity.
What you can learn from Sagmeister & Walsh – Create a brand identity and stick with it, whether it's social media or business cards.
5. Frooti
Frooti is an Indian mango drink which was founded back in 1985. While the drink itself is orange in color, Frooti has always used a mango-yellow branding for its packing.
So, when the brand made its debut on social media, it used the very same signature color to create visual content.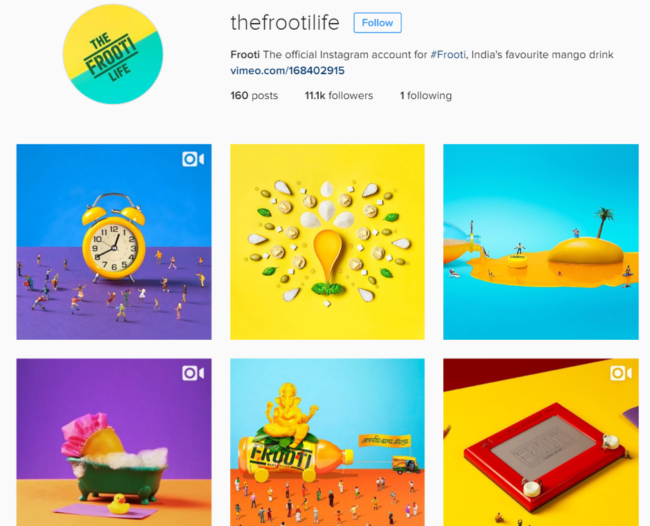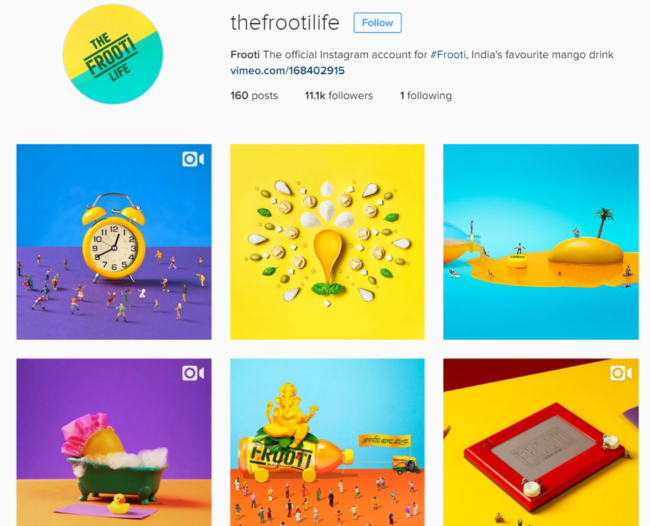 But instead of just sticking to one color, Frooti has created a color scheme of yellow, green, and purple, which it incorporates in almost all of its visuals.
Also, instead of directly putting Frooti bottles in all of their social media photos, the brand chooses to use mangos. It's their way of showing that Frooti and mangos are exactly the same.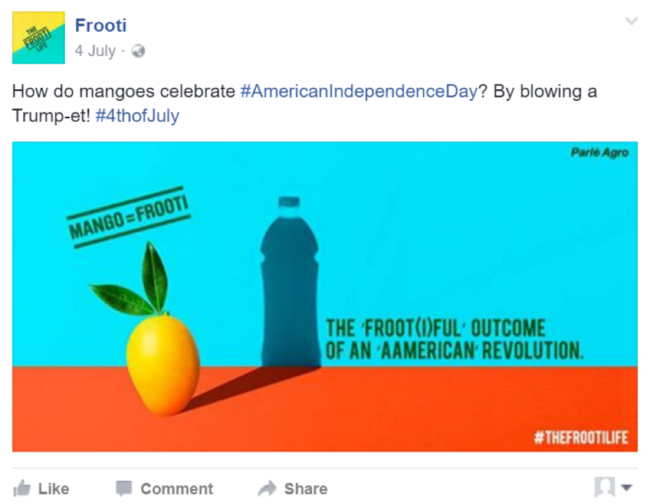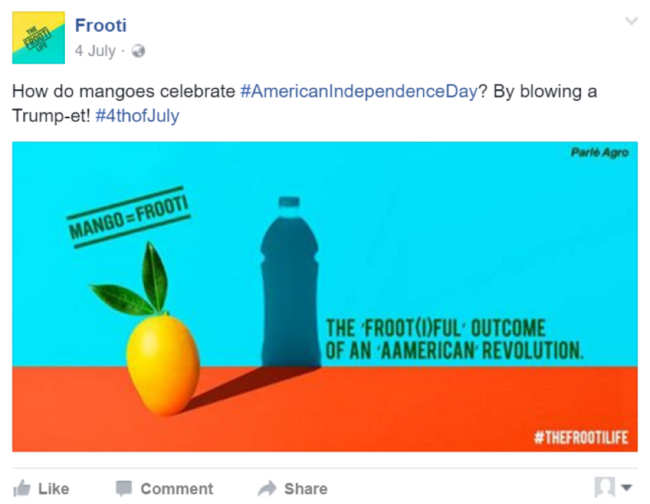 What you can learn from Frooti – While it's good to stick with a formula that has proven to be successful for decades, it's better to give a modern twist to it.
How can you create a visual identity for your brand
Now that you've seen how some of the world's most creative brands have developed a visual brand identity, it's time to take all their lessons together and create a visual identity for your own brand.
Here are a few tips to help you in the process:
Use customized filters
Visual identity means when a customer sees a new picture on his feed, they should immediately know it's from your brand. The best way to achieve that is by using customized filters.
Every other person can use Clarendon or Lark as their Instagram filter, so how will you make your photo so different?
That is why you need customized filters.
Know your dimensions
Every social media platform requires different image dimensions. The ideal image dimensions for Facebook is 940px x 788px, Twitter is 1024px x 512px and Instagram is 1080px x 1080px.
Of course, you could post a Facebook optimized image on Twitter, but your followers wouldn't be able to see the image as it was intended; which could damage your brand.
Create a definitive color palette
A fixed color palette, like Frooti's, can make every image you post on social media even more recognizable.
Make it fun
Remember, you have to find a way to incorporate your brand into everyday life scenarios and not vice versa. Make it fun for your followers by posting more relatable visuals.
Are you ready to take your brand to the next level by creating a visual brand identity?