If you just signed up for an Instagram account or already using it, in start it will be a little harder to get attention on social media like Instagram. If you are looking to build following on Instagram without spending money or spamming Instagram then you are in right place. It will take time to grow your Instagram followers organically but it is the best way to start and grow target followers.
In this article, you'll discover 6 tactics used by top Instagram marketers to grow Instagram followers organically.
1. Post Consistently
While the average Instagrammer posts ones per day but to be successful on Instagram you need to posts more frequency like 3 posts every day. One of the successful key factors on Instagram is to post content consistently at right time every day.
Choose posting time as per your audience. First, you need to convert your personal Instagram account into a business account, I hope you already have the Business account. To find out which time to post on Instagram, go to your Insights page then Followers page and scroll down to see which time of the day you followers are active on Instagram.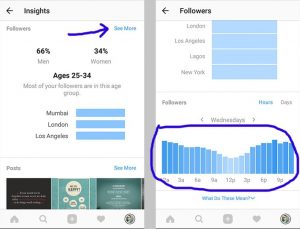 2. Cross-promote your account to grow faster
If you have other social media account or blog, you can cross promote your account and content without doing extra working.
Here is how:
Embed your Instagram content on your website and social media like Facebook. You can use the Tab feature on Facebook to embed your Instagram content.
Use IFTTT: There are many automation tools including Zapier to automatically post your social media content on other social media platform. IFTTT is one of my favourite tools and it is also free to use.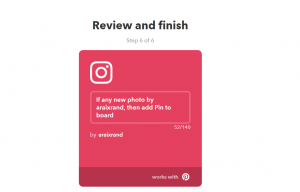 Post Your Instagram content on Your Pinterest Board automatically
3. Write a long caption and use Emojis
Recently I have written a blog post on best practice to post content on Instagram which describes the benefits of writing a long caption.
Emoji is papular on Instagram and it has been used by most of Instagram users in the comment, Bio and post caption.
4. Themed content and Niche Marketing
Your Instagram account is your Brand just like your website. You can use branding strategies and identity design in all of your Instagram post to boost awareness of your brand and Instagram account.
Niche marketing can help you to position your brand and win on social media among your competitor. It is one of most important tactics you can use to grow your account organically faster. Learn more about Instagram niche research and how to position your self or brand on Instagram.
5. Add Hashtags and Location
Instagram just works like a search engine where users are searching for topics and location to browse content. Hashtags and location can help you to get your content in front of the new audience. You can add up to 30 hashtags in each post and of course one location.
6. Engage with your Competitor Followers
Find your competitors or people within your specific niche, go to their profiles and browse through their followers. This is where you have spent most of your time on Engaging with the competition's followers by liking and commenting on their content so they can notice your account and maybe follow your account.
You can also follow your competitor followers if you think they fit into your target audience. Assuming your content is stellar and the aesthetic is targeted at these specific followers, you will likely get follow backs.
Working manually on this task will take time but there is a catch; You can use a tool like Instazood which is Instagram automation and management tool to save time and money while growing your account on autopilot.