Instagram is growing faster and it is my favourite social media platform. It's one of the personal social media where user post picture and videos of their daily life. Having a niche-oriented Instagram account is the best advantage for a business owner or marketer. This will help your business connect with the right audience and build large amounts of following.
When I signed up to Instagram in 2013. I was posting pictures of my daily activities on my personal Instagram account. Now I have found my niche in "Daily motivation".
Here is a great example of niche-oriented Instagram account @Foodess. As you can see that She is in sub-niche (I mean niche within a Big niche) "Chocolate and sweet food" and her all picture has the same colour effect and same style.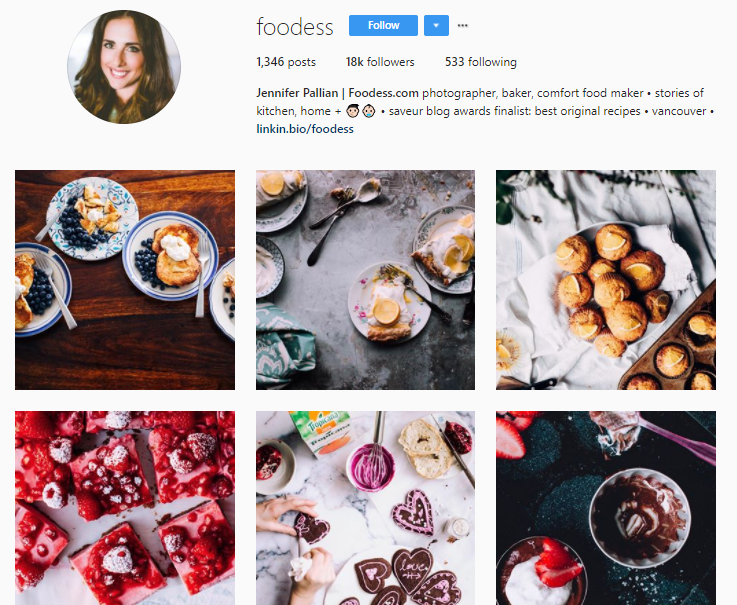 Now you know what is the advantage of having a niche-oriented Instagram account and how it looks. The next is to find out your niche, build a brand and connect with the right audience.
1. Find out what you are good at
The first step is in finding your Instagram niche is to ask yourself what interest you which other people with the same interest will to love to follow you or your business. It is good to have business in a niche which you are passionate about if not then after some time you will get bored.
If you are just starting your new Instagram account then before you stick to one niche I think it will good to try your others interest within a niche or outside the niche and style of the post. After you got some followers than stick to the same niche, sub-niche and style of the post.
If you don't know what interest you or you just want to try a new niche then below is the best way to find what's working in current time and what is most profitable.
a) Amazon Bestsellers: Go to your favourite categories or subcategories page in Amazon Bestsellers, this is the best way to find the best selling products. You can use Amazon best selling product data to come up with your own niche idea.
b) Google Trend: Search your Interest keyword and select location, time frame. If Interest trend is going up and competition is low then you are in good luck. You can also explore Related topics on the same page.
c) ClickBank: Clickbank is a popular and favourite affiliate marketplace for the Internet marketer. Infopreneur sale digital products in a wide range of categories and affiliate are those who promote products to make a commission on sales. Go to Clickbank Marketplace and navigate to your sub-categories and Sort results by Gravity. You can see what types and interest of products are top-selling right now.
2. Categories are not a niche
I see many people start their online business within a category and they think this is their niche. It is the big mistake every beginner marketer starter make. For example "Food" is not niche it is category "Sweet food" is niche.
Niche = People Specific Interest
Focus on your audience interest within your Favorited category.
3. Find Best Theme
Think of that your Instagram account is your Brand and you want to give a message to your profile visitor about what you do and what you stand for, something unique. The theme could be the color effect of your picture, style of your photo, picture size (I like 1:1), and logo on your post. Take a look at @Foodess profile her color scheme is same in all post.
Finding the best theme for your Instagram account is just like the Business brand. If you have an existing business Brand which is colour of your logo, website style, font etc then you should integrate your exiting style into your Instagram profile.
4. Be consistent
Being consistent is a surefire way to add credibility to your Brand so your Instagram followers will know when to expect updates from your account. Posting content regularly on your profile like 3 posts every day is a good idea but if you do less then that make sure you repeat it every day, week or months.
Final Thought
No matter what niche you choose Branding your business or your social media account like Instagram is the best way outperform, drive traffic to your website and make more money. I hope you have learned something in this blog post If you do then check out my resources page where you can download free content.