Finding a successful niche site to starts with is an excellent idea. You want something that is personally appealing while being profitable at the same time. There are a variety of formulas for finding the right affiliate niche to promote. I recommend you start by exploring your personal interests. Then look for a niche where it's easy to create content because you like talking about the topic.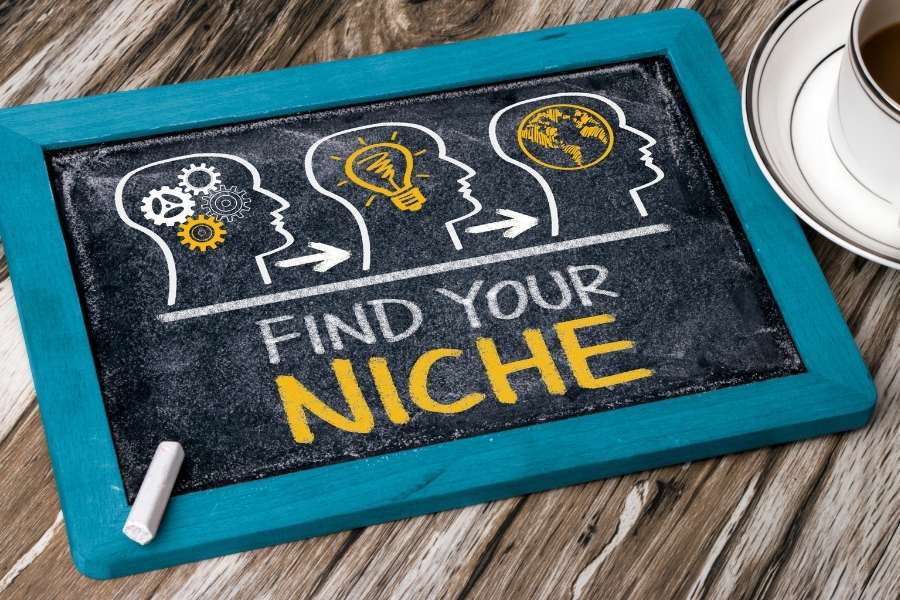 Here is a 7-part process for finding a niche site:
1: Get a Notepad for Brainstorming
I prefer to start with an idea capture mechanism. Carry a small notebook everywhere you go so you can jot down ideas. The key is to write down everything. Record any thought – Even if you only have a slight interest in it. This is important because you never know where a random thought will lead! Writing down an assortment of ideas is a great way to find that perfect niche. Spend a day or two on this exercise. You'll find it's not hard to think of dozens of topics once you have the right tool for recording these ideas.
2: Look at Your Personal Background and Interests
Think of the characteristics that make YOU unique. What is your age? What is your racial background? How about your gender, family background, or relationship status? Disability? Sexual orientation? Location? Any obstacles you have overcome in life? We have all been taught to look for similarities within each other. Sometimes though, the best niche idea comes from seeing how you're different from everyone else.
You should also examine your personal interests. Is there a skill you possess? Can you break down this knowledge into specific action steps? What advice would you give to someone starting out? You don't even need to be an absolute authority on a certain topic. Many successful online businesses are built by a person who has the passion to learn a new skill. They chronicle their journey and create content around these experiences. Take some time exploring your personal passions. Spend a few days on this exercise and go through your entire life. Think of everything you've done and seen. In all likelihood, you'll discover a few topics that will lead to a profitable affiliate niche.
3: Take a look at the different marketplace
The key to building a successful affiliate site is to find a profitable product. The greatest idea in the world won't matter if nobody is spending money. So after compiling a list of ideas, you'll need to check each for basic profitability. There are many ways to do this.
My suggestion is to go to the Clickbank marketplace and look for instances where somebody is selling information: http://www.clickbank.com/marketplace.htm
Why Clickbank? Clickbank contains the largest assortment of information products and software programs. It has 23 broad categories with multiple sub-categories in each section. There are literally tens of thousands of products offered on this site. So if you can't find something related to your idea then it's probably not going to be profitable. Get started by clicking on one of the 23 categories in the marketplace section. Look for products that are related to your core niche idea. My suggestion is to only consider an idea if you can find 3 or more products.
That means it's making enough money to warrant a little bit of competition. For now, don't worry about things like gravity, or average $ per sale. You'll learn about these things when you check out Clickbank's help section. The important thing is to do a simple test to see if people are spending money in this market.
4: Look for Competitive Niches
This might seem counterintuitive, but I like to pick markets that have existing competition. Like I said, competition means people are spending money. So instead of looking for a 'hidden' niche, I feel it's better to find a proven market where you can create unique content. Yes, you'll depend a lot on search engine traffic. But you'll create content in a specific way where it doesn't matter how much competition a market possesses.
EXAMPLE: When I researched the idea for the Beat Making Software Now website, I realized it was a super-competitive market. All of my tests told me it would be impossible to compete for the search term "beat making software," but there was a lot of potential for phrases like "how to make rap beats," "free beat making software," or "make custom beats."
My point? Your niche site will largely depend on what's known as long-tail keyword phrases. So the level of competition is often irrelevant because you'll create a lot of content that targets a variety of low-hanging fruit. This leads us to…
5: Identify Long-Tail Keywords
In the beginning, your affiliate website will largely depend on search engine traffic. Your goal is to attract people who use Google to get information. They come to your website, read your content, check out your product review, and (hopefully) make a purchase through your affiliate link. The best way to get this web traffic is to create content around the specific phrases that are often used in each niche. You won't target ultra-competitive keywords. Instead, you'll look for longer, multiple word (3+) phrases that don't get a ton of traffic, but are naturally congruent to the product you're promoting.
The best place to find this kind of information is with the Google Keyword Planner tool offered through their Google ads. I recommend you open a free account, so you can get 800 results instead of the 100 that's typically offered with their External tool. Once you've created an account, go to Tools and Analysis after that Keyword Tool To the left, you'll see the options for Match Types.
I recommend you de-select the Broad and "Phrase" options. Then select the Exact option. This will provide the best approximation of how often that specific phrase is entered into Google. Next, you'll take your list of profitable ideas and type in related phrases into the search bar. The goal here is to find a variety of keywords that get at least 50 to 100 exact searches each month. These might seem like a small amount. But they add up when you factor in random long-tail searches and related traffic.
What I'd get back are these exact search results:
Travel Hacking: 1,300
Frequent Flyer Miles: 6,600
Frequent Flyer Programs: 2,900
Mileage Calculator: 90,500
Airline Credit Cards: 3,600
Sky Miles: 3,600
Best Airline Credit Card: 2,900
Credit Card Miles: 590
How Many Frequent Flyer Miles for a Flight: 260
How to Get Frequent Flyer Miles: 260
Obviously, it would be really hard to compete for some of these phrases. So you'd probably have to do some digging to find the phrases that don't have a lot of competition. But generally, I don't like to worry too much about the "competitiveness" of each phrase. I'd rather focus my time on creating content instead of agonizing over specific numbers. With that said, if you're interested in finding quality keywords that don't have a lot of competition, then you might want to check out Spencer Haw's Long Tail Pro.
Spend a couple of hours looking at your niche ideas. I recommend you create a list of 100 keywords for each topic. That way, you'll have the stuff to write about once it comes time to build your website. After this task, you should have a 'shortlist' of 3 or fewer ideas. Each one should include the following elements:
It should be a topic you find enjoyable
It should be in a market where people buy information
It should have keywords that get 50 to 100+ exact searches per month At this point, you'll do one more thing before making a final decision on your niche idea.
6: Spot Multiple Product Opportunities
At first, you'll only worry about promoting a single offer. But the best way to scale a niche site is to find a variety of products that solve different problems related to this topic. This is important because you'll eventually want to transition into an authority website. Your goal is to create more content. And the best way to monetize these additional pages is to give readers different options on what they should purchase.
EXAMPLE: Let's return to our travel hacking example from before. There are a lot of offers I could promote in addition to Chris's Frequent Flyer Master program. I could easily write reviews about each of the following (which all have an affiliate program):
The Starwoods Credit Card
Country-specific rental car deals
Last minute airline offers through Priceline.com and Orbitz.com
Travel companies like GapAdventures.com
With a little bit of research, it's easy to determine that a niche site on 'earning frequent flyer miles can easily be turned into a larger authority-style business. It's not mandatory to find other affiliate products. Both of the sites I mentioned at the start of this eBook only made money from a single offer. But you should definitely research each idea just in case you decide to scale your niche site sometime in the future.
7: Pick Your Niche Site Idea
Eventually, you'll have to decide on an idea. Unfortunately, I can't tell you what to pick. Really it depends on your personal interests and what you discover during the research phase. The most important factor is your level of dedication.
Can you write 10+ pages of content? Can you create more articles on a weekly basis? Will you enjoy this topic for the next few months? It is possible to build a profitable website on a topic you don't find enjoyable. But it's better to focus on something where you can draw from personal experiences. This makes it easier when it comes time to build a website. I encourage you to take time with your decision.
Just don't get caught in the trap of over-thinking. The worst thing that can happen is you'll waste time and a little bit of money. Simply focus on the most profitable idea or the one you find enjoyable. Once this is done, you'll look for the best product to promote. In the next blog post, we'll talk about how to do this.