A rebranding can be a very expensive decision. You need to make sure that you make the right choice the first time around. It's also important to make sure that everything is done correctly. If you don't, then your business could suffer as a result. Instead of guessing, you can use a branding checklist to make sure that everything is done correctly.
Sometimes the change needs to be drastic, often including a complete rebranding. The journey will most likely be painful and costly, but done right; it can lead to profitable growth. This blog post will answer the key questions to help you find if your business needs rebranding.
Reasons for Rebranding
Usually, the need for change originates from one or a combination of the following reasons:
Losing negative baggage: rebranding in order to distance the brand from actions in the past and negative associations that prevent the brand and organization to move forward.
Expanding the brand's mandate: rebranding in order to increase the brand's relevance in new markets, new target groups or new product categories.
Finding strategic synergies: a common reason for rebranding among large, multinational corporations is to find synergies within a larger brand portfolio. Usually, the rebranding aims to simplify and create a more cost-efficient structure.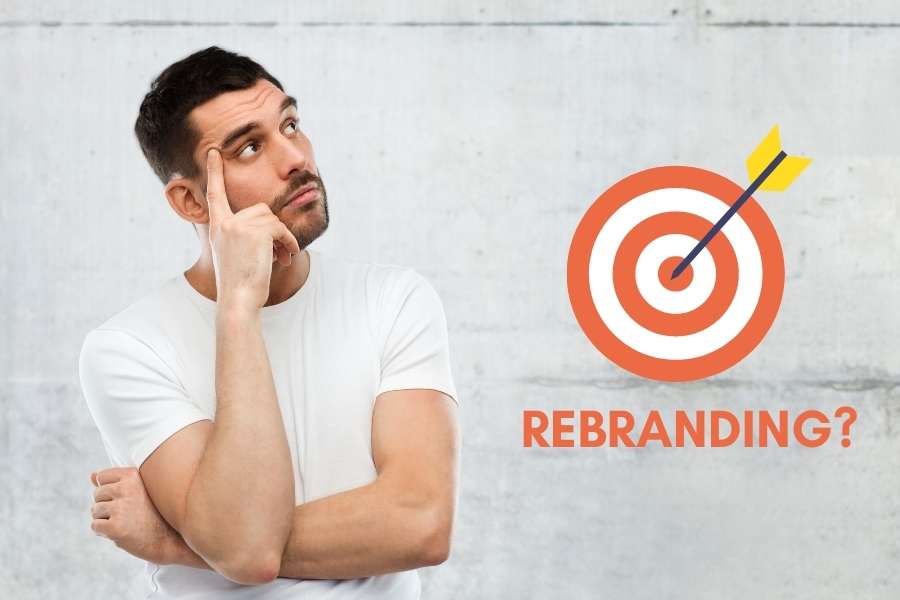 A recent example is Google's transition to Alphabet as the mother brand. As the business expanded into new territories, Google risked losing focus. Alphabet now allows Google to stay focused on its core business, while the mother brand provides a new mandate for innovation, acquisitions, and exploration of new business areas where Google had limited relevance. Hence, with Alphabet, Google has expanded its mandate to operate in new territories.
The starting point for any brand considering a rebranding process must always be the question of WHY. What are the reasons for choosing to rebrand? And how do you decide whether it's worth doing it?
As usual, we find the answers in the market. With insights into your target group, you'll know if your brand still creates enough customer value, or if it's time for a major change. It's also in your target group that you'll find if your brand already has the mandate to make the necessary change or if more drastic measures are required.
A rebranding process demands a lot of the organization and involves significant risk. If the need for change isn't dramatic, perhaps a lighter re-vitalization or re-positioning is a better alternative? Some even speak of a "hierarchy of pain", with regards to the different degrees of rebranding.
Re-vitalization of a brand is usually the least painful process. Here, it's all about finding new excitement and attraction to the brand's current equity. A well-known example is Old Spice, a brand that managed to make a powerful comeback after an extended negative trend. The re-vitalization was mainly fueled by insight-driven communication, but still with the same brand.
The third degree of pain is the complete rebranding, which always brings high expectations of real change. To be successful, the brand has to live the change in all parts of the business and across all touchpoints with the client. If the rebranding only is perceived as a superficial re-paint, it will not create the desired change.
In the worst case, it might even affect the perception of the brand negatively. Naturally, there is a significant "physical" cost connected to a complete rebranding. However, there are also a number of more indirect costs to take into account, as the process will require a long-term commitment and often organizational changes.
For Example, Mastercard has released its first logo change in 20 years. Designed by NY-based Pentagram, MasterCard describes its new identity as "simplified, modernized and optimized for an increasingly digital world."
The drop shadow on the old text has been eradicated and thankfully the overlapping circles have been kept! The all-lowercase text keeps up with the trend in corporate logos (think Amazon, Facebook & Vitaminwater) and the circles communicate MasterCard's intentions to provide a seamless experience to all customers.
So overall, MasterCard's rebrand is widely considered a success. Perhaps seen as more of an update than a rebrand, the logo remains instantly recognizable and yet just seems to fit in with the digital world.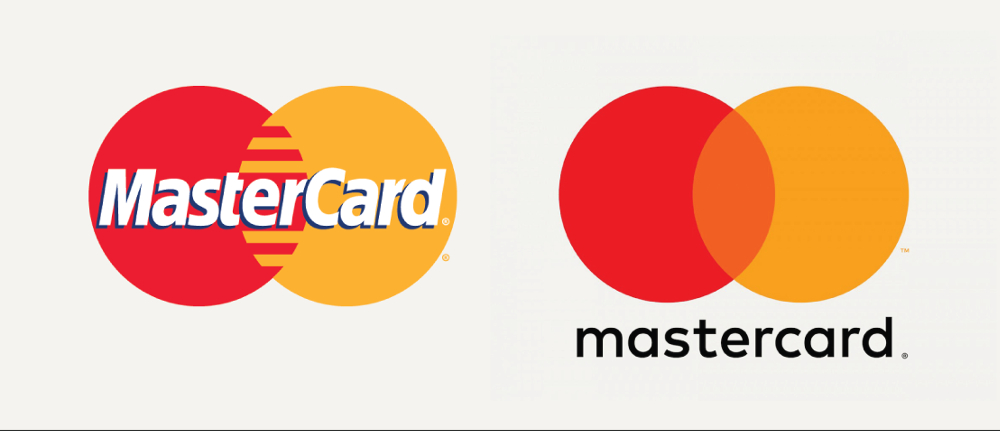 To conclude, rebranding is a fascinating topic. Hundreds of articles have been written on the subject and there are many "truths" to consider. Naturally, every case is unique and brand owners need to have clear answers to a number of key questions before the final decision is made to move to a new brand:
Why and how does the brand need to change?
Does the brand have the mandate to make the necessary change in the market?
What could the brand potentially win from making the change?
Is there equity in the brand that needs to be kept and transferred to the new brand?
What risks are involved in the rebranding?
What will it cost, and what does the ROI-estimate look like?
Is the organization ready to make the change and does it have the endurance required?
Are you considering a rebranding for your brand?
Conclusion
Your business identity is one of the most important factors of your marketing strategy. It's the first thing your customers will see, and it's the first thing that will make or break their impression of your business. With that in mind, it's important to make sure that your brand is cohesive, creative, and professional.