What Is Clickbank? Well, Clickbank is an online marketplace that lists over 10,000 digital products (new products are added daily). Each product pays a sales commission which incentivizes affiliates to sell the product. Commissions range from 1% to 75% but, typically, are around 50%.
It's a great way to get the word out on products for owners, and it is the excellent way for affiliate marketers to earn money by promoting other products!
The Clickbank product list is always changing as new products are added and old products are removed.
There are two ways you can make money from Clickbank:
1. By selling other people's products; i.e. acting as an affiliate marketer
2. By selling your own product (and getting affiliates to sell it for you)
If you have your own product, that's great, but the majority of people won't, so they'll be restricted to option 1, selling other people's products.
But, first things first…
Joining Clickbank
As I said earlier, joining Clickbank is free. All you need to do is go here, enters your details. The signup page looks like this (see next page) Clickbank Signup Page.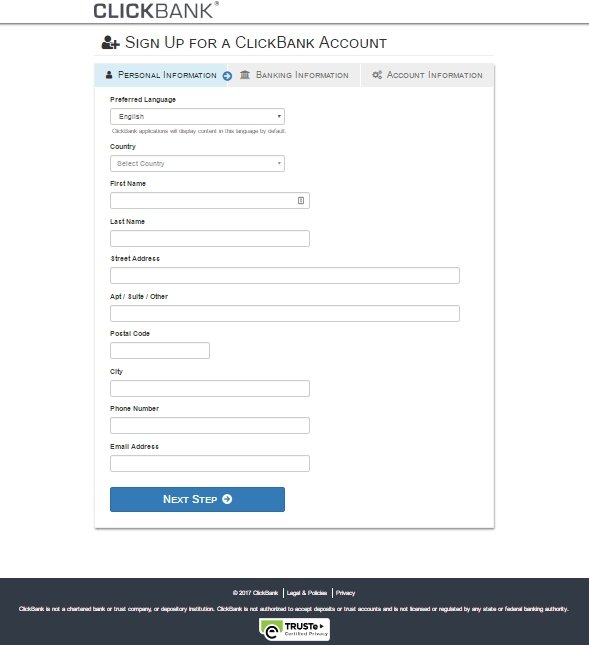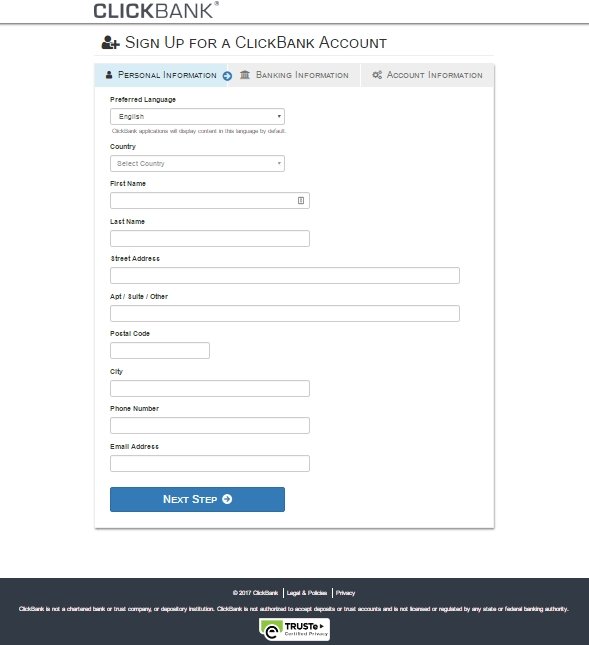 A Few Simple Notes About Signing Up
These are all pretty obvious points but are worth mentioning anyway.
Clickbank pays affiliates by check. Clickbank does take payments through PayPal but regardless of how a buyer pays for a product, affiliates are only paid by check. So  it's important that you enter your real name on the form (so you can cash the checks!)
Make sure your address is correct. It's not much good to you if your neighbor or the guy down the block gets your checks, is it?!
A note for Non-U.S. Residents. The ZIP code field has a U.S. bias. If your postcode has less than 5 digits, add preceding zeros or the postcode won't be accepted.  For example, if your postal code is 801, type in 00801. Enter a valid email address. Your password will be emailed to this address (without this you won't be able to access your account). Notices of sales (if you sell your own product) will also be sent to this address.
Clickbank requires a phone number. Now I'm always dubious about giving out my number as I've received unwanted calls from telemarketers on pre- various occasions.
Clickbank can be trusted, though.
By the way, if you want to hear how one unhappy recipient dealt with an unwanted telemarketing call, you should really listen to this recorded conversation (believe me, you'll enjoy it!):
Lastly, you need to select a nickname (Clickbank ID) to use. This will be the name of your account, so choose something meaningful to you. The name is not case sensitive Once you're satisfied that everything is correct, click the Submit button at the bottom of the page.
Sorry, that username is not available. Please choose another one. …and you'll have to select a new nickname.
Once your signup has been accepted, this screen will appear: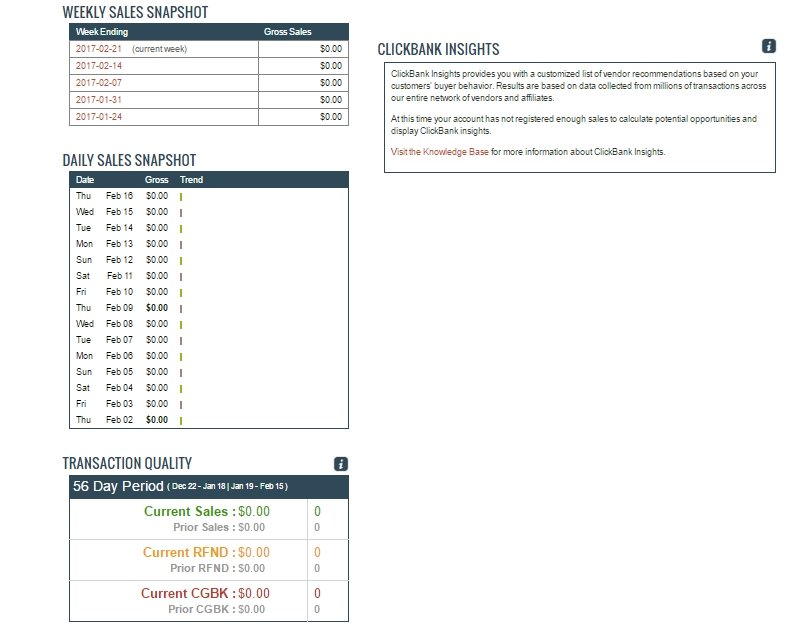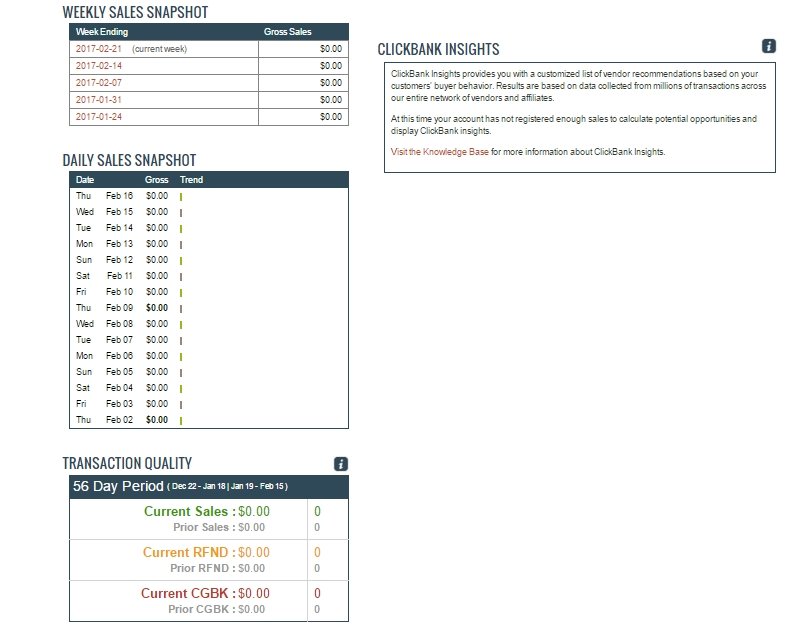 Now check your email for your confirmation code (this is also your password) and copy and paste the code into the Confirmation Code box. Then click the Finish button. You'll then be redirected to a page that tells you your account has been set up. The page also shows your account name and password. Make sure you take note of both bits of information!
That's It! You're now officially a member of Clickbank. Go here to login to your account.
Once you've logged in, your Account Home page will appear (see next page). This is the screen that will list your commissions earned by date. The screen is broken into three sections. At the top are your Pay period Sales Subtotals. These are your commissions totaled by 2 weeks period. You can click the dates to get a breakdown of any sales or refunds (yes, they do happen!) for that period.
Below that are the Daily Sales Subtotals which show your daily commissions earned. The third section, at the bottom of the page, just lists some payment period information.
Now click the Account Settings tab.
If you're a U.S. Resident, you'll need to apply for an EIN if you make over $600 from Clickbank in a year. No sense in getting on the IRS's bad side. If you don't already have an EIN, click the TAX ID link and follow the instructions to get one.
Non-U.S. citizens can ignore this field.
The other field you'll need to change is Payment Threshold. The default setting here is $100, which means Clickbank will only send out a check after you've earned at least $100 in commissions. I recommend you drop this down to a $25 threshold, at least when you're starting off so you get the spoils of your efforts sooner.
When you click the Reporting tab, it defaults to listing the paychecks you've been sent. Click the dates for a more detailed breakdown of each period. Click the Transactions lists subtab to see your transactions (i.e. products sold or refunded, etc.).
Note: It's important to be aware that refunds will happen. People want their money back for many reasons. If you're seeing a lot of refunds for one particular product, maybe the product isn't everything it's cracked up to be and it might be time to look for an alternative and dump the current product entirely.
Wait, If you want to learn how to promote Clickbank products and make money fast check out this: Affiliate marketing guide "ClickBank Quick Cash".