Well, Clickbank is an online marketplace that lists digital products, including e-books, audio, software, videos, graphics, etc (new products are added daily). It is a privately held company based in Wilmington, Delaware, United States.
Clickbank is popular among newbie affiliate marketers. Each product on Clickbank pays a sales commission which incentivizes affiliates to sell the product. Commissions range from 1% to 75% but, typically, are around 50%. Recently Clickbank has also started listing physical products.
Sellers on Clickbank are called vendors and affiliates are the ones who sell products listed on the Clickbank marketplace for commissions. It's a great way to attract a large number of people for vendors, and it is an excellent way for affiliate marketers to earn money by promoting their products.
The Clickbank product list is always changing as new products are added and old products are removed. The affiliate should always look for trending products and recently added products to make more money.
There are two ways you can make money from Clickbank:
By selling other people's products; i.e. acting as an affiliate marketer
By selling your own product (and getting affiliates to sell it for you)
If you have your own product, that's great, but the majority of people won't, so they'll be restricted to option 1, selling other people's products.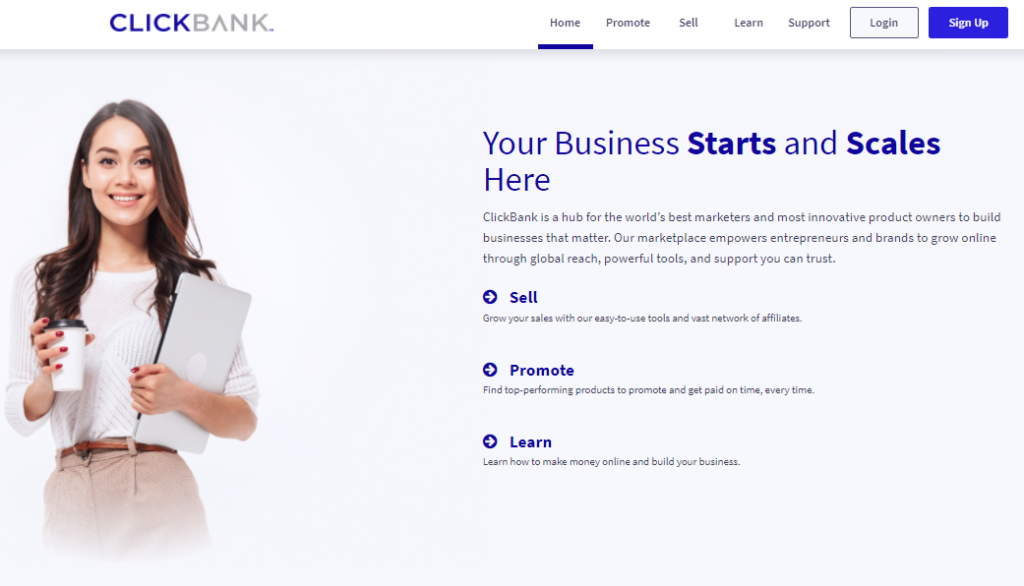 Why Clickbank for Affilaite Marketing
For newbie affiliate marketers Clickbank is the go-to place to find products easily. As Clickbank products provide high commission on sales (this gets newbie affiliate marketers excited) and there are fewer restrictions when it comes to how you are going to promote the products.
There are few things you need to keep in mind before you start promoting Clickbank products as an affiliate.
Free Traffic is not reliable
It is very hard to make Clickbank products sale from free traffic until you have an audience who trust you. Just posting affiliate (hop link) on social media or other people's websites won't get you sales. Before you use the free traffic method to promote your affiliate products, make sure to build your audience through blogging or any form of content creation. But, you will have to invest tong of time and it also required you to have skilles.
Paid traffic is the fastest way to get started but it requires an upfront investment and there is a risk that you won't make a profit on your investment. That is why you should keep an open mind for learning, there will be losses and learning curves if you are new to affiliate marketing.
Clickbank account dormant Fees
There are account dormant fees charged by Clickbank if your account doesn't reach your weekly or biweekly payment threshold. For example, If you make a sale or more and for the next 90 days you didn't make any sales. Clickbank will charge you an account dormant fee each weekly or biweekly based on how your payment withdrawals are set. It is a good practice to always set your payment withdrawal threshold to a minimum amount and withdraw all of your balance ASAP.
I know this is crazy. This is why I mentioned that free traffic won't work. Good thing is that recently Clickbank has lowered the minimum threshold payment to $10. Previously minimum payment threshold was $50.
One more thing; Before you can withdraw your first commission from Clickbank you have to make 5 sales minimum from at least 3 different cards or payments. So make sure you make these 5 sales within 90 days to avoid account dormant fees. Else your first few earnings from sales will go to Clickbank. This only applies to the new Clickbank account.
Signup for Clickbank Account
As I said earlier, joining Clickbank is free. All you need to do is go here, enters your details. The signup page looks like this (see next page) Clickbank Signup Page.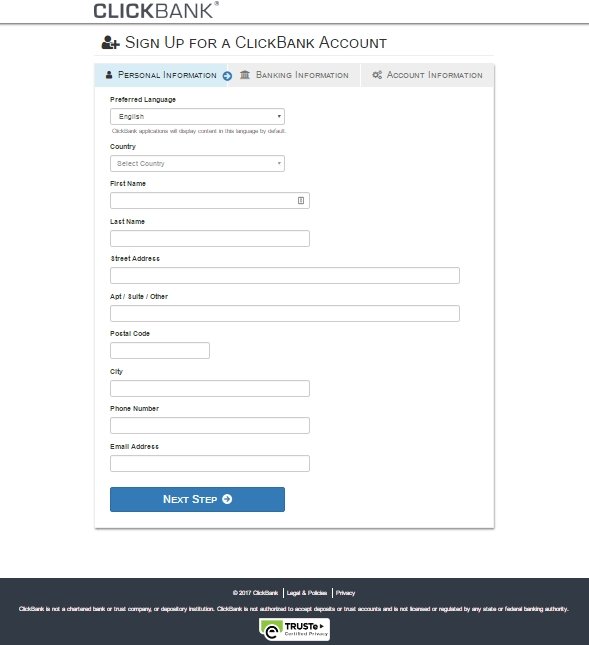 A Few Simple Notes About Signing Up
These are all pretty obvious points but are worth mentioning anyway.
Clickbank pays affiliates by check and direct deposit. Clickbank accepts payments through PayPal as a payment process service provider but regardless of how a buyer pays for a product, affiliates can get paid by check or direct deposit.
Clickbank requires a phone number. Now I'm always dubious about giving out my number as I've received unwanted calls from telemarketers on pre- various occasions. Clickbank can be trusted, though.
Lastly, you need to select a nickname (Clickbank ID) to use. This will be the name of your account, so choose something meaningful to you. The name is not case sensitive Once you're satisfied that everything is correct, click the Submit button at the bottom of the page.
Sorry, that username is not available. Please choose another one. …and you'll have to select a new nickname.
Once your signup has been accepted, this screen will appear: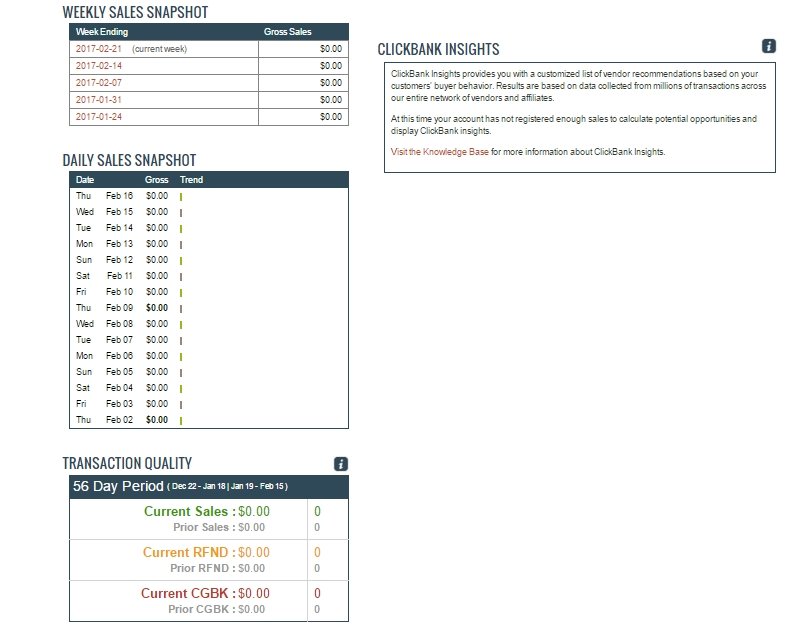 Now check your email for your confirmation code (this is also your password) and copy and paste the code into the Confirmation Code box. Then click the Finish button. You'll then be redirected to a page that tells you your account has been set up. The page also shows your account name and password. Make sure you take note of both bits of information!
That's It! You're now officially an affiliate of Clickbank.
Once you log in to your Clickbank Account Home page will appear (see above page). This is the screen that will list your commissions earned by date. The screen is broken into three sections. At the top are your Pay period Sales Subtotals. These are your commissions totaled by 2 weeks period. You can click the dates to get a breakdown of any sales or refunds (yes, they do happen!) for that period.
Below are the Daily Sales Subtotals which show your daily commissions earned. The third section, at the bottom of the page, just lists some payment period information.
Note: It's important to be aware that refunds will happen. People want their money back for many reasons. If you're seeing a lot of refunds for one particular product, maybe the product isn't everything it's cracked up to be and it might be time to look for an alternative and dump the current product entirely.
Wait, If you want to learn how to promote Clickbank products and make money fast check out this: Affiliate marketing guide "ClickBank Quick Cash".