Because there are literally tens of thousands of affiliate programs on the Internet these days that are covering just about every product and service you could imagine. Finding the right affiliate programs can be a difficult task, but it does pay off; so it's well worth the effort. If you're new to affiliate programs, here's a good list of things that you can do to find the right programs for you:
First of all, you have to know that to the business owner, affiliate programs are seen as a virtually 'free' marketing tool that allows them to generate extra business without having to invest in any significant up-front costs. Because affiliate programs pay based solely on their performance, they typically have nothing to lose by recruiting as many affiliates as possible.
This is an important thing to keep in mind because most affiliate programs will do their best to present themselves as a great affiliate match for any site because business owners see that they have nothing to lose if they can't generate sales. However, if you are the marketing affiliate, you do because that means that it is lost income potential.
You have to learn to define your audience for example: Do you have general traffic or specific types of visitors? Is your audience mainly comprised of a particular age demographic? Male/Female? If it's possible, first narrow down what kind of potential shoppers you might have visiting your site. This is again called 'finding your target audience'. Remember to write everything down.
Secondly, you have to decide which industries fit in best with your audience. Before you can start looking for affiliate programs, you have to decide what kind of stuff would appeal most to that audience you've just defined. In the above example, we're dealing with middle-aged women who were looking for entertainment (maybe they were at a chat site, reading stories, playing games, whatever). Then try to decide what your target audience is willing to spending a little money on. Write this down too. Actually, just for the record, write it all down!
Now you have to see if there are any good affiliate programs that sell that stuff. I know that this sounds like a given, but you'd be surprised how many affiliates put up affiliate programs because they pay high commissions, only to find out it doesn't matter because no one's buying anything.
Here is a good formula to remember always:
No buyers = no money!
Think about it this way; if your website relates to your interests, would you buy it?
Now, what do you think about applying that theory to the audience you just defined? Who might they buy from?
Now you have to try to narrow it down even further by using the programs that have the best reputation, commissions, marketing materials, and of course trying to tie it all into offers for the actual BUYER.
This part should be easiest if you apply it personally. Use your common sense about the price of the products or services you will be marketing for these programs; they might pay 50% commissions, but do they charge twice what they should to the buyer? If so would you be willing to pay those prices?
Of course, you are going to want good commissions, but you also need to market something people will actually buy, or else you will not get any at all, which usually means fair prices from the sellers!
You might earn less per sale but think about the volume of sales and the right balance that makes you the most money.
Avoid any affiliate programs that offer crap deals for the buyer. Compare the commission structures, and try to find programs with a good history of conversions and prompt payments. You need to push affiliate programs that have good commissions structures and good conversions (how many visitors does it take to get a sale?) You also want to make sure you get paid!
DON'T FORGET TO READ THE AFFILIATE TERMS FIRST!
You might be surprised how many affiliate programs have some terms buried in their fine print that doesn't work in your favor that is why I gave you a sample merchant contract to look through so that you can get an idea of the terms that may be inside of them.
When it comes to how many sponsors do you need to start with you should consider how much money you have first. If you're just starting out, it's best to try out a few sponsors that will gauge which will perform best. How many programs should you start with? Try out however many goods, related programs there are that you can give a reasonable 'chance' to promote in a reasonable amount of time. Remember whoever sponsors your website is investing in your abilities too.
If you have lots of traffic on your website, you might be able to rotate dozens of sponsors across your site. If you only have a couple of hundred visitors a month, you should limit yourself to only a few, because you don't have the audience to support a larger test of affiliate programs. You need to spend a fair bit of traffic to an affiliate program before you can truly gauge its performance, and you probably don't want to be in the 'testing phase' for months on end so you should limit yourself accordingly.
Finally, you should begin by knowing that sending 5 visitors to an affiliate link without a sale is simply not a fair test. Depending on what you're selling and who you're trying to sell to it can take a lot of traffic to start seeing revenue. If you remove affiliate programs without giving them a fair shake, you could be cheating yourself out of income; that next visitor may have been your first sale. The moral here is again to BE PATIENT!
At this point, you're ready to start earning some money. If you narrowed your list down too much, don't worry just try to find other related things to sell from different affiliate programs rather than settle with mediocre programs you've scratched off the list. Once you've given the programs enough time to check for results, you're ready to start narrowing down your affiliate programs to the ones that work for you Let's take a look at at least two of the best affiliate programs that I have seen and worked with so far and what they have to offer.
ClickBank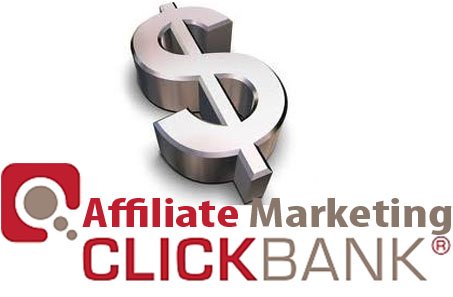 There are many reasons why I like the ClickBank affiliate program so much. The Clickbank Marketplace is an awesome program that helps you generate revenue that is included in their affiliate zone. This site is a friendly, resourceful one that generates traffic, commissions sales, and runs by itself.
Clickbank also features a professional design and comes fully developed as a search engine that is fed by Clickbank's Marketplace of over 50,000 products and businesses. The Clickbank Marketplace offers an automated database update system and Clickbank cookie features giving you commissions on sales from visitors for up to three months after a visitor has left your site!
The commission percentage structure is based on monthly revenues through sales from your Clickbank ID. You receive a commission rate determined by the partner site from 5-65%. This is one place where you won't have to sit around and wait for your checks because ClickBank pays you through faster venues like PayPal.
ClickBank not only allows you to accept credit cards on your website without the need for a merchant account, it also provides other ways in which you can generate income as well. I'll highlight five different ways you can start making money with ClickBank by the end of the day.
1. Become an affiliate for ClickBank products
You can easily sign up as an affiliate through their website at clickbank.com and then you can take some time to look through the full range of products that are in their marketplace for products that you'd like to promote, it's like shopping. For example, you can start by looking in the appropriate category of products that you have a good handle on. You should find products that match up well with your existing business and that you'll be able to promote to your mailing list.
To promote a product, you simply create a hoplink, which is designed in the following format:
http://YourClickbankID.VendorID.hop.clickbank.net
All you have to do is replace the word 'nickname' above with your own ClickBank nickname, and 'merchant' with the nickname of the merchant. It's that simple. If you're not sure what the nickname of the merchant is, you can always go to their sales page and get it from their sales link which will probably look like this: http://YourClickbankID.VendorID.hop.clickbank.net
Where 'Merchant' is the merchant's nickname. Or you can look for an automatic way to generate hoplinks by trying to find it on the page below: https://accounts.clickbank.com/marketplace.htm
2. Sell your own product through ClickBank
There's no better way of making money online than selling your own product, and with ClickBank, you can start doing this very quickly and with little trouble.
You can sell up to 50 different downloadable products through ClickBank with a single account and to become a merchant costs less than $50, rather than the hundreds of dollars it often takes to set up your own merchant account.
3. Sign up your own ClickBank affiliates
When you sign up with ClickBank as a vendor, you can start recruiting affiliates to sell your product almost immediately. If the other affiliates are receiving commissions from selling your product that means YOU are making money as well.
The best thing about this is that you can choose exactly what level of commission you want your affiliates to receive.
4. Refer new clients to ClickBank
You can earn a great deal of money just by promoting ClickBank itself. You can get complete details about this at YourClickbankID.reseller.hop.clickbank.net You won't make millions doing this referral, but it's useful as an additional income stream with commissions that can range between $0.05 and $10.00. When you are trying to make some money, every little bit helps.
5. Promote a ClickBank Storefront
What makes ClickBank's so great a program is that ClickBank actually has its own MarketPlace that is fairly limited in terms of how functional it is, but various companies offer a 'storefront' for all (or some) of the products listed in ClickBank's MarketPlace, and each one of which will have your ClickBank affiliate nickname attached to it which will give you even more exposure.
The idea is that you can promote your own storefront, and get commissions from people who visit and go on to purchase products that are listed is one that is appealing to all web affiliate marketers.
You can download the free guide called "The Fastlane Affiliate" to learn more on how to promote Clickbank products and make money online.