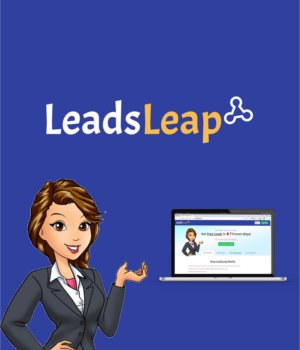 Leadsleap – Traffic Exchange Site for Professional Marketers
Leadsleap is beginner level internet marketing software. It has built in landing page builder and autoresponder. Also, it is a traffic exchange website. As a professional marketer, you can also benefit from Leadsleap. I use Leadsleap for testing offers before launching among real users.
Leadsleap is a traffic exchange website with plenty of features to help newbie internet marketers promote their offers. The idea is, you visit other people's websites and other people visit your website. There are many people on Leadsleap with no offer to promote, instead they visit other people's websites to earn credit which they convert into real cash. This sounds like beginner level marketing, and many of you might consider this a waste of time. But you are wrong.
Let me explain how I use Leadsleap as a professional marketer to promote my offer effectively and without wasting my time:
There are two types of Membership at Leadsleap.com, free members and paid members. Free members have to earn credit by browsing other people's websites (clicking on ads), and then they use the credit to buy visitors to their website, or they can sell the credit to the platform for cash. While paid members don't need credit to buy visitors to their website. They pay the platform a fixed monthly subscription fee for traffic.
There are two types of ads on Leadsleap, free ads and paid ads. Free ads require credit and paid ads require paid membership subscription. Platform get credit cut each time there is exchange and the same credits are sold to paid members. This paid ads credit exchange is not clear on Leadsleap platform, but theoretical this is how it works.
Both members can earn credit by visiting other people's websites. And, spend credit on their free ads, but paid members are not required to earn credit for the paid ads.
Now you are going to ask, how many visitors a paid member can get each month for their membership fees. And, are the visitors real and high quality?
The paid membership costs $29 per month. How much traffic you will get each month for $29 is random, and it depends on your ads quality. For example, I got 6000 visitors first month to my website as a paid member. The quality of traffic is not good as traffic purchased from Google Ads. As this is a traffic exchange website, not Google search engine.
Members earn credit by clicking on ads and browsing the website, so they can advertise their website or make money. If you have a home-based business or make money offer, then you can greatly benefit from this ads network. You can also build a list from this traffic exchange by promoting free offers. Free offer work great.
Does traffic exchange visitors convert?
Most of the ads on traffic exchange websites are MLM offers. That is because most advertising platforms don't accept MLM business ads. People promoting MLM business have fewer options to promote their offer, so they use traffic exchange websites.
If you have a high quality online course offer, then traffic exchange visitors will convert a lot. I got 2 sales on my affiliate offer about home-based business online software from 6000 visitors, so for me the cost of paid membership has been paid off by the sales.
Leadsleap uses bot detector technology to prevent miss use of their platform. Most of the members browsing other people's websites use desktop computers. I used my own website to promote the offer through Leadsleap ads. I can confirm the Analytics data provided by the platform matches the data inside my website analytics software (Clicky).
Based on my website analytics data, 90% of website visitors from Leadsleap left after one click, only 10% clicked on multiple pages of my website.
Leadsleap features that a professional marketer can use
Paid ads: Your ads will get visitors automatically without extra cost.
Social review: You can write review about your own business or affiliated offer with your affiliate links. Your review will be published on Leadsleap website that ranks well on Google search. If you publish a well-written review, then your review will be featured on Leadsleap member dashboard and newsletter with thousands of active members.
Email Marketing Autoresponder: Leadsleap has a built-in autoresponder called SendSteed. Both types of members have access to autoresponder tool. There is no clear information on the limitation of how many leads and email you can send. Also, there is no API and integration with other online software, but the autoresponder works perfectly with other Leadsleap build in tools such as landing page builder and popup.
Landing Page Builder: Leadsleap makes it easy for beginner level marketers to build a squeeze page to capture leads and a landing page with custom domain name hosting.
Popup for List building: This is a great feature if you are hosting a Blogger.com website or blog. This feature will allow you to build a popup optin form for capturing leads from any website. No integration is required, you just need to put their HTML code in your website.
PPC Ads Widget: If you want to put your ads on other people's websites, then you need to embed PPC ads widget on your website. You will earn credit whenever your website visitors click on the ads. Your credit will be used to get you more visitors to your website. This is an additional feature because your ads only get featured on other people's websites through their PPC ads widget if you put PPC ads widget on your website.
Multiple Level Affiliate Marketing: You can promote Leadsleap to make affiliate commission and build a list. So, anyone who joins Leadsleap though your affiliate link, they will become your downline and followers. You can send them a customized message to promote your offer through Leadsleap platform.