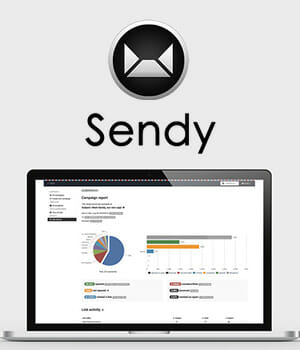 Sendy – Low cost Email Marketing Autoresponder
Send newsletters 100x cheaper, Low-cost email marketing autoresponder software
Have you wondered having your own email marketing software which works on autopilot? Sendy is an autoresponder web application. You can install on your own web server and build your own autoresponders like MailChimp and Getresponse to save lots of money on email marketing.
If you have a big email list and want to send email to your list at a low cost then Sendy is the best choice for you. It also supports features to collect email from your WordPress website and send an automated email just like any other autoresponder.
Sendy Features
Send email 100x cheaper: Sendy work with Amazon SES email server
Visual reports: Get an insight of your email subscriber
Make money by selling your own autoresponder services to your clients
Autoresponders: Email marketing on autopilot
List segmentation: Send a personalized email to your subscriber
List & subscriber management
Custom fields: Build your own opt-in forums
Bounce, complaint & unsubscribe handling
Third-party integrations & Zapier
Pricing
Premium: 59$ (One-time payment with free minor updates)
Alternative
Mautic: Mautic is not just an autoresponder but a complete marketing automation tool. It is open source and you can install it on your own web server just like WordPress.