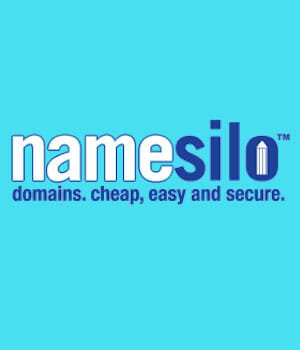 NameSilo – Reliable and Cheap Domain Name Registrar
Low-cost domain name registration and free WHOIS privacy protection and more.
NameSilo is an ICANN verified domain name registration service provider. They offer domain name registration services with all the great features you need at a cheap price. You can register all kinds of Domain Name extensions. It is not a popular domain name registrar. That is because they don't run any advertisement and spam their customers like GoDaddy. I have been a customer of NameSilo since 2017, and I love their simplistic domain registration platform. It is the reliable and cheap domain name Registrar you can find on the internet.
They offer outstanding features you need to register and protect your domain name at a low cost. Yes, you hear right, low cost without any promo code. You will pay what you will see on their pricing page.
One more thing, they also accept Bitcoin, Skrill, and Alipay.
NameSilo Features:
FREE WHOIS Privacy Protection Forever
Email Forwarding
Parking (You earn 100%!)
Domain Defender Protection
DNS Management Tools
Custom WHOIS Records
Domain Forwarding
Portfolio Management
Registry Lock
Sub-Account Tools
Cheap Domain Name Renewal cost
No Hidden Cost (Upsell and down sell)
Extra Free tools for domain name Investor or professional
Much more, Go see yourself.
Pricing:
$11 Per year domain registration fee with free privacy and domain production services.
Cheap Domain Name Registrar Alternative:
There is one NameSilo alternative Domain name registrar worth recommending which I am also their satisfied customer.
Namecheap: Great customer care and services they offer.
Epik.com: I have tried Epik for domain name registering. They used to provide excellent service, but after 2022, their service is becoming less reliable.
Spaceship.com: Spaceship is a newly launched domain registrar with promising features. They start offering their service from May 2023.