Payoneer – Payment Processor 10x better than PayPal
$0.00
Payoneer fast, flexible, secure and low-cost payment solutions
Description
Payoneer is a global payment platform. It is popular among affiliate marketer and consultant because of Payoneer fast, flexible, secure and low-cost payment solutions. Business and professional use Payoneer to send and receive money easily. They are partnered with the industry-leading big company to provide a seamless payment solution.
You can integrate Payoneer with Stripe.com to sell products/services online using a checkout platform like Woocomerce.
I use Payoneer with Stripe and Gumroad to sell my digital products. It acts as a second bank account in the USA which does a good job at converting USD currency into my local currency INR. At the same time, I receive my fund into my local bank account.
Below is the list of features which make Payoneer 10x better than PayPal
Payoneer Features
Virtual Bank account in the USA (You can use Payoneer bank account with US-based payment system like Stripe)
Multi-currency: New bank account liked to each currency (It called Global Payment service, See below picture)
Debit Card (not available in many countries like India)
Better Exchange rate: It is not like PayPal where you will pay a higher exchange rate. But get lower exchange rate when you withdraw your fund into local currency
Founding source: You will see which company is linking to your Payoneer account
Send Invoice to your clients through "Request a Payment" feature
Manage your client through My contact feature
Partner Program in which you will pay 0$ fee
Overall lower fees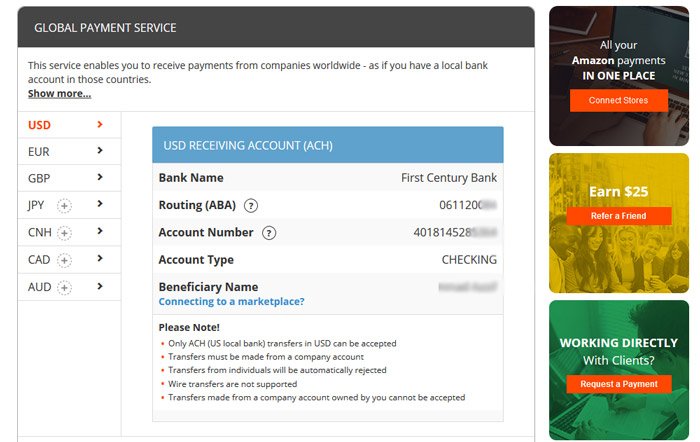 Pricing
Free for the lifetime without limited access. Payoneer fees are different for each country. I am sure You will not pay the fee when you receive payment but 2% Fee on bank withdrawal.
[cs_gb id=28886]