Passive Income is the money that keeps adding to your account even when you are not working. It is defined as:
a regular income that is added to your balance with very little effort required to generate and maintain it; it is closely related to the concept of "unearned income.
That doesn't mean you get something for nothing – it means that you have provided goods or services in the past that continue to produce income today. What is it like to have multiple sources from which streams of income are being added to your account each month, each week, each day or even every hour? It is definitely not daydreaming
There are several reasons: personal, professional, family, love and life, that coerce you to earn and live a happy and contented life. To give you a better insight.
The Types of Income:
Active Income: Income generated from trading your time for money. Example: Salary, Wages, commissions, Bones, Consultation or Services
Portfolio Income: Income generated from selling away an investment a higher price than you paid for it. Example: Capital Gain, Collectibles, Shares, Currency exchange, Stocks
Passive Income: Income generated from your assets without you working for it actively.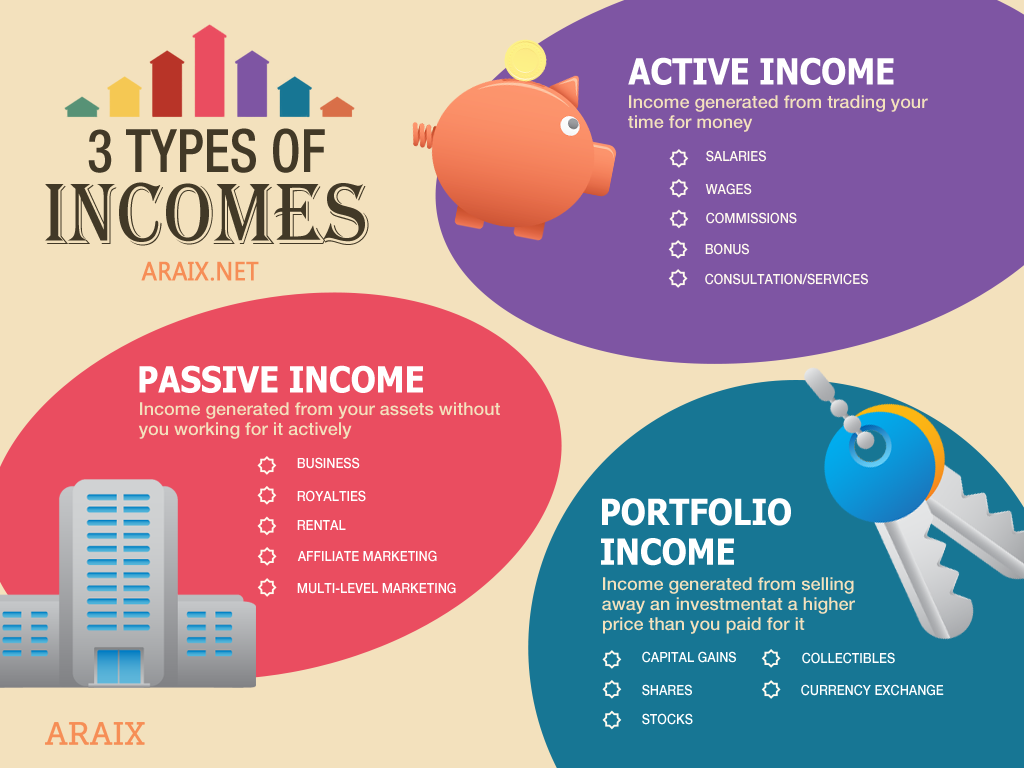 Read More: The Beginner's Guide to Digital Marketing
The following are just a few reasons why you should focus on Passive Income.
Passive Income, if done correctly, can give you $1000++ of additional income.
You can run your business on autopilot; you can outsource your work to others and get the bigger share out of the business.
Risks are minimal.
It is cost-effective; you do not need to invest hundreds of dollars.
You can continue your 9-5 job, business, or whatever it is that you are currently doing. The beauty of being an online entrepreneur is that once you are on track, you can put your entire business on autopilot; just keep checking your bank account!
Apart from outsourcing work to a Virtual Assistant and a team of professionals, you can track the progress of your business with the help of sophisticated software and applications; there is no need to manage files and bundles of paper, everything is pre-arranged and automated.
The entire process of Passive Income is, however just a bit tricky in the beginning, but the good news is that anyone with a good dedication, right guidance and diligent hard work can establish at least $500+ consistent income in your bank account, every month.
What Types of Income Do You Have and where it comes from? comment below to let us know.