Do You want a website that helps show off what your business is about and which will help you find new customers? You know that websites can help drive sales and build brand awareness. So you begin to look into creating a website web design.
This can be a more complicated task than you may think though. Designing a website may seem like a job a talented graphic designer can finish within just a day. Yet, truly strong websites that can help to boost conversions and meet your key Performance are made when a team considers both UI and UX Design, then implements that design with the help of a team of web developers and web designers.
Why A Good Web Design Matters
Did you know that it only takes 1/10th of a second to form a first impression of someone? For a website, it takes a fraction of this time. The average person creates an opinion about your website in 50 milliseconds according to Google. This means that web designers have about 50 ms to make a good first impression.
Plus, research has shown that design and information content influences the credibility of websites. The study shows that the look and feel of the website are directly related to a visitor's first impression of the site.
According to the research, poor user interface design (UI Design) was associated with high bounce rates. The participants did not like some aspects of the design, the whole website was often not explored further than the homepage.
The key takeaway here is that your business website needs to be designed well to keep new visitors on the site and to have repeat visitors return to it. You need a strong UI Design because it creates credibility for your company and influences people to stay on your site and explore your services more.
ABCs of Web Design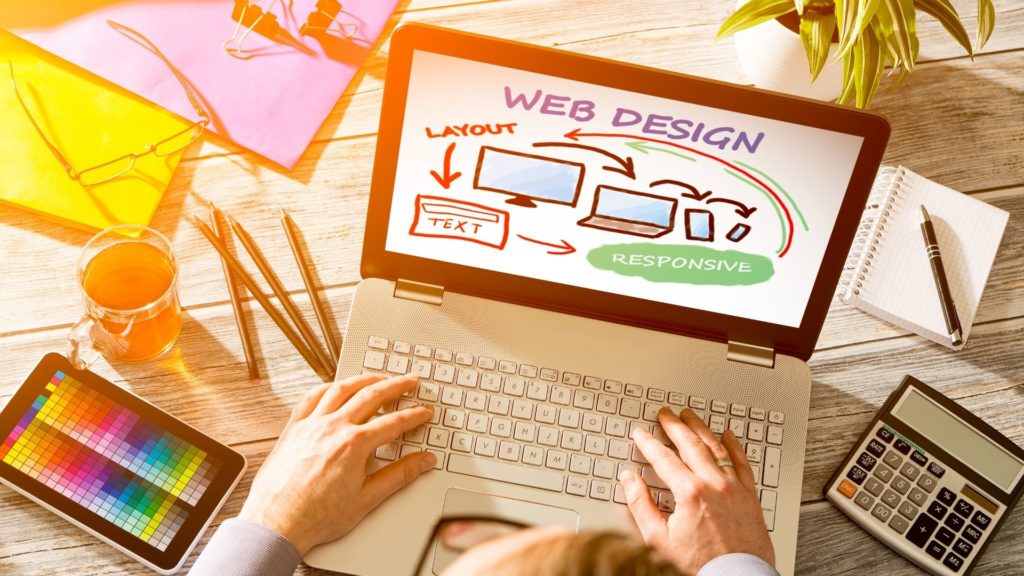 Creating a web design mock-up is not as simple as looking through Pinterest to find design inspiration or browsing through the awards winners. If it was, every creative person would be trying to get that job.
Instead, web design involves a ton of critical thinking and study. Because if you want a website that can help you drive sales and create inbound leads, then you need to know how to think about user interactions, user experience, and how to create beautiful interfaces for these users. That is the fun part though!
A large part of web design is getting into the head of a user who lands on your website for the first time. If you can do this and think about how your various website features and content will work together, then you can begin to manipulate these features to help users reach or focus on certain areas of your website.
Meaning, you can then have them focus on a call to action to a piece of downloadable content, a contact form to help them reach out to you for services, or an about page that helps explain who you are and what your business is about.
How Web Design Drives Conversions
As a business owner or manager, you know that every little expense matters. So you are going to waste money on a website that is not designed specifically to help you create conversions. That's why you need a web designer who makes conversions a priority.
To begin creating a conversion-centered web design, it can help to think about UI Design first and then UX Design (User Experience Design). That way, you can develop a user interface that will help create a good first and lasting impression for visitors. Then, you can begin building on the experience of your website and how people interact with it.
Web designers can make conversions a priority in a few ways:
Implement CTAs that contrast with the theme color of your website.
Include pictures with directional cues for visitors. For example, a person looking in the direction of the content you want a visitor read.
Choose colors that create the feeling you want your visitors to have while on your site. For example, green can help people feel calm and red can help create a sense of urgency.
Create visual hierarchy to help give each element on the page a different level of importance.
Use white space to put the focus on the elements you really want to be seen.
Keep layouts simple and avoid complex or busy design elements.
Implement an easy to use navigation feature.
Avoid pop up advertisements.
Focus on readability (see here and here).
The Honeycomb Diagram
How to Ensure Strong Web Design for Your Website
The honeycomb hits the sweet spot by serving several purposes at once. First, it's a great tool for advancing the conversation beyond usability and for helping people understand the need to define priorities. Is it more important for your website to be desirable or accessible? How about usable or credible? The truth is, it depends on your unique balance of context, content, and users, and the required tradeoffs are better made explicitly than unconsciously.
Useful: When you begin to design a website, try thinking about how you are useful to customers and how you can highlight that value. The more useful your website is, the better the experience will be for new and repeat visitors.
Usable: Then, move on to how usable the site is. Is it going to help visitors accomplish something they need to? Is the information on the site laid out in a clear and understandable way? Are the elements on the site usable or do they lack a purpose?
Desirable: Does the website reflect your brand and image in a way that is pleasing to visitors?
Findable: Is the site easy to navigate, is key information easy to locate, and can users find what they need to accomplish their goals on the site (i.e. make an appointment, contact you, fill out a form, etc.)
Accessible: Is the site accessible to those with hearing, vision, or mental disabilities. Would someone with dyslexia be able to read the text (they wonӴ if the text is too faint by the way), can someone with color blindness see key features like your calls to action, and is there an option to use the site for the visually impaired?
Credible: Is your information cited, is the site design copyrighted? is there a logo in the site header, do you have a favicon in place, has the content been carefully proofread? Does the design hold up on different devices and sized windows? Ԍike many others before him, Dr. Brent Coker studied the impact of attractive websites on human behavior.
This is what Dr. Brent Coker said aesthetically orientated humans because we are psychologically hardwired to trust beautiful people, and the same goes for websites. Our offline behavior and inclinations translate to our online existence.
Valuable: Does the site provide value to visitors and to your business? Does it help you reach a key KPI or help you increase brand awareness?
The best thing that you can do when designing a website is to think about what makes your target audience excited when they visit a new website, how to make your text more readable, how to appear credible as a business, and how to keep the attention of new or repeat visitors.