Everyone's goal on social media is to get more engagement, followers, and website traffic. No matter you are a marketer, influencer or business owner, having great content on your Instagram page is the only way to beat your competitors.
I have already written an article on creating the visual identity for your brand, so it goes to Instagram too. Instagram is not just a photo sharing app, but it is one of the highly engaged social media platform. Branding your Instagram content will give your business a competitive edge and message to your audience about what you do and why you do, a message which will stick into their mind.
For Example, Frooti Instagram page is a must inspiring page when it comes to creating great content. Below is the step you can take to position your brand in the right way and then create content which speaks to your audience, LAUDER.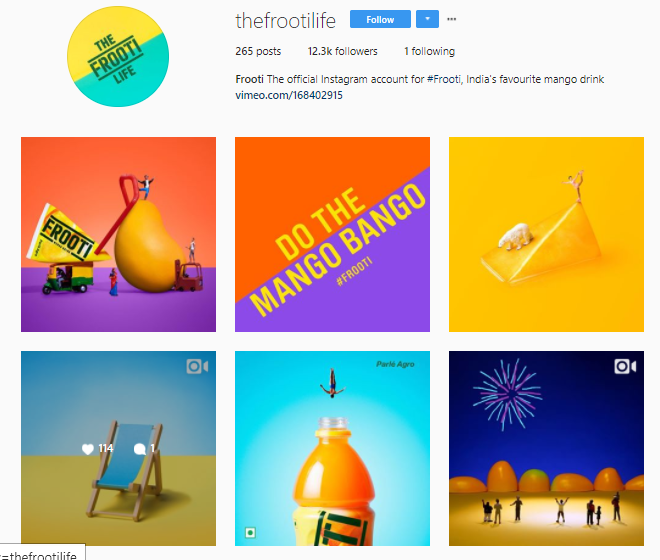 1. Do Research:
Whether you are just starting your business or already you are in. One of the first steps in creating Instagram killer content is to find out what your audience is looking for, and your competitors are doing, take a look at their Instagram page.
2. Focus on your Niche:
If you don't know your niche, then you will have a hard time getting your audience to follow you. I have already written articles on how to find your Instagram niche and stick to it.
3. Use Branding Strategies:
Every big business uses visual brand strategies, you can have brand strategies too. If you already have a website, then the color of your website, font, logo, website layout and style is your brand appearance which you can use on Instagram content too.
4. Create Original Content:
This is the most important step in creating killer content on Instagram. No matter what niche you are in, everyone prefers seeing different content. Be specific and original.
5. Use Instagram tools:
Any image or video editor software will work. It depends on your skill. I use Adobe Photoshop to create content and a social media scheduling tool to post and schedule content on Instagram directly through the web browser. There are tons of social media management tools like Buffer, Hootsuite etc.
6. Plan Ahead:
If you want to save time on managing your Instagram page, then it will better if you plan a week in advance. Create a content posting plan based on your brand niche and audience preference. The best Instagrammer has some shorts of content posting plan like mine is 2 Posts in the morning and 2 in the evening. It is the quality of the content that matters, but every so often we don't know what work. Especially, when we are just starting out. So focus on quantity if you are just starting.
Final Thought
In short, find your niche, create original content and use your branding strategies with your content on Instagram. And all the best for creating, and posting, killer content on Instagram.