Being a solopreneur in 2018 isn't easy. Maybe you bought a business to start a new project or maybe you have just signed your first client. Whatever your situation, your focus is where it should be – fulfilling work. Selling products. Making money to live.
But in the back of your mind you know there's so much you need to do to grow your business. Maybe you need to update your website or make some sales calls. When money is tight and you're busy with the day-to-day work, your own marketing often takes a back seat.
Everyone does it. So how can you be different? How can you fulfil client work and grow your business so – if the worst happens and a project falls through – you have a pipeline of contacts to fall back on?
This article will help. There are so many free or low-cost ways that only require a bit of time on your part for major rewards. Take a look, have a go and we promise that you'll see some results.
Planning helps you save time
This is probably the last thing you want to do when starting out. You want to get going. To make calls. Find clients. But as a solopreneur, your time is the most valuable asset and, without a plan, you risk wasting it.
This doesn't have to be a full-blown marketing plan, one that takes weeks to put together. Use it to help you structure your activity over the coming months. Start with the skeleton below and simply scribble notes under each heading:
Your product outline. What are you selling? What's the benefit to the customer?
Your customers. Who are they? What do they look like? What motivates them? What needs do they have that your product fulfils? The more detail, the better. Use HubSpot's free buyer persona generator to get you started
Your unique selling point (USP). What makes you different? Why should customers choose you over a competitor?
Your positioning. This combines the above information to form the core of your external communications to your potential customers. It's the 'what', 'who' and – most importantly – the 'why'. What is your product, who's it for, and why is it good for them?
Your marketing mix. How are your customers going to hear about you? What channels are you going to use? Write down each channel (e.g. Pinterest) and detail how you'll use it.
Over time, you can flesh this out based on your selling experiences. You may find that you discover a fresh USP to focus on, or a new social media channel suitable for your product. If you get into the habit of making the occasional small update, you'll one discover that you've steadily built up a substantial business assessment.
Be savvy and get social
As a solopreneur, you're unlikely to have a ton of capital waiting to be spent on marketing. This means that some of the more expensive channels, such as advertising, are out of the question for now. The great news is that social media is free. And it's one of the best opportunities to connect with your network.
You have access to hundreds, thousands of people who might be interested in engaging with you. Huge virtual communities that are posting content every single day. Whether you're a landscape gardener or you're starting an agency, there's a network for you to tap into.
But with so many platforms, what's the best use of your time? A scattergun approach across all of them would be ineffective, and utilizing a platform incorrectly could reflect negatively on your brand.
LinkedIn, for example, is a networking platform for businesses and professionals, used to discuss relevant industry topics and connect with each other. You can join groups and start getting involved with discussions to show you're an expert in your field — in the process, you might build some valuable connections.
Another networking platform is Twitter, which encourages you to talk about what you're doing. Share successes, failures, best tips, expert knowledge and use hashtags to put these posts in front of your industry. If used effectively, Twitter can be a great way to position yourself as a thought leader.
There are many others too. Take the time to research each platform and decide which of them you should focus your time on. Limit this to one or two and start marketing yourself.
Top tip: don't limit social media to just marketing — use social media to sell products and services as well. As a sales channel, it has great ROI for solopreneurs, and social media networks like Instagram are making sales and purchases through the platform easier and easier. Hit your social selling strategy hard, and you will reap the rewards of investing in channels bigger brands struggle with.
Embrace SEO
SEO is a combination of technical and content-based activity that aims to build up your website's profile in the search engine rankings and improve traffic.
Unlike other channels, SEO isn't a quick win exercise. The benefits of SEO may take three to six months to come to fruition but, when they do, they last.
You don't need to start by running an exhaustive content marketing campaign or hunting for the highest authority backlinks. Yes, they are part of a comprehensive SEO strategy. But when you're starting out and your time is precious, the basics can be a huge benefit.
There are plenty of guides out there to help you understand these and we would strongly recommend you take the time to do this.
The best first step into the world of SEO is ensuring your website is well-structured and tells the search engines — and users — what they need to know:
Make your site information-rich, detailing your product and services with your end-user in mind.
Create human-friendly pages and URLs that use common-sense keywords — e.g. paulsbakery.com/bread rather than paulsbakery.com/white-bread-brown-bread-tiger-bread-home-made-bread-seeded-bread.
Ensure all your 'ALT' attributes — used to help those with screen readers understand your content — are completed and well-written.
Ensure your content matches what your users are searching for with naturally placed keywords.
These are just some of the basics. SEO is an industry in itself and one that is constantly evolving. You don't need to be an expert to see improvements in traffic. Take the time to understand the basics and you can reap huge rewards for your site.
Network your way up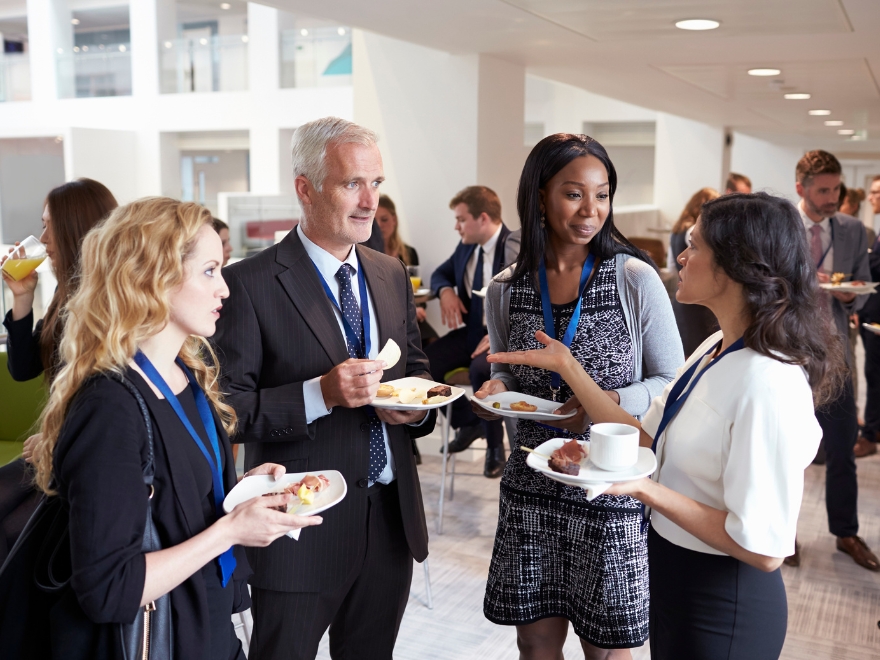 You may not know this, but there is a community of people interested in meeting you and hearing more about your business. Whatever you're selling — whether it's consultancy or computers — there is a network to tap into. This could be on LinkedIn or Twitter, or available through real events hosted near you. For the most part, networking events are free (or very cheap) and present fantastic opportunities for meeting people.
Before you make an effort to network, though, you must ensure that your online presence is up to the task, of course. The connections you'll be trying to build will primarily be digital — you're unlikely to receive any phone calls or in-person visits — so you want to everyone you meet to be in a position to find you online fairly easily.
Get your social media profiles looking completely professional and consistent, and get rid of anything online that might make you look bad, such as old posts or unfair reviews. As an entrepreneur, you should already have a website, but if you don't (or you don't think your site is good enough as it is) you could try buying a website (yes, even with very little $$$ — a simple site can be very cheap, and often cheaper than creating one from scratch) and adapting it for your purposes.
Alternatively, you could try setting something basic up in WordPress or another free CMS, but remember that your brand matters — taking the eCommerce route gives you the option of branching out into branded merchandise down the line (someone is more likely to email you if you give them your address on a branded pen, for example).
Now, you may feel you're too busy to attend networking events, or not extroverted enough. Not everyone is innately comfortable in a networking environment. However, you don't need to be in these environments to sell. Just be there. The best part about networking is that you never know what might happen.
You could meet someone who knows an amazing accountant you can hire or someone who knows a potential customer for you. Connections you make at meetings might not come to anything. You may just make a new friend. But others might result in a new client days, months or even years down the line.
It puts truth to the age-old adage:
It's not what you know, it's who you know.
Marketing yourself as a solopreneur isn't easy, especially when you're busy fulfilling client work and cash flow is tight. But this article shows that there are a number of highly effective low-cost approaches that you can take to improve awareness of your brand and — ultimately — grow your customer base.