Adsy is an online marketplace of sponsored blog posts. Business owner and marketer pay blogger, influencer and writer to write a blog post about their product and service. This way marketer gains extra exposure and long term SEO benefits. Here are my personal experience and Adsy review.
On October 2018 I signed up for Adsy. After one month I received an order for a sponsored post on my blog. It was about content writing and placement on my blog. Well, I wrote 300+ words of an article and published on my blog. For a single sponsored post I made $100.


Now you may think why business pays for a blog post. That is because they know the power of influencer marketing and SEO. And, here is how to get started with publishing sponsored blog post on your blog and make some side income.
What is a Sponsored post?
Brand, marketer or business owner pay blogger or website owner to publish a blog post about their product/services is known as a paid blog post or sponsored post. It could be a blog post, social media post, paid advertisement etc. Marketer or blogger both can write a sponsored post.
As a blogger providing sponsored on your blog can be a side income for you. Also, you get fresh content for your blog. Make sure You disclose sponsored post and write informational content to keep your blog readers happy.
How Sponsored post different from Guest Post?
Not all website accept guest blog post on their blog. Some website owner pays a guest blogger for their contribution, others don't. Here is the main difference between a guest blog post and sponsored post:
You have to follow contribution guideline with a guest post but, not with sponsored post
Guest post content is information while sponsored post can be promotion
A guest post doesn't have a call to action but the sponsored post can have 'call to action' at end of the blog post
Marketer write a guest post but marketer and blogger both can write a sponsored post
Marketer pay for a sponsored post but not for guest post
How to Make Money with Sponsored Blog Post?
First, get a sponsored deal. You can advertise sponsored post offering on your own website and list your offering on a website like Adsy.
There are four qualities you must have on your blog
Domain authority over 20
Self Hosted website with your own domain name
More than 200 website cache on Google search
Not spammy content website
1. List sponsored post offering on your own website
Advertiser and marketer are always looking for a way to promote their brand. If you list your sponsored post or advertise page on your website, then there are opportunities you will get sponsor deal.
2. List your website on Adsy marketplace
Adsy is a new marketplace but it will still get you sponsored deal if you have a higher authority domain and great website content. It is free for a publisher (blog and website owner) and they charge a fee from marketers. As a blogger, you can work with brand and get paid easily for posting sponsored post through Adsy.
First, sign up for Adsy account. Submit your website for approval and wait for up to 4 days to get a reply from Adsy teams. Read their 'website requirement' and 'terms of use' to avoid website rejection.
There is also bidding section where you can find a project or wait until someone orders sponsored post through Adsy. You will get a confirmation email in each step.
After, receiving the order you will have three days to respond and publish sponsored post. When you submit your order, the marketer will approve or reject your order within the next three days. If not then the order will automatically get approved.
Next Adsy will keep your fund for 30 days as a guaranteed period. Guarantee period is to make sure you keep your article live for at least 30 days. When you have $100 balance in your account, then you can send withdrawal request.
In my experience, Adsy support teams are slow to respond. It took 2 weeks for them to confirm my withdrawal request and send money to my PayPal account.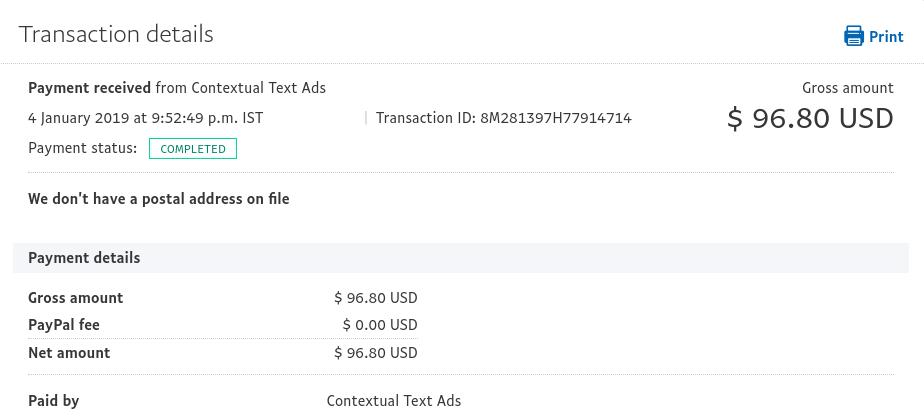 There are two types of sponsored post listing on Adsy
Content placement: In which you publish content provided by the marketer
Content writing and Placement: In which you write and publish an article in your own style and name
How to write Sponsored Blog post
You will get content requirements information from a marketer with website link, keyword and image, etc.
Ask marketer about their offer and brand. Do research on the product or services they offer. Write informative content to make it engaging. So, content doesn't look annoying to your blog readers.
Keep words count in your blog post as per the order. You should also optimize your content for a better SEO that is because you may get new organic website visitors. It's a win-win.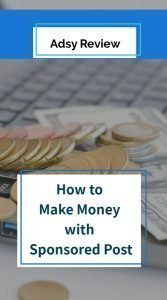 Thanks for reading. Comment below if you have any question.