What is good web design? When it comes to web design, there is no one-size-fits-all answer. The best website designs are the ones that are tailored to the specific needs of a business. In order to make a website attractive and easy to use, it needs a thoughtful design process in which both designers and clients work together in cooperation.
Here are some tips on how you can successfully attract visitors to your website with great web design:
-Focus on user experience: User experience is all about giving your visitors what they want when they want it.
-Display products or services effectively: In order for products or services to be successful, they need visibility on the internet.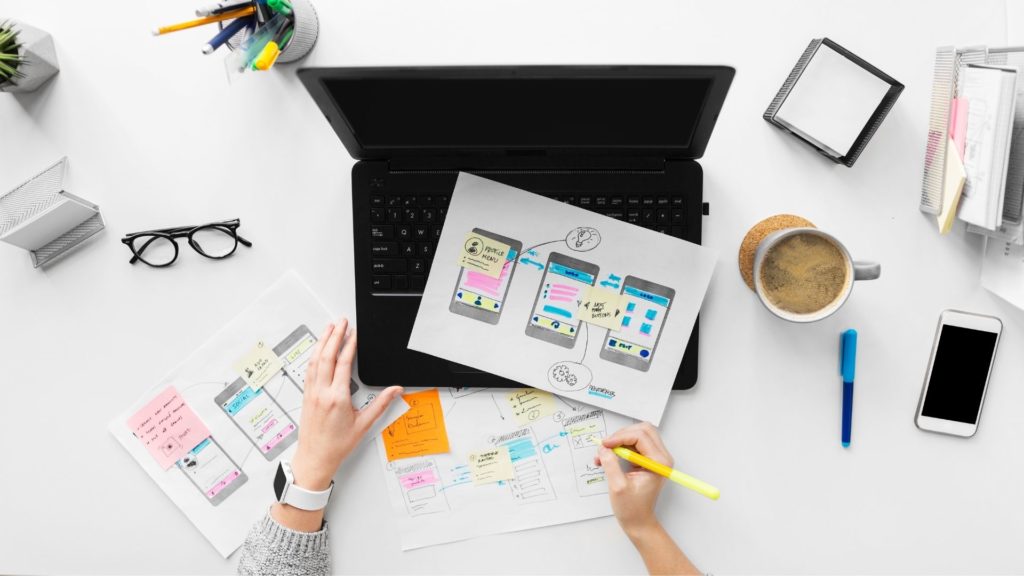 Web design serves a website the way roots serve a plant. Plants use their roots to anchor themselves in the ground, deliver much-needed nutrients to their leaves, and achieve overall growth. Like a plant with strong roots, your website relies on good web design as a foundation to keep it alive and functioning properly.
Simply said – if you want to attract more customers to your website, you'll need a solid web design to do so.
Keep reading to learn more about how proper web design works.
Design Great User Experiences of your website
If you own a website, chances are you've heard the terms User Experience Design (UX) and User Interface Design (UI) before. Though UX and UI are not the same things, they are similar in nature. More importantly, they are the tools you'll need to build a beautiful, high functioning, and easily navigable website – a site that will attract customers in your target market and keep them wanting more.
UX and UI are used together to produce a website that speaks to your target audience. UI can be thought of like graphic design, while UX has more to do with designing the optimal path(s) a user will take to navigate through your site.
UX designers spend their time focused on things like menu layouts and navigation links, button designs and locations, shopping cart usability, and other tools that website visitors need to appropriately navigate through your website. To complete the experience and encourage more conversions, UI designers make sure that users can interact properly with the site by designing it in a visually appealing way – a way in which the buttons, links, and other tools stand out and are easy to use – specifically for your target market.
Thus, incorporating UX and UI into your overall design strategy is the only way to ensure you're building a website that will do what it's supposed to do when it's complete (attract your target audience and encourage them to convert).
How to Make a Stellar First Impression
Your homepage is probably the most important page on your website – even though it might not be the first page a website visitor sees when they get there. Regardless of how a visitor navigates to your site, your homepage design is usually what your overall site will be judged by.
So, while every page on your website should be designed to make a good first impression, your homepage needs to be the center of your design efforts, because it's the portal through which people are meant to enter your virtual business. It's the digital face of your company.
When someone visits your website and they don't like what they see, their first move will be to leave. What's worse, they may tell others about their bad experience with your site, damaging your reputation and lowering your chances of attracting more customers.
You've only got one chance to get it right, so set yourself up for success by making sure your homepage features excellent web design.
On that note, here are 5 homepage design tips to get you started.
Tell website visitors exactly what your business does, who you are, and what they can get from your site first. Your company branding should be included in this – items like your logo and tag line should appear close by – but the single, most crucial aspect of good homepage design lies in effective communication of the goods or services you provide – otherwise, why visit your website at all?
Speak your target market's language. Note the difference in how Forbes and GQ Magazine speak to their website visitors with their content. While the former is mainly concerned with finance and business, the latter focuses on fashion and style, and their homepage are no different. Lesson? Don't mix haircut talks with hedge fund managers. Make it easy for your target market to understand your content.
Get rid of marketing fluff. No one likes spam email. If your homepage is cluttered with content, images, and links that all compete for a visitor's attention, or if you don't clearly and prominently state what you offer, it will be like reading a spam email – and most people will not want to read it.
Use good calls to action. Well-designed websites use calls to action in strategic places and at key times to encourage click-through and help conversion. Especially on your homepage, good calls to action will guide your website visitors along the appropriate path, whether that's to shop around or fill out a contact form.
Make it mobile-friendly. Give your website the best possible chance to perform well by using responsive web design – especially on your homepage. Responsive design allows your website to be viewed on any device – mobile or otherwise – and still look and function great.
Conclusion
If you're looking to get more traffic to your website, one of the most effective ways you can do that is by making sure that your website is well-designed. There are a lot of things that you can do to make sure that your website is attractive to visitors, and we hope that our article on web design for business has helped you find some new ideas for your own site.