Pinterest is a highly underrated platform that doesn't get the attention it deserves when it comes to generating traffic. If optimized for SEO, Pinterest can serve as a powerful marketing tool that can help your business or blog attract the right audience.
What is Pinterest SEO?
Pinterest SEO refers to creating a dedicated Pinterest business page that can incite audience engagement on the platform via likes, shares, and comments. Although certain traditional SEO elements like keyword integration are involved, optimizing Pinterest for SEO demands a slightly different approach. After all, Pinterest is a largely visual medium that involves sharing images in the form of 'Pins.'
If current estimates are believed, the platform has over 454 million active users as of Q2 2021. Suffice to say; the platform is brimming with potential prospects for your business. Using the right Pinterest SEO strategy will help you tap into this largely untapped base to boost website traffic.
With so much promise, it is surprising that Pinterest isn't used as frequently as its more popular competitors to generate traffic. It is incredibly simple to optimize Pinterest, and in the process, help pinner on the platform discover your blog, business, or website. 
This article will acquaint you with a few Pinterest SEO tips that are guaranteed to boost your website's traffic.
So, without much further ado, let's get started. 
1. Create a Pinterest Business Account
To begin with, you must set up a Pinterest business account. Creating a business account on the platform is free and will give you access to important analytical features, which will come in handy when executing your SEO strategy.
Your account should possess the brand name and a brief but comprehensive description of your business. Furthermore, make sure to start your activity on the platform by at least posting one board. The board's content should be related to the product or service your business specializes in.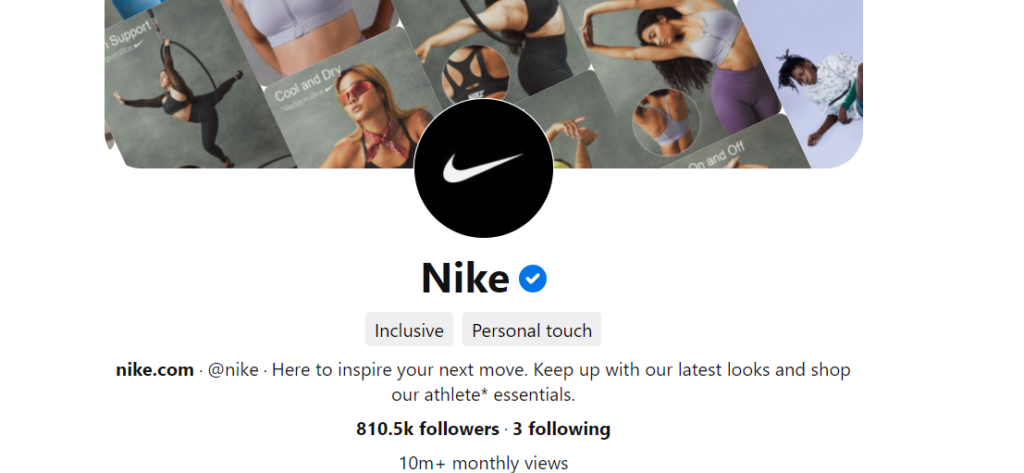 Take Nike's Pinterest account; the description below their brand name is written in a very interactive tone. Perhaps you can do something similar with your description as well.
2. Establish a Link between your Pinterest Account and Business Website
After you create a business account on Pinterest, the next step entails claiming your business website on the platform. By doing this, you are officially allowing Pinterest to acknowledge that you own the business you claim to represent. This step involves authentication of the domain you own, which can be done by adding a coded link to your website.
You can verify your website by following the guide available on Google. If you are still confused, we suggest seeking help from a developer to help with the coding process.
3. Adding Tag to Your Website
A Pinterest tag is a piece of code that needs to be added to your website, upon which you can track a wide variety of activities by your website visitors. Thanks to these tags, you will be able to track conversion activity like page visits, video views, sign-ups, add-to-cart actions, checkouts, and much more. 
By adding a Pinterest tag, you will know which keyword on your Pinterest account is driving traffic to your site. You can use this information to devise or tweak your strategy accordingly in a bid to boost website traffic.
4. Adding the Pinterest Save Button to Your Site
The Pinterest 'Save' button can do wonders for your site, especially if you are running an eCommerce site. For instance, if you are managing a store that sells watches online, you can add a Pinterest 'Save' button to each image displayed on your site's catalog. This button allows visitors with a Pinterest account to save these images directly to their pins or boards by simply clicking on the button. 
The 'Save' button is a fast, simple, and effective way of generating traffic for your site. You, of course, will need to add a line of HTML code to your site to add that 'Save' button to all the images present on your website. You can choose to make this 'Save' button stay on your image, or let it appear whenever a user hovers over the image with a cursor. 
5. Using Rich Pins
Another way you can link your website with your Pinterest account is by using rich pins. ECommerce stores predominantly use rich pins. Online store owners who use Pinterest to display their products can leverage these pins to keep the pricing, description, and other information relevant to their products up-to-date on the platform.
With rich pins, any change you make to your product information on the official website will automatically update your product rich pin as well. Similar to Rich pins, you can also use Article rich pins to automatically update blog posts. To add rich pins, you simply have to add a line of HTML code to your website.
6. Creating Engaging Quality Content
This goes without saying, but you simply cannot talk about SEO and the importance of quality content. This is true for Pinterest as well. The visual pins you post on your page need to link to engaging content in the form of videos, images, blogs, products, infographics, etc. This is how you get people on Pinterest to engage with your pins. We suggest pinning your content with visually stunning images, which are easy to create today with web-based software like Canva.
Make sure those pins redirect your audience to compelling content. Remember, you can re-pin the same content on Pinterest only four times a month. You can, however, use a multitude of different images to link to the same content. To keep things diverse, we recommend using at least 4-6 distinct pins for the same piece of content.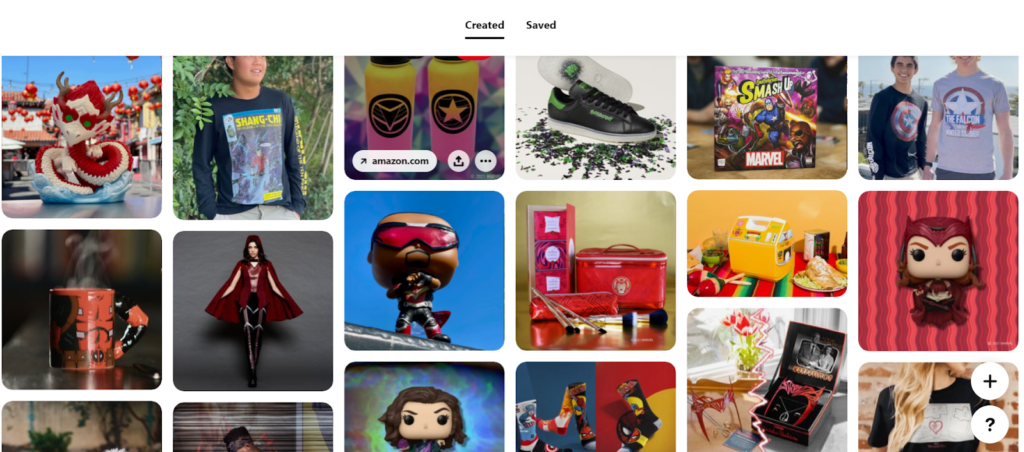 For example, you can get an idea of diversifying your Pinterest channel with various images in a fashion similar to Marvel Entertainment. Each of their unique pins links to high-performing content in the form of videos, product pages, and more.
7. Getting Keyword Research Done
Aside from quality content creation, SE-optimization also involves integrating that content with relevant high-ranking keywords. You have several tools at your disposal today to assist you in understanding what your customers are searching for online. Tools like Google Keyword Planner can be used to find keywords relevant to your business and assess their effectiveness in attracting traffic.
We suggest finding high-performance long-tailed keywords with high search volume and low competition. Moreover, make sure you are not stuffing your content with any keywords you deem effective. Integrate them organically into your blogs, articles, and product descriptions. Their inclusion in the content should not decimate its overall readability. 
Furthermore, ensure the description for the pins and boards linking to your content possess those keywords as well. 
8. Optimizing Your Boards
Boards allow you to categorize your brand into different sections, each containing pins relevant to the board's title. Your boards will be the first thing your audience witnesses when they visit your Pinterest channel. So it only makes sense to optimize them thanks to appropriate keywords and consumer research. 
Make sure your boards have clear titles with content-relevant keywords added to them. We recommend using niche titles that are unique to label the boards. Moreover, make sure your boards are embellished with visually impressive pins. You can also use Canva to personalize the look of your boards. 


For some reference to create organized boards, you can try the approach taken by Wondershare's Filmora. Their channel has multiple board categories, each clearly titled to inform the type of pins they possess. For instance, there is a board titled 'Vlogging Tips', which harbors pins that link to vlogging-related content.
9. Use hashtags in Your Pins
Hashtags have long been used to tag content on social media platforms, and Pinterest is no different. Pinterest allows users to use up to 20 different hashtags in the description of their pins. However, we advise against using too many hashtags. You want your description to be clear, and adding too many hashtags will result in its message being lost.
As such, we suggest using no more than four hashtags on each pin. You can add hashtags at the end of your description, just like the one used by Marvel Entertainment on their pin depicted in the image above. Their pin has a description that ends with one short but simple to understand hashtag – #StyledbyMarvel.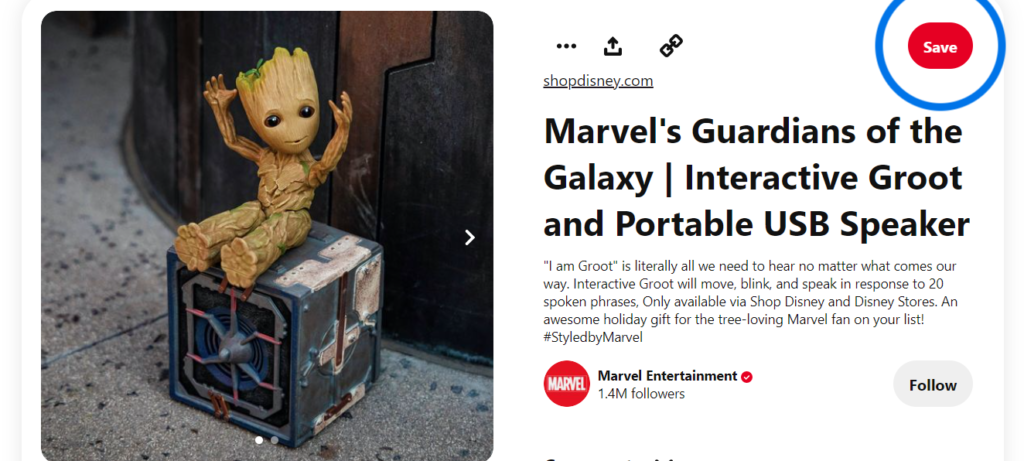 10. Format your Pins Appropriately
Pinterest relies on images to communicate with pinners on the platform. You need these images to be formatted properly. Pay extra attention to the color, size, and font of the images you post on the platform. You also need these images to be optimized to look perfect on both mobile and desktop devices.
We suggest adding images that possess 1000px by 1500px resolution. This will make the image suitable for both mobile and desktop views. Use visually appealing colors, something more in line with the nature of your brand. Finally, label your images with titles that have the potential of grabbing your audience's attention.


For example, Adidas' top pins include pictures of famous athletes alongside a title that explains the content it harbors.
11. Pay attention to your Analytics
Pinterest Analytics is a major reason we advocated for opening a separate business account on the platform. The analytics will provide the insight necessary to devise and execute the ideal SEO strategy. With the help of data provided by Pinterest Analytics, you can assess which keywords contributed to bringing traffic in, triggered conversions, and incited engagement.
Alternatively, you can also use platforms like Google AdWords to know how your keyword is performed. This will allow you to focus on keywords that work and ignore keywords that prove ineffective.
12. Trying Pinterest Ads
If the organic route doesn't work, you can always consider using Pinterest ads to generate traffic for your website. Pinterest Ads use a model similar to Google pay-per-click advertisements. You can try launching ads on a relatively smaller budget to know how well they work for you without any serious risk.
Pinterest offers a wide variety of ad format designs, each serving a specific purpose. So we suggest contemplating what your goals are and understanding how you would like to generate traffic. Do you want to trigger conversions? Generate traffic through blogs or video views? Have a clear answer to the above questions before you invest in Pinterest Ads.
The Bottom Line
Generating traffic through Pinterest is incredibly simple and fast. Surprisingly, more people aren't using the platform to drive traffic to their web pages. The tips mentioned above are some of the most tried and tested Pinterest SEO tactics in the industry.
They have done wonders for small and large businesses alike and can do the same for you. Quite frankly, optimizing the SEO of your Pinterest account might be the only thing you need to get consistent traffic on your site and considerably elevate its search engine rankings.
Pinterest FAQ
Q1. How Do You Conduct SEO on Pinterest?
Pinterest can be optimized for SEO in order to generate traffic for any business website. There are many different ways to optimize Pinterest for SEO. However, some of the most effective methods boil down to the following:
Create High-Quality Content
Use Long-tail keywords relevant to the subject matter
Add Pinterest 'Save' button to sites
Add Pinterest Tag to the website to track conversion activity
Use Rich pins
Optimize Images on Pinterest for mobile and desktop view
Enhance the quality of your boards
Q2. Does Pinterest have an Impact on Google Rankings?
Pins on Pinterest contain links to content published on a website. Users who click on these pins are redirected to the website. As such, the more engagement a pin receives, the more traffic a webpage will garner. The more traffic a site garners, the better its rankings will be on Google. In other words, Pinterest does affect Google's ranking.
Q3. How Do You Rank Up on Google using Pinterest?
To boost your search engine rankings on Google, it is imperative to optimize Pinterest for SEO. You can do so by researching and integrating your content on Pinterest with long-tail keywords relevant to your business's subject matter. Moreover, you can use Pinterest Analytics to track the performance of a keyword and understand whether or not that particular keyword is yielding the desired result or not.
Q4. How do You Find Good Keywords to Use on Pinterest?
One can use free tools like Google Keyword Planner to find high-volume keywords with low competition. You can use paid tools like Ahrefs as well to help in your keyword research. We recommend using long-tail keywords, which can be integrated organically into the description and content of your pins for a more positive result.
Q5. What are the Most Popular Niches on Pinterest?
Pinterest is riddled with pins that contain stunning visuals about a few prominent as well as obscure niches. The most popular niches you'll find on Pinterest include:
Photography
Art
Decor
DIY Craft
Travel
Technology
Q6. Can a Pinterest Account be monetized?
A Pinterest account can be monetized only if it is a business account. Many business accounts in the past have successfully monetized their Pinterest channels by optimizing pins for search engine rankings, seeking sponsorships, driving traffic to their affiliate orders, and setting 'Product Rich Pins' for their eCommerce store.