Are you new to Instagram shoutout or looking for a trusted way to purchase shoutout at low cost? You are in right place. Shoutout or promotion post on Influencer page can help you and your brand to reach out targeted audience at a lower cost then Instagram advertising itself.
Instagram influencer marketing is only good if you choose right Influencer for your promo and get a better deal. There are lots of fake Instagram influencer you have to avoid, to make most out of your shoutout campaign.
Here I am going to share my personal experience and how to buy shoutout on influencer marketplace like Shoutcart.com.
What is Shoutcart?
Well, Shoutcart is a marketplace of Social Media Influencer. Social media influencers from Instagram, Twitter and YouTube list their shoutout offer on Shourtcart. Shoutcart makes it easy for Marketer and Business owner to browse Influencer profile and buy shoutout. Experience of buying shoutout on Shourtcart is just like buying physical products on Amazon.
First, you have to sign up for an account on Shoutcart to get access to their marketplace. It is free for the buyer without paying any monthly subscription fee. You will only pay what you see on the Influencer page, there is no hidden cost.
Benefits
Most of the Influencer don't sale shoutout openly, even in the marketplace because of reputation with their followers. Those types of Influencer is only available directly and through Influencer Agency. You have to find and contact them manually which take lots of time and those Influencers are also pricey. That's why there is Influencer Marketplace where Influencer lists their offer to get Promo deal which helps them to make some extra money.
Below are the four benefits to choose Shoutcart Marketplace over finding Influencer Manually and working with Influencer Agency.
1. Handpicked Influencer
It is important to verify Influencer listing to build a reputationable marketplace like Shoutcart. All of the listings are listed by Influencer itself and verified by Shoutcart support teams.
Shoutcart also uses Twitter and Instagram authentication for Influencer listing to keep track of their account performance like engagement rate, reputation score, which is very important to look for when you are purchasing Instagram shoutout.
2. Low-cost shoutout
You can buy Instagram shoutout on Shoutcart as little as 2$ which is very cheaper than any others medium of advertising where advertiser pay more than 2$ per click (CPC cost) on Social media advertising.
Now, you must be asking what will you get in 2$ and answer is It depends on Influencer which you choose. 2$ is the lowest cost of an Instagram shoutout on Shoutcart where Influencer will post your promo post on their profile for a limited time like 2 hours.
3. Direct Deal with Influencer
Everything on Shoutcart Marketplace is transparent where you will see all details about Influencer profile. It is not like working with Influencer agency which protects Influencer profile from the public until you become their customer.
Influencer Agency works as a middleman between advertisers and influencer, it is also expensive to work with an agency. According to Forbes Influencer agency charge 30% of advertiser advertising budget which is ridiculous.
4. Trusted Marketplace
Shoutcart is an Influencer marketplace, it is open for anyone to sign up and list their Influencer shoutout offer. What makes Shoutcart trusted Marketplace is the transparency of the system and reputation Influencer score which is based on Feedback from buyers and performance on their past shoutout campaign.
How to use Shoutcart
First, Sign up for an account on Shoutcart (Verify your email address to confirm your account) and click on Browse section. This is where you will find Influencer profile listing, use advance filter section to find the list of the influencer in your categories and demographics.
When you find Influencer in your niche, add them to your favourite list to do research late.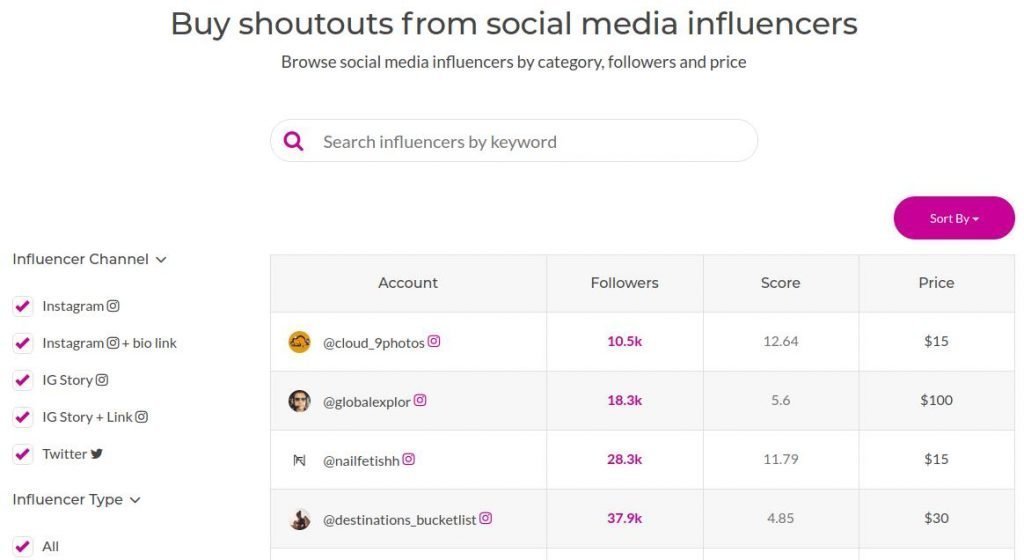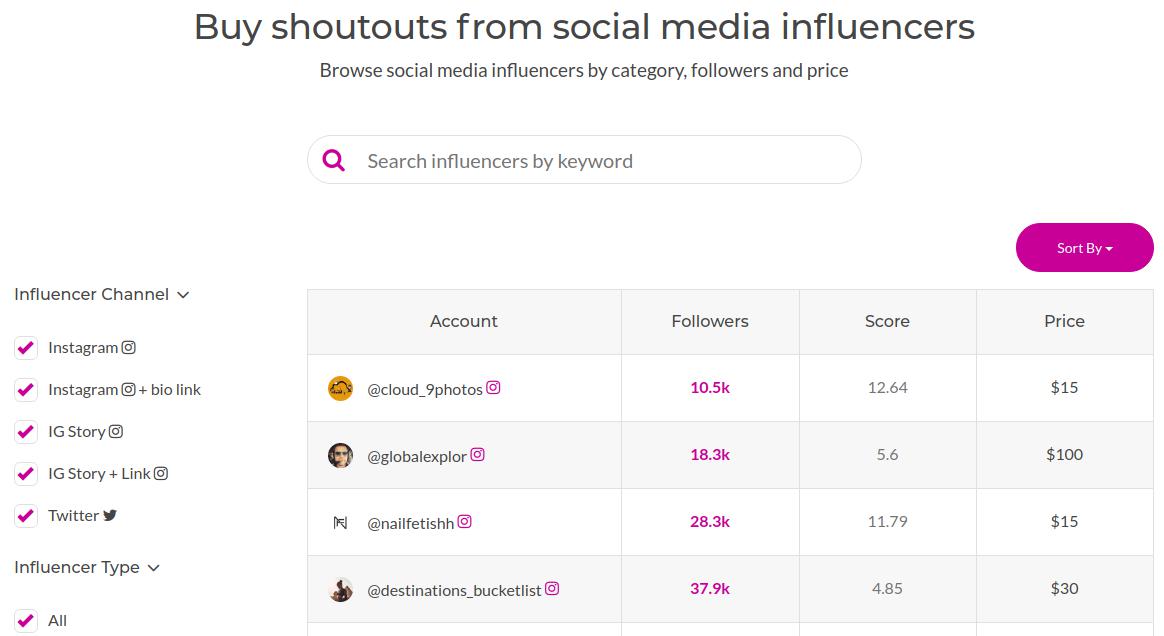 Take a look at Engagement rate, Reputation score, amount of followers and finally the cost of the shoutout on their Shoutcart profile page.
Before you order shourtout make sure to add fund to your account first. To do that – go to balance section, select Amount (Minimum 50$), the method of payment and click on add balance button to add fund to your Shoutcart account.
Now go ahead and complete the payment process.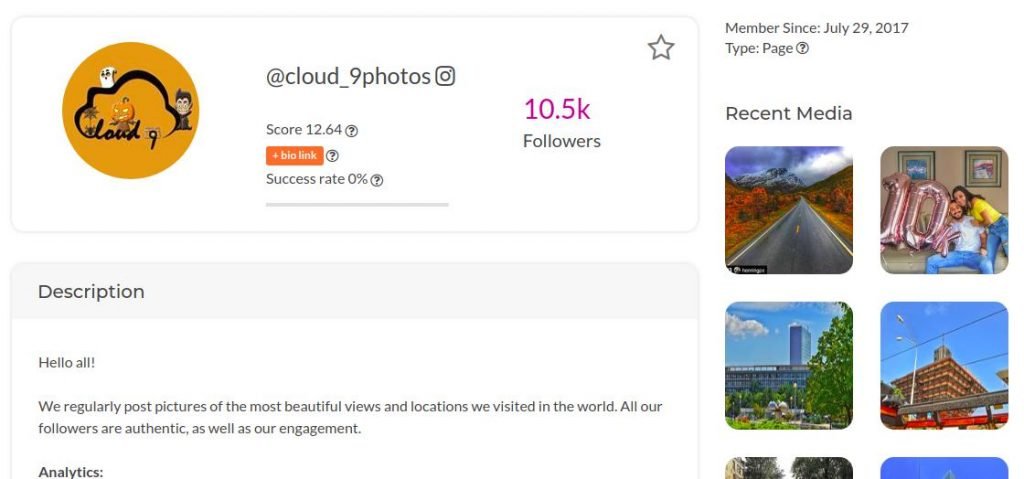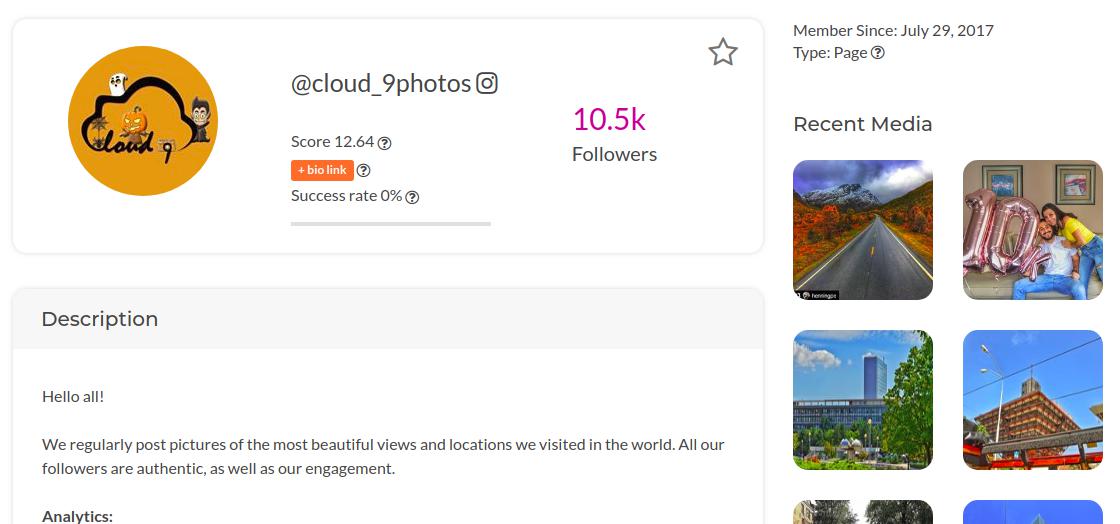 When you finally found your perfect Influencer to order your shoutout, choose shoutout pricing option which depends on your need and budget and click on add to cart button.
This is a final step where you have to send content to your influencer and finish Shoutcart order. Add Picture, caption, hashtags, website link and don't forget to select your perfect timing for shoutout post in order form.
Wait for a reply from Influencer which depends on Influencer and their time zone. Influencer will post your promo according to your selected time frame. After that, when the post has been done you will receive notification from shoutcart so you can see your live post on Influencer profile.
Final Through
Shoutcart makes buying shoutout as simple as 1,2,3. You just have to pick perfect Influencer. I mean Perfect, because Influencer Marketing is only good as Influence you choose, so be careful and do little research on Influencer profile outside then Shoutcart.
Use SocialBlade to see their profile growth over time and any other analytics tool to do research on their audience. If you can't find the tool to do research on their audience then try asking for the screenshot of their Instagram Insight.
What is your experience with buying Instagram shoutout and have you tried Shoutcart before?
Please comment below.