Setting up a blog is considered to be the most technical, time-consuming, and difficult, of the entire blogging process. But wait for a second: is it really such a big issue? Definitely not!
If you have not read my previous blog post on blogging "Why You should Start your own Blog" then read it first. You can actually set up a blog in no more than 10 minutes, or even better, outsource the work to a professional through an outsourcing website such as Upwork or Fiverr.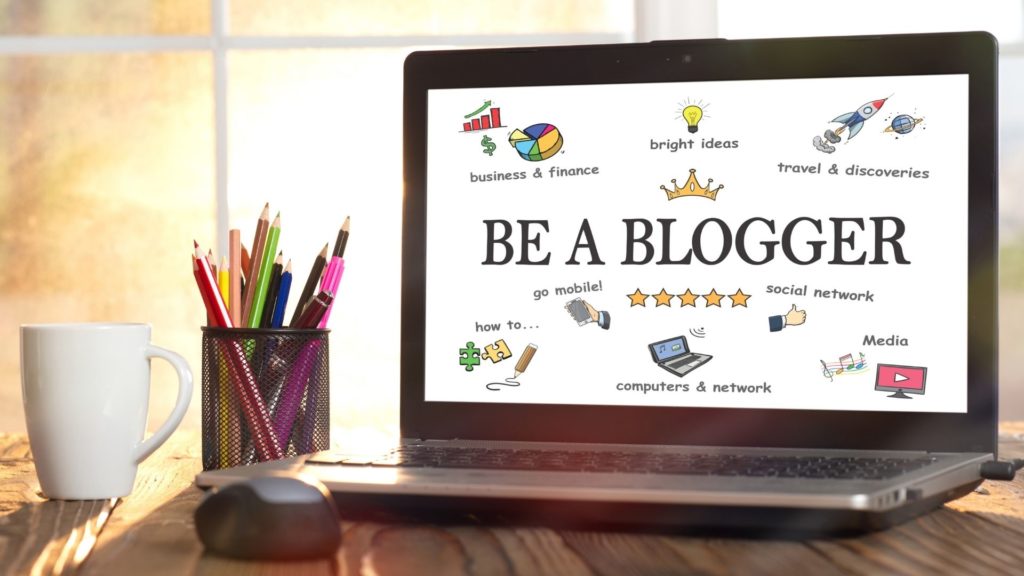 Let's start setting up your own blog.
Step 1: Selecting Niche
You cannot set up a concrete plan unless you know your niche. There are a number of ways you can choose the most profitable niche. Most novice bloggers make the mistake of choosing a niche that they "think" is more profitable. An excellent way to understand the validity of your niche is to ask yourself a few questions;
Who is going to read my content?
Define the demographics of your audience (Age, Profession, Interests), are they experiencing a strong emotional need for my content? Pain? Urgency? Irrational passion?
Is my audience proactively looking for the content I am going to write?
How many competitors are already producing epic content in the same niche?
Do my prospective customers have other options to choose from?
How can I be different from my competition to guarantee that people will choose to read me?
Do these changes apply to me?
Now, there are two possible solutions: One way is to choose the niche: whichever you think is profitable, write the content and wait for the audience to notice it. (It would be a miracle if your content gets noticed!!) Another way is to choose a niche that represents your expertise: smartly do the marketing and spread the word, earn the share, and BINGO!
According to the experts, you must choose a niche in which you are interested and experienced. One of our friends writes blogs on acupuncture. Cursorily looking, the niche may look less profitable.
You will wonder how many people would be interested in acupuncture? Or worse, how many even know there is an ancient Chinese system of treatment called acupuncture? But actually, the blogger is earning a decent income, firstly because he or she is an expert in the field, and secondly because there is less competition.
When All the Good Ideas Are Already Taken!
At this point of selection, the competition matters less than at advanced levels. Now is the time to choose a niche in which you " specialize". It does not matter if the niche is already taken by hundreds; if you deliver the best content and adopt the right marketing approach, you will get noticed sooner rather than later!
Step 2: Choose the Blogging Platform – Free Vs. Self-Hosted
The next step is to choose the blogging platform. Choosing a free platform such as blogger.com or tumbler.com seems like the most attractive opportunity; however, if you want to get a decent passive income, then you need to shun these free platforms.
Why You Should Shun Free Blogging Platforms
You will not get your own domain name
You will not get different themes/layouts and plug-ins
You do not have any control over your blog as it is not your property; if the moderator thinks that you are violating their policies, your blog can be deleted without any prior notice. (This is no joke; just read the agreements given by free blogging platforms)
Your host website will earn 50% of your earned money! Yes, this injustice!
Get Your Own Domain Name
What do you do when someone wants to meet or call you? You give them your address or your phone number, right? Your Domain Name serves the same purpose. It is your online address through which people can access you. Here are a few of the Domain Names: wikipedia.org Harvard.edu facebook.com nytimes.com
What can you spot on these Domain Names?
They all clearly identify the organization they represent. When we read them, we instantly know which Domain Name is for which company/organization or website.
Therefore you must choose a Domain Name that clearly defines your niche. If you are writing about Martial Arts you cannot choose a Domain Name that runs like www.learnit.com.
A good Domain Name must have the following qualities:
It should be short and easy to memorize.
It is better if your domain name contains target keywords. This way there are more chances that search engines such as Google will find you when people are searching for your content, for example, CatFood.com, IndiaTravel.com.
The Domain Name must not be in the name of the organization or owner unless the organization is a well-known multinational, or the person is a celebrity. If you choose your first and last name as the domain name for your blog, it could be very difficult to sell, should you decide to.
Do not use dashes '-' in your domain name. Even though it is allowed, it is not a recommended practice. In my experience, a search engine will give a better preference to a domain name with no dashes. For example:
MyDomainName.com will rank higher than my-domain-name.com.
Do not use numbers in your domain name because people may not be very sure how to write it correctly. eg: jokes4u.com or JokeFourYou.com
Where and How to Get a Domain Name?
You can register a domain name together with a blog hosting plan in under 4 minutes with GoDaddy or NameSilo The process is highly automated, and in 5-6 clicks, you will have your domain name purchased and your blog up and running!
Get Reliable Webhosting Services When you want to set up a brick-and-mortar shop, what is the first thing you do? You rent a shop or space where you can settle down and put the products on display. Webhosting Servers do the same thing.
Webhosting Servers provide you with virtual space to set up your website. Without a Webhosting service, your Doman Name will be like a phone number without a telephone connection, an address without a house, and a name without a person.
For a new blogger, nothing surpasses WordPress. Do you know that the majority of novice and pro bloggers choose WordPress for their blogging platform? This is because WordPress is simple for beginners, and in the case of advanced bloggers, it provides sophisticated tools, new and advanced plug-ins, sales statistics, and hundreds of thousands of themes.
Step 3: Promote Your Blog
Now you have all the essentials that are needed to build a blog. However, there is still much to do; remember your aim is to earn more out of the blog, and for this, you need to construct one that stands out in the millions.
Write Headlines that Attract Instant Attraction
We all click on the links that promise something new and different. Similarly, we just skip the ones that do not attract us. Hence, we need to make the headlines keys that instantly open up the way to our great blog posts. Here is how you can do this.
The headline should not be more than 12-15 words long.
It should summarize what you are offering in the main body of the article.
The headline must be intriguing: it should compel the viewer to read further. Dull, boring and monotonous headlines can repel the reader.
A little tinge of controversy sometimes works wonders; however, DO NOT overdo it!
Numbers do wonders; for instance: top five ways, top three ideas, etc.
Follow 4 Effective Steps to Increase In-Flow of Traffic
1. Set Backlinks. Backlinks are hyperlinks that divert traffic from one page to another. Here is a great article on how you can successfully convert backlinks into sales: Backlinking Strategy that Works. SEO (Search Engine Optimization) is an effective way to optimize your blog's content in such a way that it appears higher on search engines. Using relevant keywords and key phrases can help you a lot.
Social Media Marketing is currently the most effective tool. More than half the world's population uses one or more Social Media platforms. You can link your blog to one or more platforms including Facebook, Twitter, Pinterest, LinkedIn, and Reddit, which are great sources of getting more visitors.
Build a mutually cooperative relationship with other blogs that are either centered on the same niche as yours or based on related niches, that way, you will be able to share readers and customers. What to know more about it? Here is a beneficial link: How to Find a Profitable Niche Site Idea
Email marketing along with newsletters can help you expand your followers. You can ask all random visitors to leave their email address; however, you must keep in mind that the visitor will only be willing to stay in touch with your blog if it offers something valuable in terms of content. So basically, everything is back to square one: the content.
Step 4: Retain Readers for a Long Time
The art of attracting and retaining readers requires smart thinking. Here are the top four ways to retain a loyal readership. Make a schedule for posting new blog posts.
When a reader is enticed by one of your posts, he or she will be eager to read more from you. Thus, they will start waiting for the next masterpiece coming from your side; again, content is the kingmaker!
The aim is to show readers you are an expert in your field. This is done by tackling topics in-depth, so the reader can see you know what you are talking about. For example, if you are building a blog about cybersecurity issues, a blog post on customer identity and access management (CIAM) is a non-generic topic that readers with an interest in online security measures for businesses will find very useful.
Communicate with your readers. That does not mean talking or chatting with them; instead, send them regular newsletters and respond to the comments they post. Indulge with the readers on social media; especially on Facebook and Twitter.
Attract readers with a "Special Day" post. Make sure the post is different from routine posts; it should be attractive to the followers of your niche, and you must deliver what you have promised. For example, you can ask your readers to send you limited-length articles, and the top five posts could be published on your blog under the visitor's author's name.
Step 5: Top Three Ways of Making Money through your Blog
Affiliate Marketing:
With this type of marketing, you will get a share for each visitor that you send to the client's website if they buy something. ClickBank is one of the most successful platforms that offer high-quality affiliate products you can promote on your blog.
Another great place you can find products to promote and earn affiliate commission is Amazon.com. With Amazon, you can promote books or products relevant to your business. And the beauty is that: if people go to Amazon from your website, not only do you get a commission if they buy one of your promoted products, you also get a commission if they buy different products as well.
For example, instead of buying a book, you are promoting, they might buy a video camera, which will make your commission even higher!
Selling Advertisement:
Google AdSense offers you Pay Per Click Profits. You have to register with Google AdSense, and then post a code with your article. Google will suggest suitable posts that are relevant to the ad content. In no time at all, you will start earning commission beginning from a few cents, up to several hundred dollars. Sell ad space on your blog to other companies in your niche.
Leverage Your Time:
Once you have established your reputation as a blogger, you can Leverage Your Time as well as your posts on other blogs and clients. You can do this yourself or hire a ghostwriter.
Conclusion
The truth is blogging is not easy, but it is definitely possible. In fact, a lot of bloggers are making thousands of dollars a month from their blogs. In this article, we want to share with you some strategies for how to make money from your blog. Before we get into that though, we want to make sure you have the right mindset. It will be frustrating and it will take time to start making money from your blog. If you are willing to work hard and are willing to start small, then this is definitely possible for you!